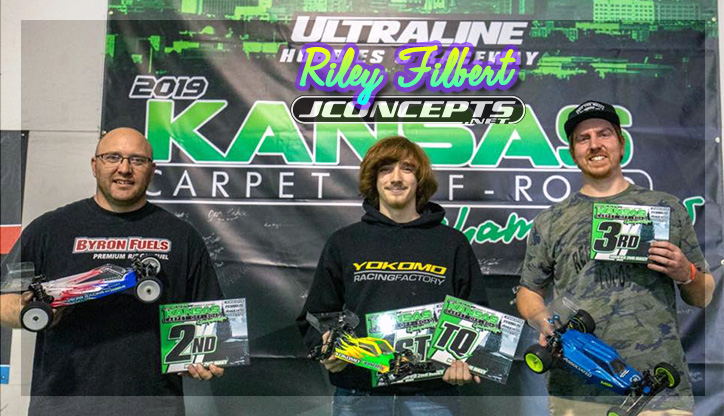 Relatively new to the JConcepts Race Team Update posts, Yokomo/JConcepts' Riley Filbert had a great weekend of racing last week where he participated in the Ultraline Hobbies' Carpet Off-Road Championships located in Kansas. Rockin' the Aero wing package, F2 body, and Fin Titanium Turnbuckles for his YZ-2, Riley set the TQ and captured the win in the A-Main backed by the race-winning Swaggers and Nessi tires by JConcepts.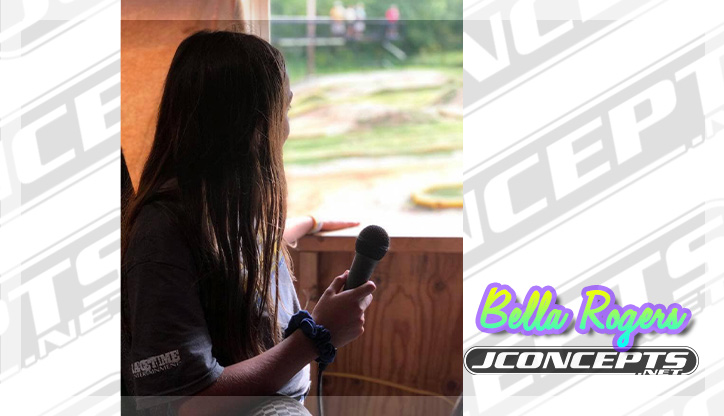 You don't always have to race to win the day as Miss Bella showed us last weekend at her local track, Tri-Cities RC Racing. She was on the mic calling races, volunteered her time to help turn marshal, helped water the track and to get the track in race-ready conditions. That's already winning! Now add in a TQ and win in Ebuggy? That's is pretty dang near an unbeatable weekend. Nice job Miss Bella!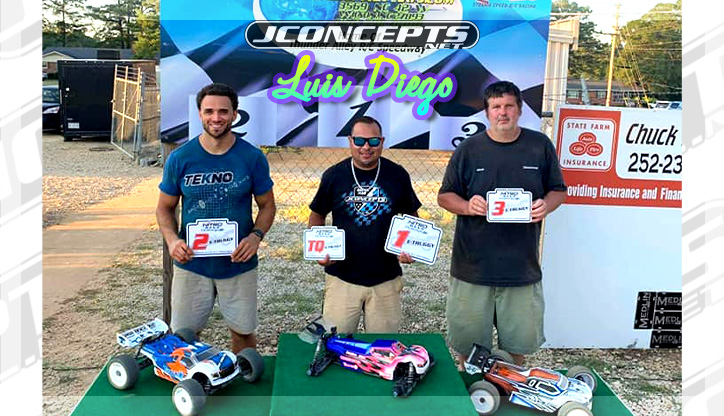 In order to improve, you gotta hit the track. It's as simple as that and someone that's been racing on a consistent basis is our very own, Luis Diego. Taking it to the boys at Thunder Alley in Wilson, NC, Luis got the TQ in Etruggy using blue compound Reflex tires and was able to finish the main in 1st place. Checkered flags for Luis!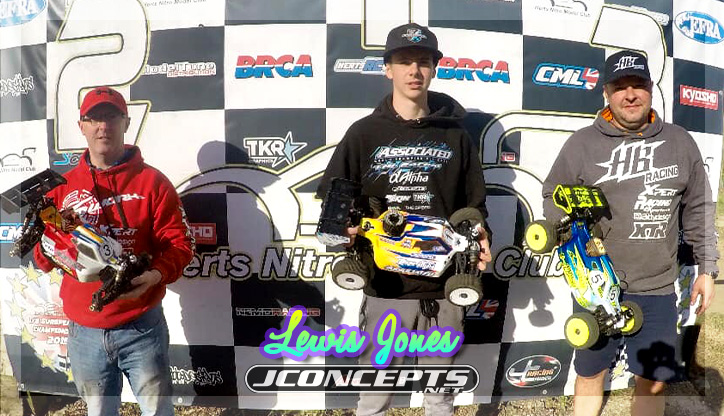 Lewis Jones of the UK has been a wonderful addition to the JConcepts race team as he's been showing the way over there in the UK. With another successful outing last weekend, Lewis has been making a name for himself as he set TQ and won the HNMC Summer Series Race on green compound Detox tires. Keep up the hard work Lewis!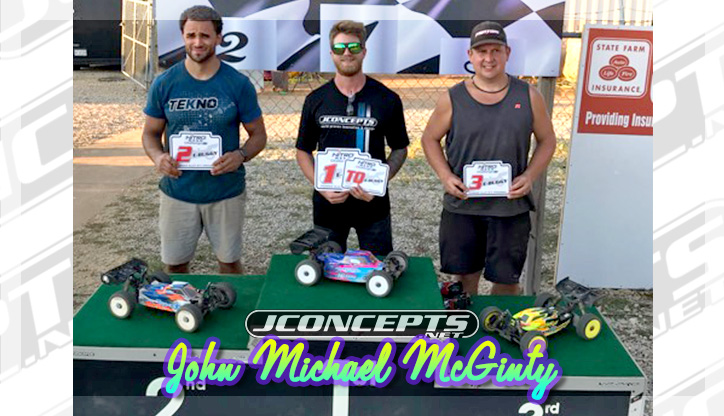 There's no surprise that John Michael McGinty took a nice TQ and win last weekend at the Nitro Hero Challenge in Wilson, NC. John's no stranger to the winner's circle, but even after a bit of a break, John's speed hasn't diminished one bit as he rocked the Pro Ebuggy class on red compound Reflex tires. Great job JM!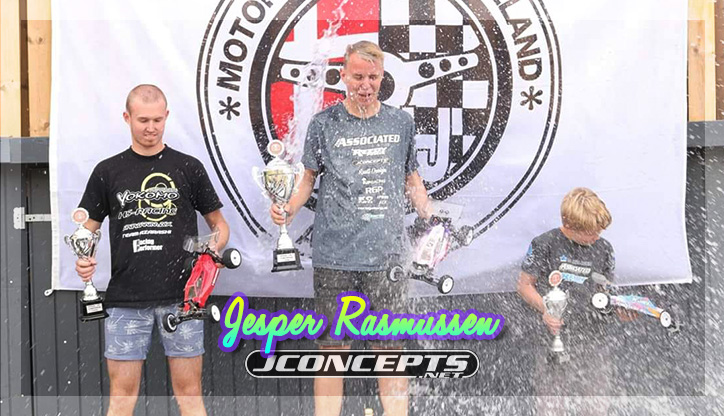 One of the nicest race-winning moments is getting soaked while on the podium holding your 1st place trophy. After having a flawless weekend at Black Track RC, who hosted the final round of the Danish Nationals series, Jesper was awarded the coveted title of Danish National 2wd Champion of 2019! It's been a long series and Jesper's performance has always been at the highest level and congratulations on a fantastic job. At the final round, Jesper used the P2K body, Aero lower wing and S-Type rear wing, Fin titanium turnbuckles on his B6 to help secure him the Danish 2wd national title.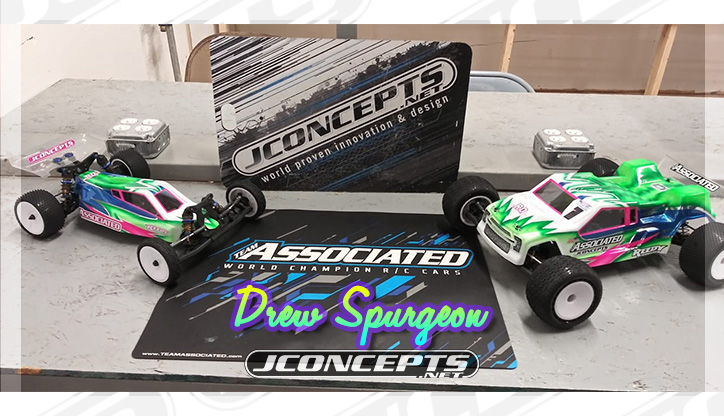 Sometimes trying something new for the 1st time is a win all on its own since we're so confined to what we're used because it's easy. With carpet and turf racing on the rise, it was a veteran racer and long-time JConcepts team driver, Drew Spurgeon's, 1st time on turf last week and he was shocked! This was his reaction, "Must say the AE cars with JConcepts tires are damn near cheating.. Super dialed." Welcome to the dark side Drew.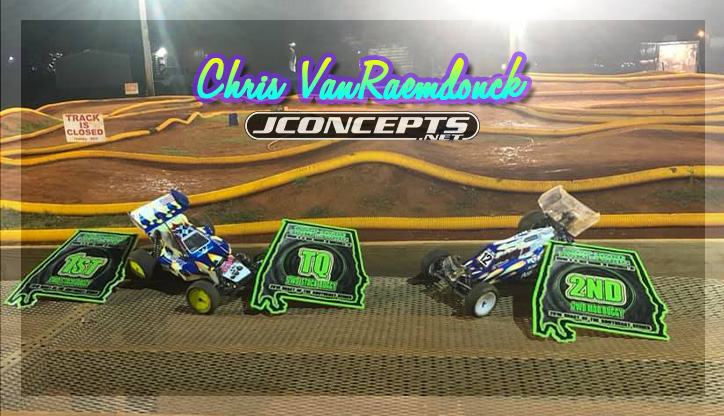 Last week, Chris VanRaemdonck attended the Snap Hard Racing League's points series race at RC3 Racing in Huntsville, AL and had an absolute blast racing! Chris was able to grab himself a win in Stock 2wd and placed 2nd in 2wd Modified to complete a very successful day of racing.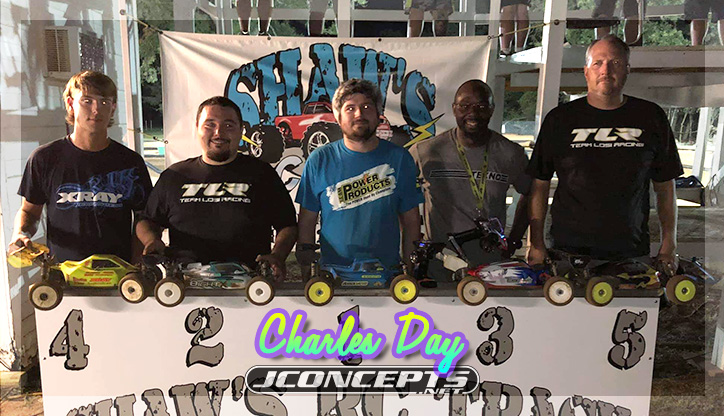 Thanks to Charles for sending in his race weekend's report. Charles ran a little Ebuggy at the final race of the Red River Shootout at Shaw's R/C Track in Ardmore, Oklahoma. Despite the loose and bumpy track conditions, Charles ran the Kosmos tires and found the speed to get him to that hard to reach top podium step. Nice job Charles, keep on killing it!
Not many would stick around during a predicted hurricane and go race in south Florida, but that's exactly what Alfredo Morales did at the Mills Pond Hurricane Race. Running 1/8th Ebuggy, Alfredo lit up the competition using green Blockers to set the TQ and earn the win in Pro Ebuggy over the weekend. It's great to see Alfredo racing again as he's one of the hardest working guys at the track!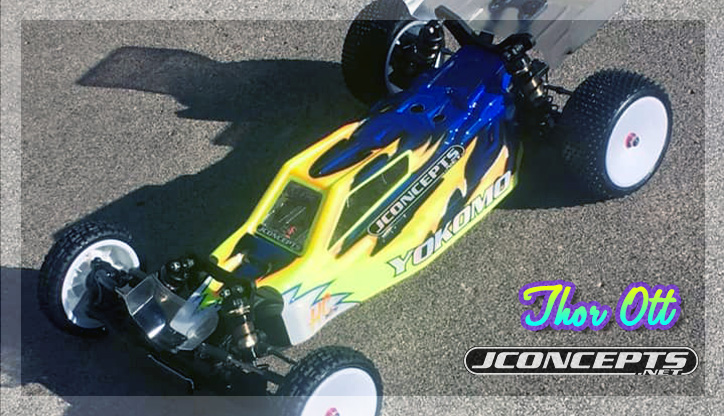 So far in 2019, there's one individual that has been very consistent in posting his results and getting the race wins and that's Thor Ott. Each time he shares his results, it's of him finishing 1st place and usually rocking Swaggers and Twin Pins or Nessi tires. Thanks to Thor Ott for being so dedicated and showing day in and day out that the JConcepts F2 lightweight body, Swagger fronts and Nessi tires get it down on all levels.