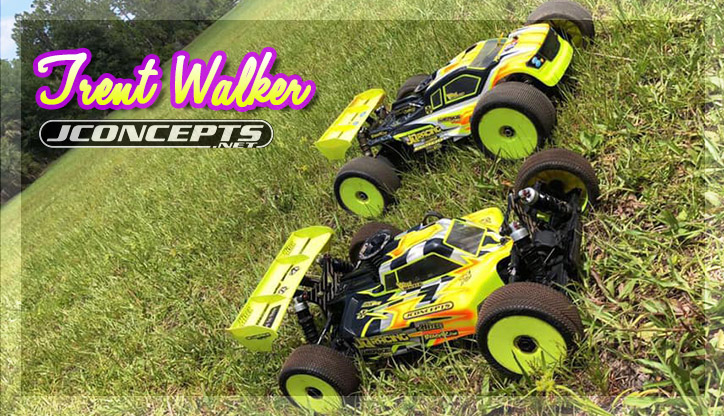 Hitting up the Force Series race last weekend in Dayton, FL and hosted by Strickland R/C, our very own Trent Walker was out there slaying it setting the TQ and took the win in the Expert Nitro Truggy class last week. Trent used green Reflex truggy tires in the longer mains to provide him awesome grip and low wear to take the main in a close wire to wire battle. In the end, it's the small things that add up.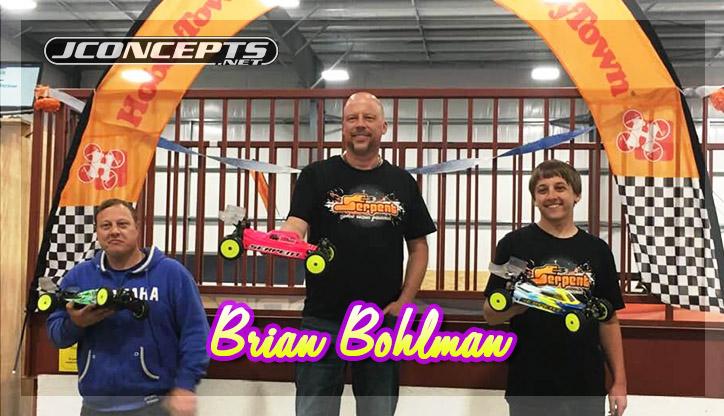 After being announced as the Midwest Serpent Team Manager, Brian Bohlman has been on a charge to make racing more exciting and popular in his area. Here's what he had to say about his awesome outting on JConcepts last week at Thunder Road, "I had a great time at Thunder Road Raceway in Waite Park, MN. I Tq'd and won the 13.5 4wd class! Swagger and Twin Pins were hooked up and this was weekend #2 of practice and racing on the same set of J Concepts tires! My Serpent is getting crazy fast and the corner speed and handling are amazing! We had three Serpents with JConcepts tires in the main and Kaiden Voss and I finished 1st and 2nd." Terrific job Brian, keep up the good work!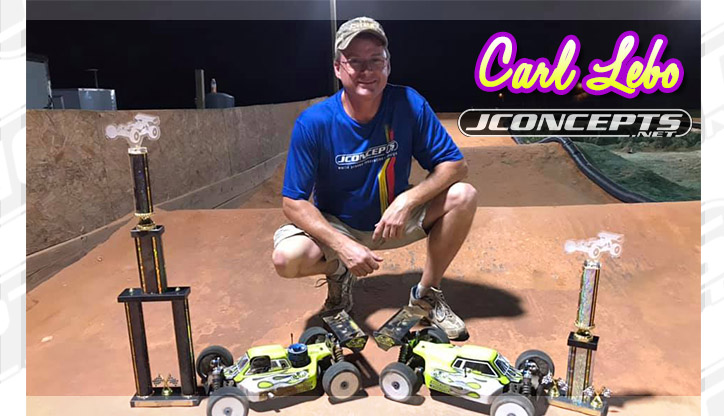 What a weekend for Mr. Carl Lebo. Straight off of his vacation and to the track, Carl was able to finish 3rd in the 40+ Nitro Buggy class at the final Force Series race at Strickland R/C. With another great finish, congrats to Carl Lebo on completing the Force Series and winning the overall championship! That's our guy!!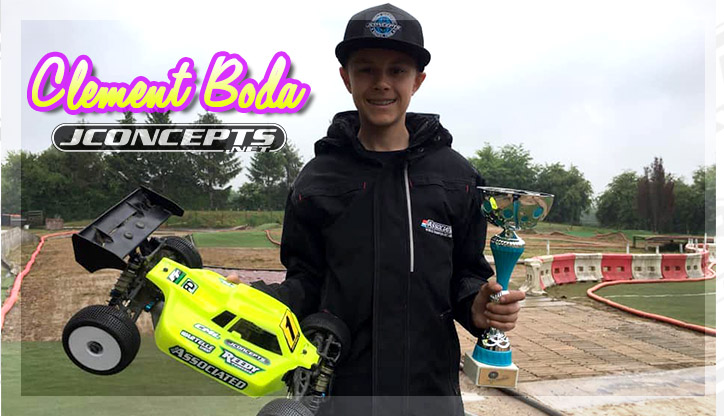 This kid has the talent! Entering his first 1/8th Ebuggy race, Clement Boda raced his RC8B3.1E ride decked out with JConcepts and was able to set the TQ time! Unfortunately, due to mother nature, the race was called before the mains hit giving Clement his first ever 1/8th victory. Tell ya what, Clement's got a bright future ahead of him and we're excited to watch his growth!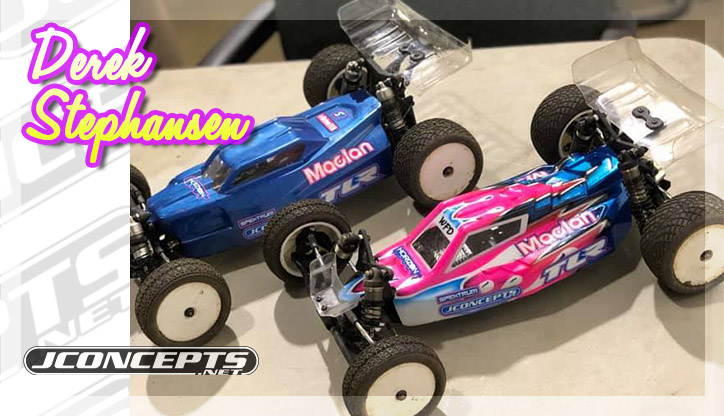 Our super quick NorCal team driver, Derek Stephansen, hit the track last week and scored himself a nice double TQ and win in the 17.5 Expert 2wd and 13.5 4wd at LSR Speedway. Derek has been on fire lately with his TLR rides and was totally on point with gold compound Dirt Web front tires and Ellipse rears. Take note, the F2 body is looking good right here along with the High Traction carpet wings by JConcepts.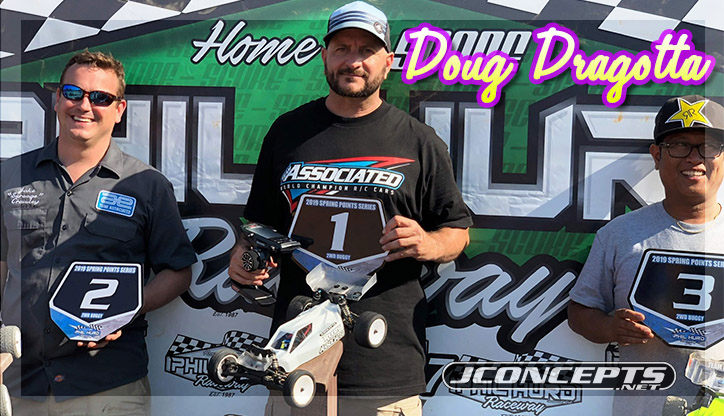 It was a heck of a weekend for Doug Dragotta, as he TQ'd and won the Spring Series Finale in 2wd Modified and came home as the overall series point champion! The main tire of choice for Dough throughout the series were Hybrids rears and Rips up front along with the Dirt Web tires when it was called for.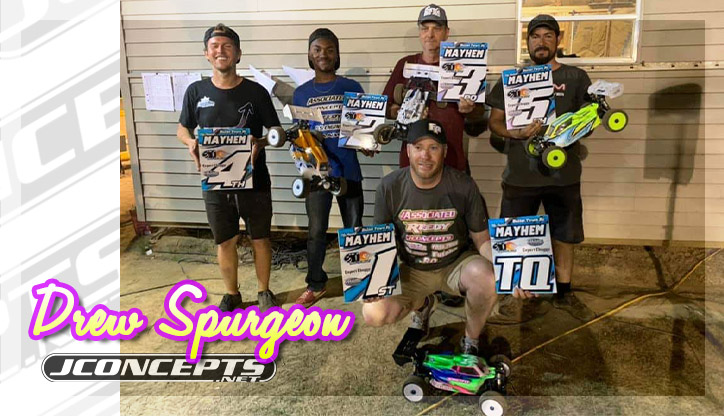 Teammates, Drew Spurgeon and Izirah Osborne both attended Bullet Town's Mayhem Race where they found a lot of success taking wins in different classes. Drew was beyond dialed in the Ebuggy class coming home with the win while Izriah finished in 2nd. In the Expert Nitro class, it was Izriah grabbing the win after 20 hard fought minutes and this time, it was Drew coming home in 2nd. We couldn't be more proud guys, great job!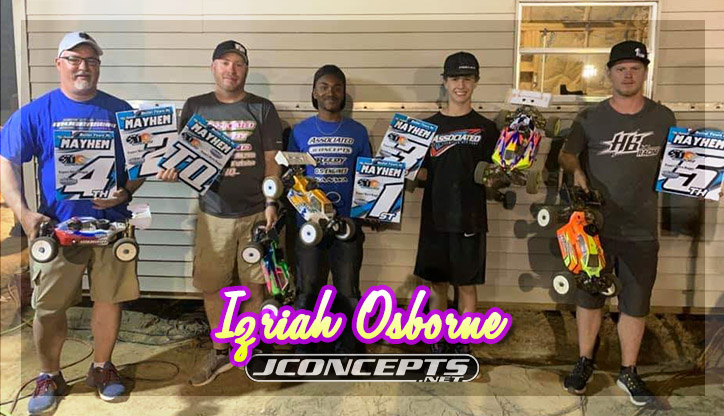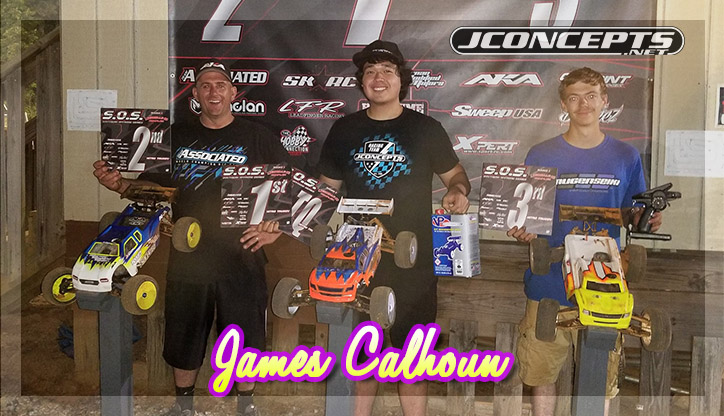 Keeping your skills sharp is the only way to find yourself in the winner's circle and competing in round 1 of the SOS Series, James made his way to Loganville R/C Complex and had a chance to shine. Using blue compound Reflex tires on his truggy, James set the TQ and won the main event in Truggy and finished 2nd in Pro Nitro buggy. Now that's a weekend!
The man, myth, and legend, Jason Schreffler is one fast and capable dude. He had a great time last week and this is what he had to say, "LCRC "The Big One" went really well for me. I TQed and Won Ebuggy (Blue Triple Dees), TQed and 2nd in Nitro Truggy (Blue Reflexes), and 3rd in Nitro Buggy (R2 Reflex). Very challenging weekend with constantly changing track conditions and super high traction, along with the awesome competition as well!!" 3 classes, 3 podiums… quite classy.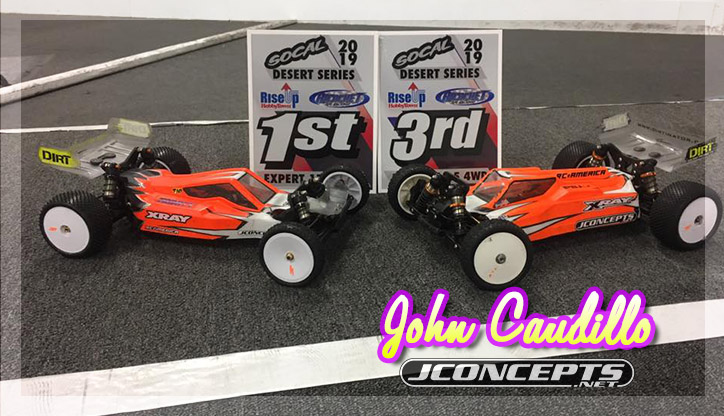 Series point races seem to be the hot thing right now as John Caudillo finished out the SoCal Desert Series on top in 17.5 2wd Buggy and 3rd overall in points in the 13.5 4wd class. You have to respect those who start something and see it all the way through! Congrats on your overall series point championship in 2wd!!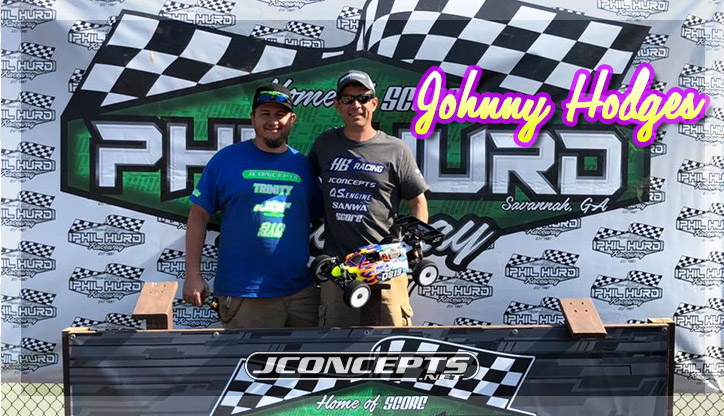 Getting help or a having a pit guy can have big results as Johnny Hodges and Christopher Fail both attended the Phil Hurd Raceway's Spring Point Series and came away with some killer racing highlights. Unfortunately for Fails, he wasn't able to run his main due to engine issues but helped out fellow JConcepts teammate, Johnny Hodges, and together got the win in Pro Nitro Buggy. The tire of choice for Johnny was the R2 Reflex that provided him the grip to rip.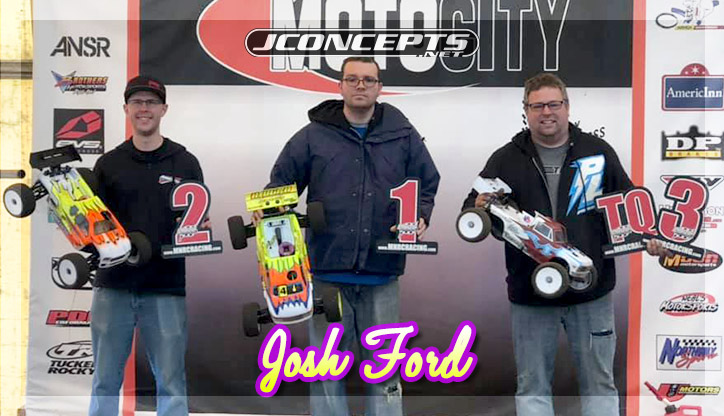 One of the coolest father and son teams out there is Jeff and Josh Ford. Last week, they both attended the Minnesota Off Road Series where Josh ran his MBX8T for the first time and qualified 4th overall. However, it was a different story in the mains as Josh took advantage of the front runner's mistakes and found himself in the lead. From there, Josh pulled away and never looked back and grabbed the win. Josh found great success on green compound Reflex truggy ires and stated that they showed almost no sign of wear.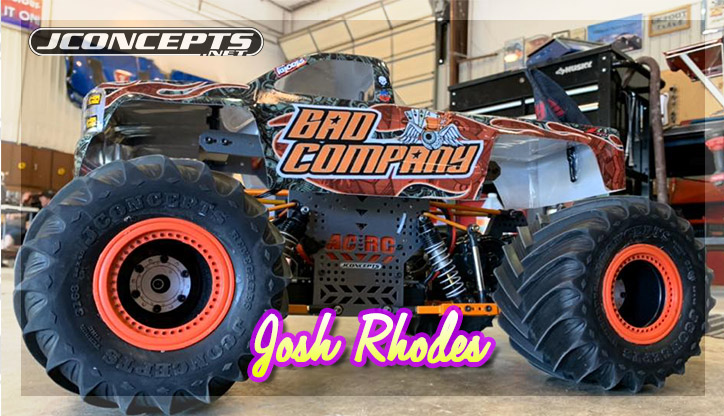 Rockin' his Bad Company MT, Josh Rhodes swept the ProMod class at the Trigger King R/C Monster Truck Series. The Renegades on Tribute wheels proved to be too fast for the competition!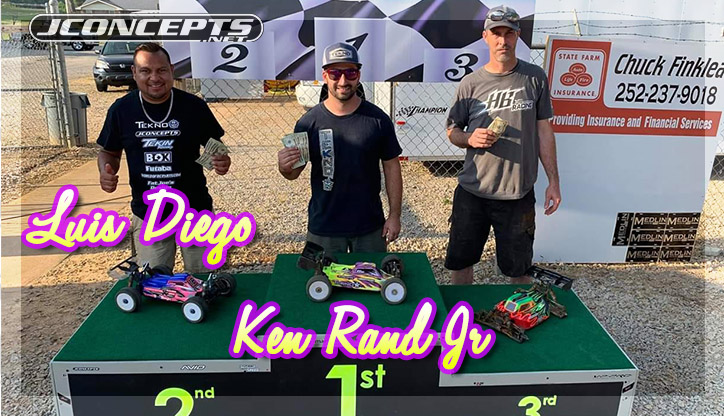 Thanks to Luis Diego and Ken Rand Jr. for repping JConcepts at the Cash Race at Thunder Alley in Wilosn, NC. Ken Rand Jr. took home the win with Luis Diego finishing in 2nd! It's always nice to win a little bit of cash, isn't it?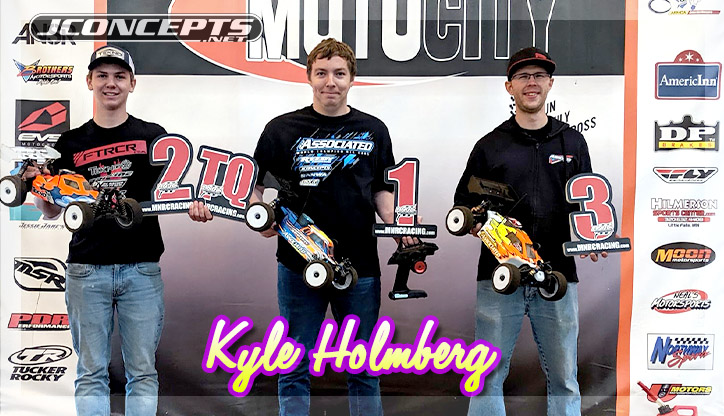 Kyle Holmberg is very impressive. Being fast and talented isn't the only thing that is important, but being nice and helpful also goes a long way and Kyle does both so equally well. Here's what Kyle had to say about his weekend, "Took the win in nitro buggy at the opening round of the MNRC hosted by MotoBity Raceway in Browerville, MN. I ran green Reflex's in the main with a Silencer body and other JConcepts accessories on my car as well. This combo along with a marshal free 30 minutes earned me the win in the biggest class of the weekend! I also got second overall in E buggy." What a beast!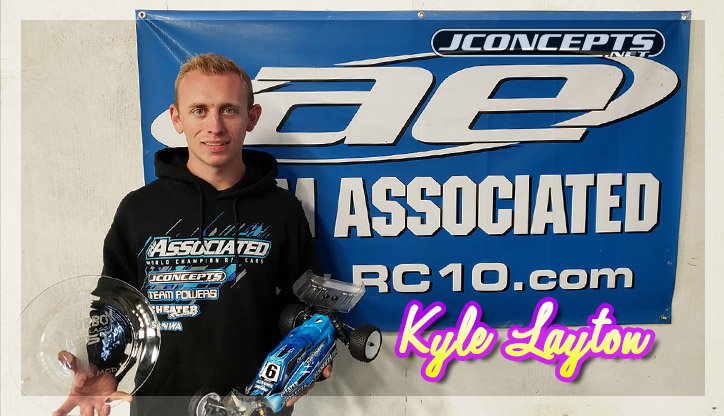 Kyle Layton has been on fire this year repping him and his teams to the best of his ability. Adding another awesome weekend to the year, Kyle set TQ and won the 2019 Spring Turf Classic at Poor Boy Raceway and Hobbies in Grants Pass, OR. Using the new carpet tire, Nessi, Kyle paired them with the Swagger fronts to lock his car in for the win. Match it with the awesome and stylish F2 body and Aero Wing package and you've got yourself a winning combo.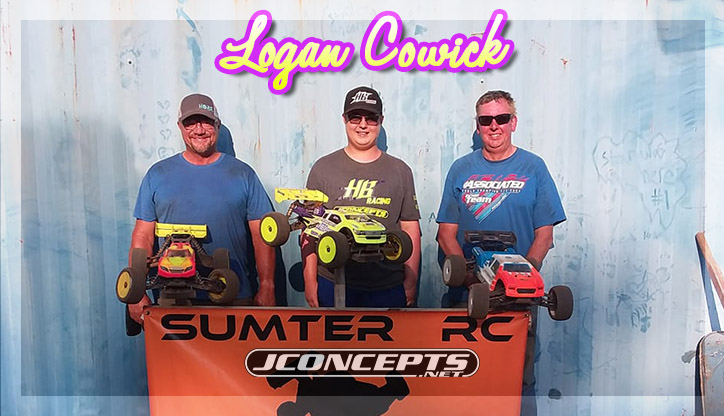 Congrats to Logan Cowick as he joins the fabulous Winning Wednesday crew with a terrific win last week at Sumtner R/C. Using blue Reflexes on his truggy, Logan catapulted to the front and locked down the win in Nitro Truggy!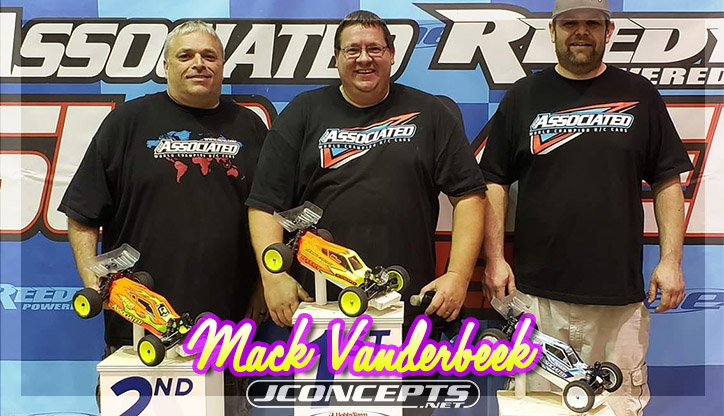 Fast Mack Vanderbeek was on a mission at last week's Team Associated Summer Series at Hobbyplex located in Omaha, Nebraska. Mack set sail in the 40+ 2wd Modified class earning a hard-fought win while placing 2nd in 2wd Modified, and 2nd in 4wd Modified. A win and two 2nd place finishes? Icing on the cake and a recipe for a fun weekend of racing is what that is!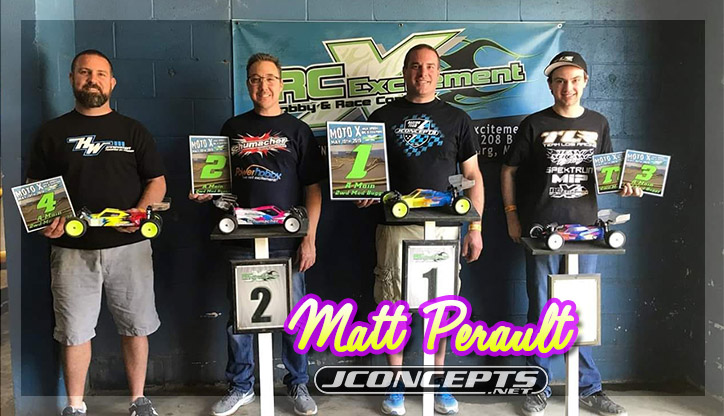 Matt Perault showed some great speed last weekend at the Moto X race hosted by R/C Excitement in Fitchburg, MA. Running 3 classes, Matt was able to secure 2 wins and a 3rd place finish using black Octagons to lock in all his rides. Matt also had a nice message, "Special thanks to Jason Ruona for giving me a chance and putting me on his team! I truly appreciate all the support from him and the rest of the team. It has raised my program up a level! My black Octagons on Mono Wheels and F2 bodies were dialed all day!"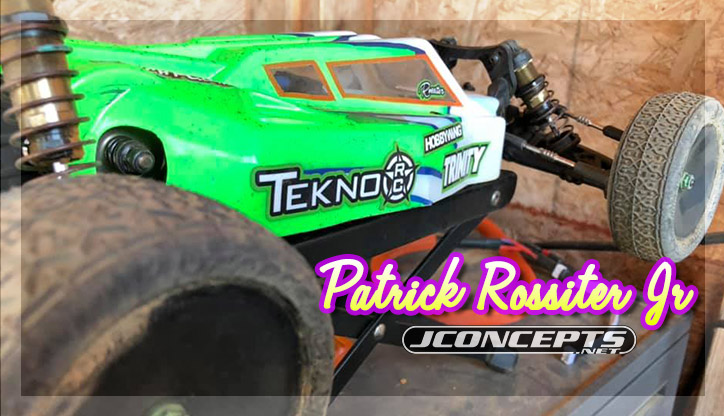 It's been a while since Patrick Rossiter Jr. ran a bit of 1/10th 2wd buggy and guess what? He took the win in 17.5 2wd at the 2019 Spring Points Series hosted by Phil Hurd Raceway. This is how PRJ described how good his car was, "My Yokomo YZ2 with the JC S2 body and Aero wing easily glided through the outdoor wind gusts and the Fin turnbuckles added both strength and bling to the car! It felt great to be able to race it again!"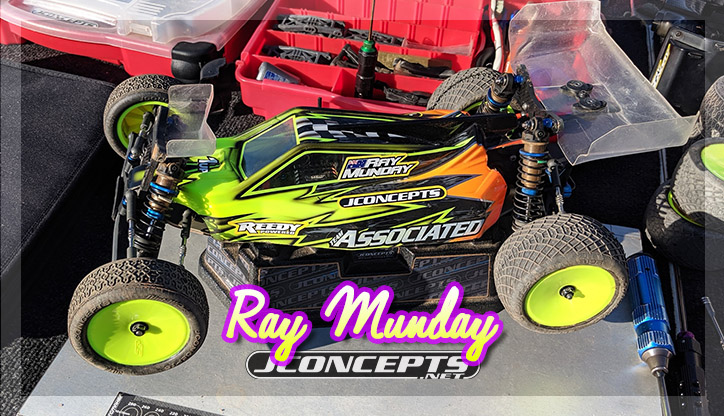 Getting to test a new tire on the tracks you run can be really exciting. Thing of the potential to go even faster when the condition calls for it? Yes, please. Last week, our Aussie stars, Ray and Lachlan Munday had an outdoor test session running the new blue compound Ellipse tires and the results were spectacular. Ray had this to say about his test session, "They worked amazingly well on a grooved clay track in 20c temps with fast lap times from lap 1, no break in needed." Now that's winning!!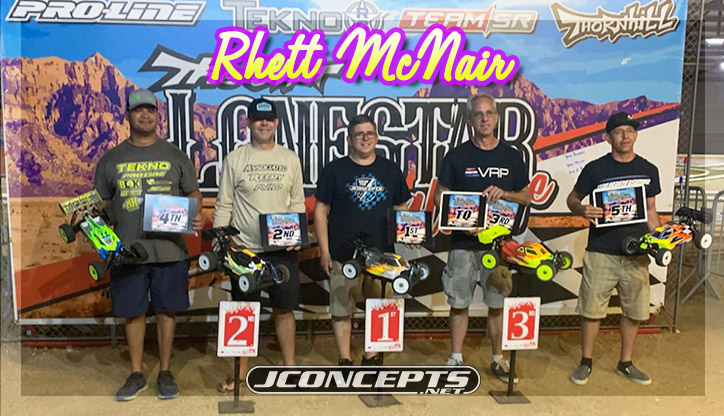 Rhett McNair and Robert Chapman did a bit of 1/8th scale last weekend at the Lonestar Challenge and the results were amazing! Rhett McNair got it done in the 40+ class with an awesome drive in the main to get the win. Robert never ceases to amaze as he versatility is off the charts. Racing 3 classes, Robert was able to take 2nd in Open Nitro Buggy, Open Ebuggy, and Open Nitro Truggy! Doesn't his trophy shot look awesome?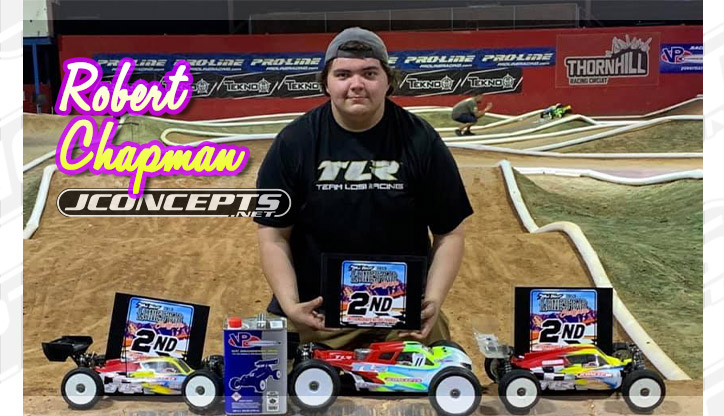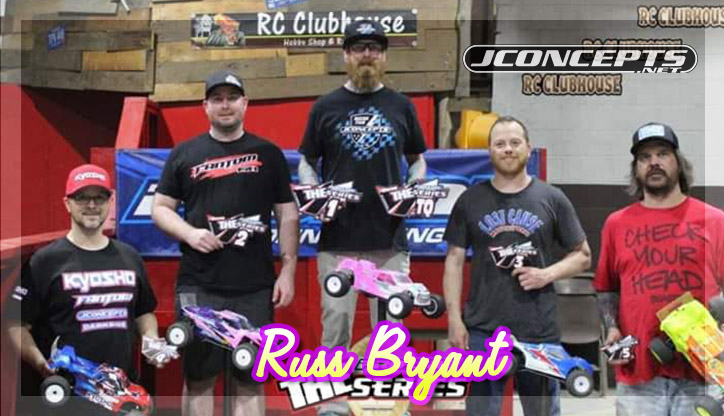 If it's got 4 wheels, Russ Bryant can drive it and probably drive the wheels off it. Last week, The Ruckus attended The Series race at R/C Clubhouse and took home the win in 13.5 Stadium Truck! Ruckus had nothing but great things to say about the newly released truck Ellipse tires! Check em out!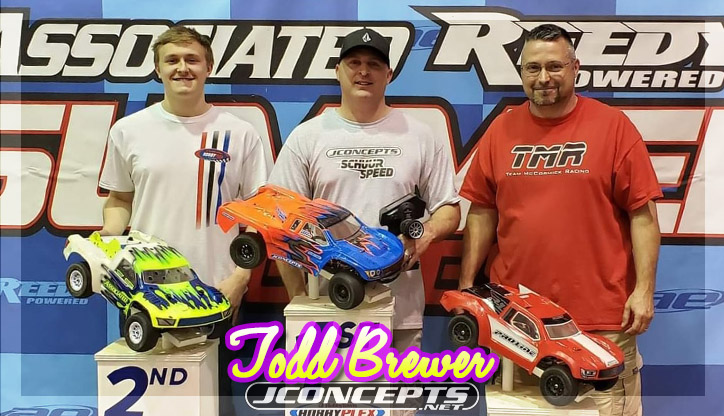 Thanks to Todd Brewer for sending in his report as he attended the 2019 Team Associated Summer Series hosted by Hobbyplex. This is what Todd had to say about his race, "In 13.5 SCT, I was able to TQ and take the win. In 13.5 Stadium Truck, I qualified 2nd in the B Main. I was able to place 2nd and bumped up to the A Main. I started 10th in the A-Main and was able to work my way all the way up to 2nd place and finish in 2nd place! The new JConcepts Stadium Truck Ellipse tires were MONEY!" Awesome win in SCT and another win for the new truck Ellipse!!