---
Features
Multi Layered Fiberglass Composite Hull
Fiberglass Composite Canopy with Aluminum Thumb Screws
Spektrum™ Marine 3682 Pole, Water-cooled 2000Kv Motor
Spektrum™ Smart 160A High Voltage, Water-cooled ESC
Clean Molded Composite Interior
Aluminum Propeller Strut
Aluminum Rudder
Spektrum™ DX3 Transmitter
SR315 3-Channel Telemetry Receiver
S605 9kg Waterproof Metal Gear Servo
Overview
The Pro Boat® Impulse 32-inch Brushless V-Hull picks up where the Impulse 31 left off and brings tremendous excitement with new styling unlike any other V-hull RC boat on the market. The Spektrum™ 2000Kv water-cooled motor coupled with the high-powered Spektrum Firma™ 160A water-cooled Smart ESC is capable of producing up to 3 horsepower and hitting 55+ MPH! Of course, everything is controlled by the Spektrum Smart System making this speed demon incredibly intelligent. A Spektrum DX3 Transmitter and waterproof SR315 Dual Protocol 3-channel Telemetry Receiver keep everything tightly connected for interference free operation and built-in telemetry. With Smart, users can see battery voltage (tank level) (DX3 Standard just views Battery Level), ESC Temps, Amp Draw, and motor RPM (with either a Blue Tooth Module and Dashboard App, or utilizing a DX5 etc.). The Impulse 32 also features a multi-layer fiberglass hull and canopy with aluminum thumb screw canopy locks, a durable composite molded interior, an aluminum rudder, and stainless-steel propeller. With the latest technological advances and powerful motor, the lake is yours with the Pro Boat Impulse 32-inch V Hull.
Video Overview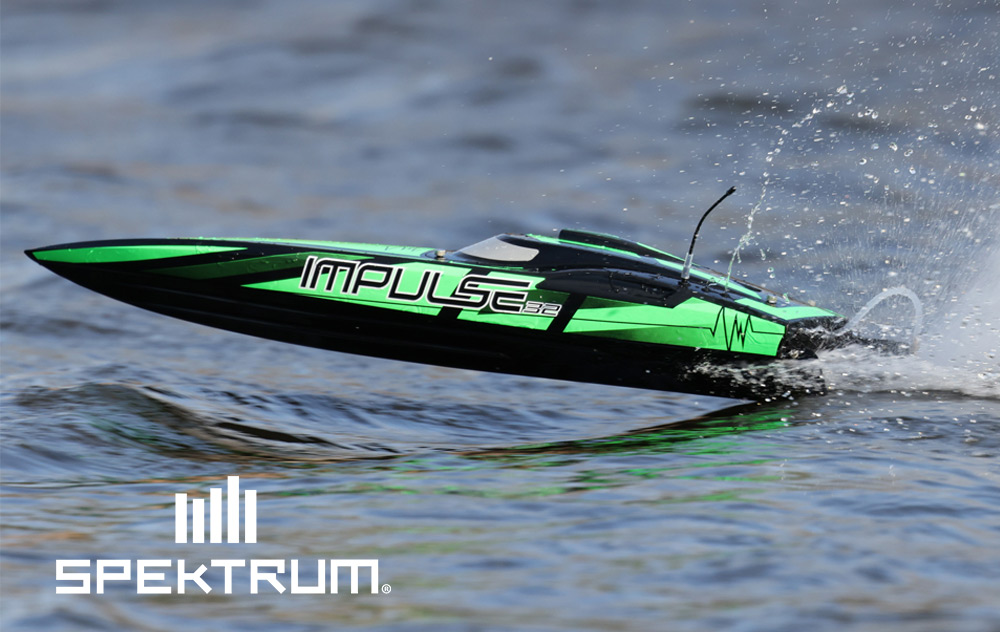 Spektrum™ 2000Kv Water-cooled Motor
Rated at over 3 horsepower with 90%+ efficiency, the powerful Spektrum™ 2000Kv brushless and waterproof motor provides more than enough torque to hit 55+ MPH.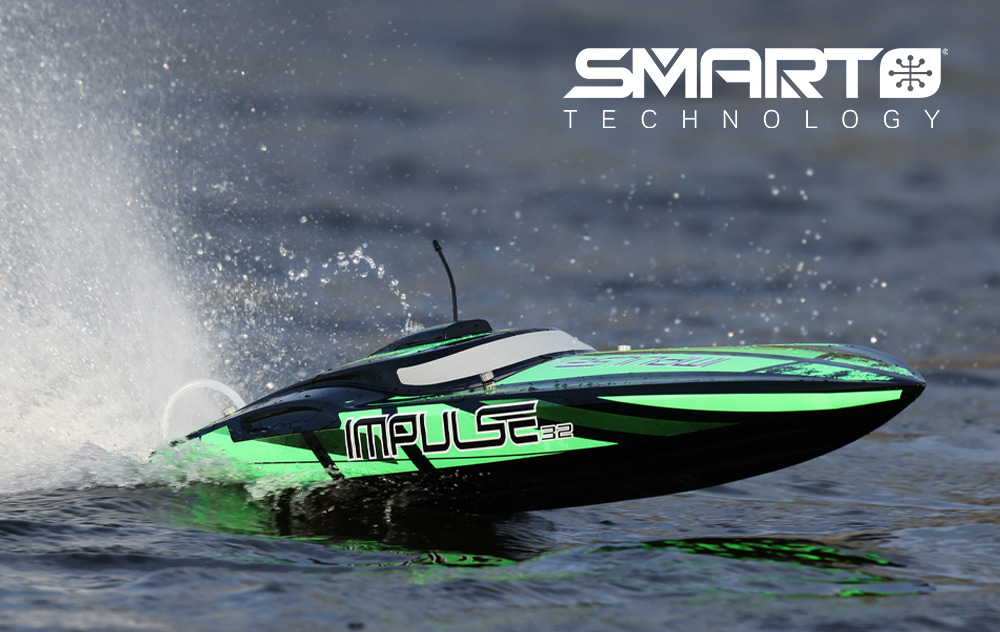 Spektrum™ Smart
The Impulse 32 is Spektrum™ Smart compatible allowing the user to see battery voltage, battery level, motor RPM, and ESC Temps all through the ESC and telemetry receiver.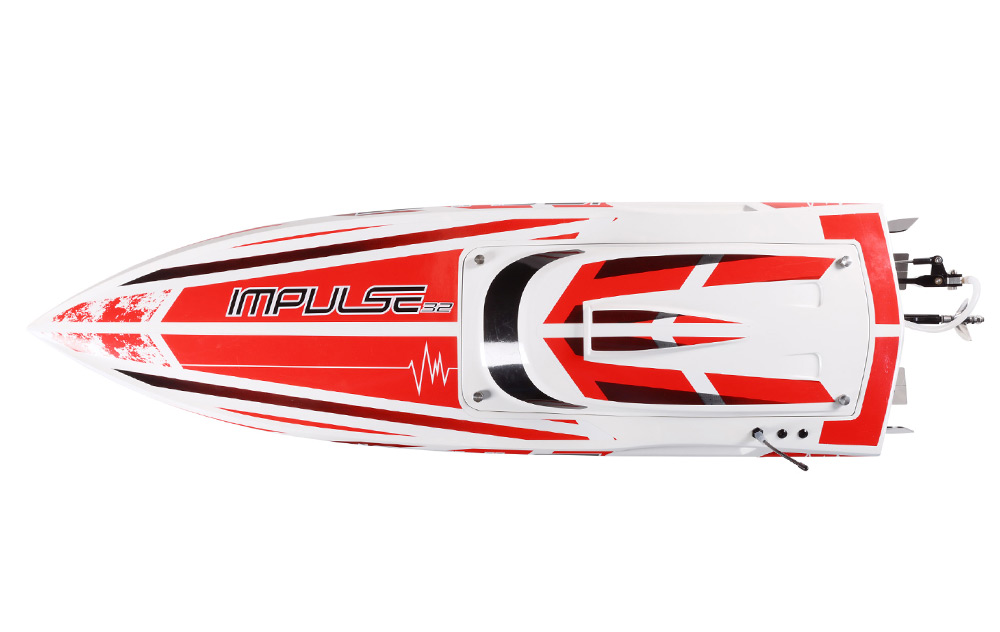 Fiberglass Canopy
Durable multi-layer fiberglass provides a watertight seal and the thumb screws means no tape is necessary to retain the canopy on to the hull. Realistic air scoops and vents add to the scale appearance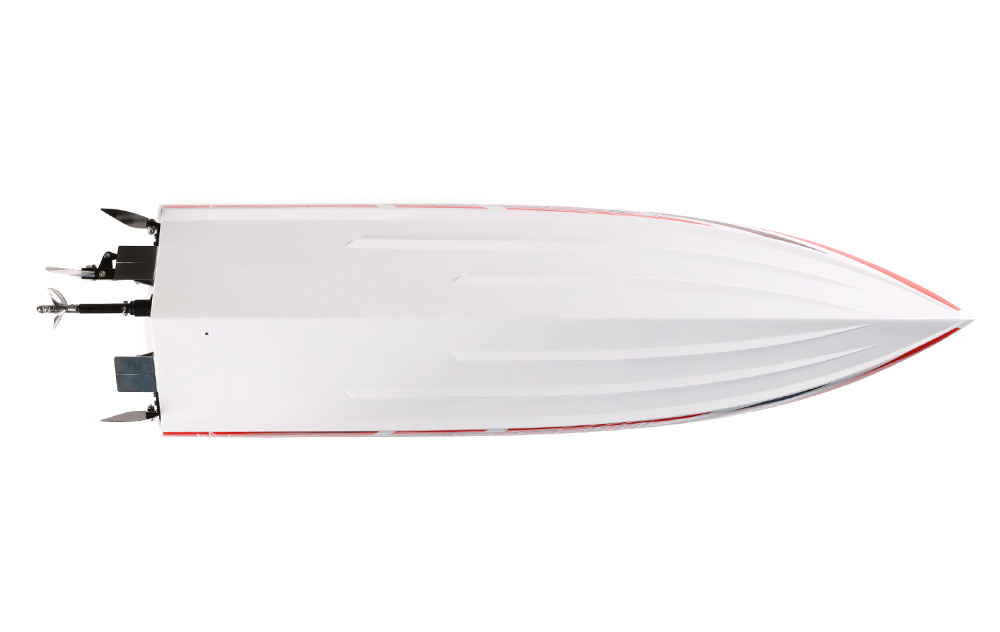 Fiberglass Hull
Durable multi-layer fiberglass hull features an attractive paint scheme and aggressive style resembling the fastest boats in offshore racing. Aluminum, threaded, canopy latch bases and EVA foam keep water out without the need for hatch tape.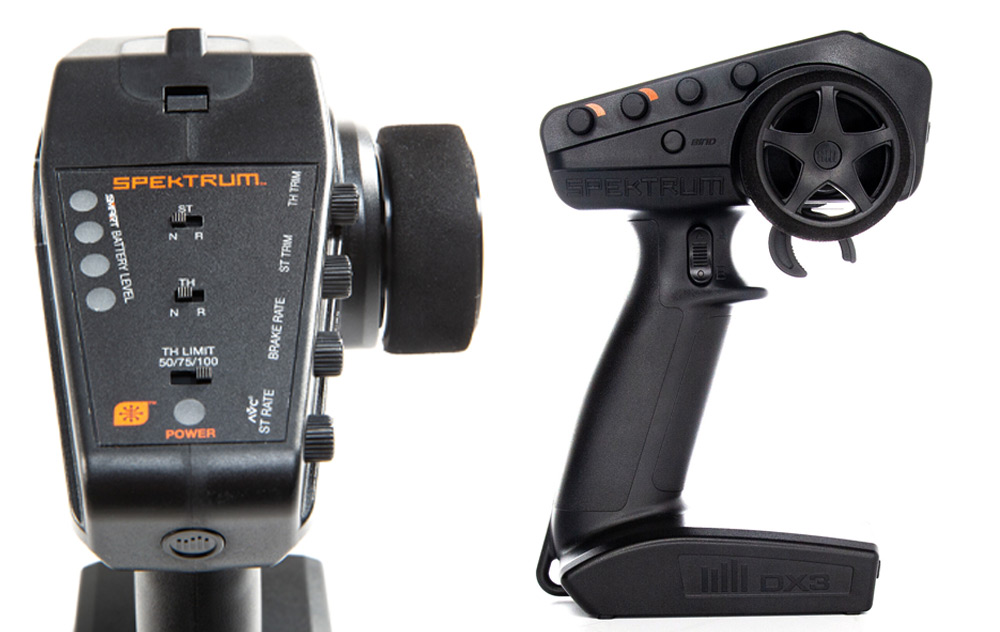 Spektrum™ DX3 Transmitter
Spektrum technology ensures crystal clear, interference free connection between the driver and boat. The DX3 features infinite model memory and is telemetry compatible.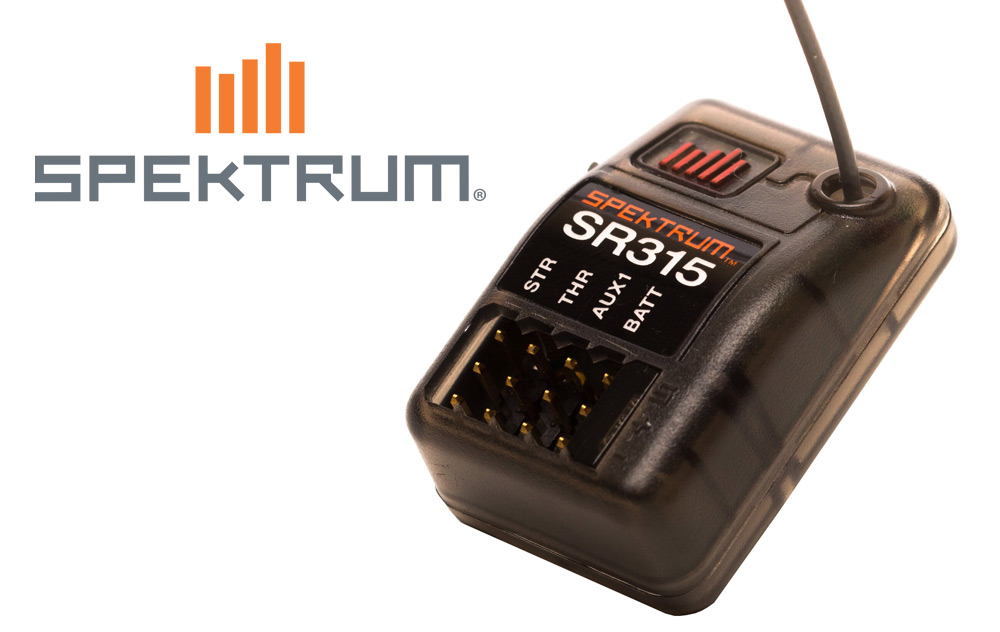 Spektrum™ SR315 Dual Protocol Receiver
The waterproof 3-channel receiver ensures interference free operation and is telemetry capable.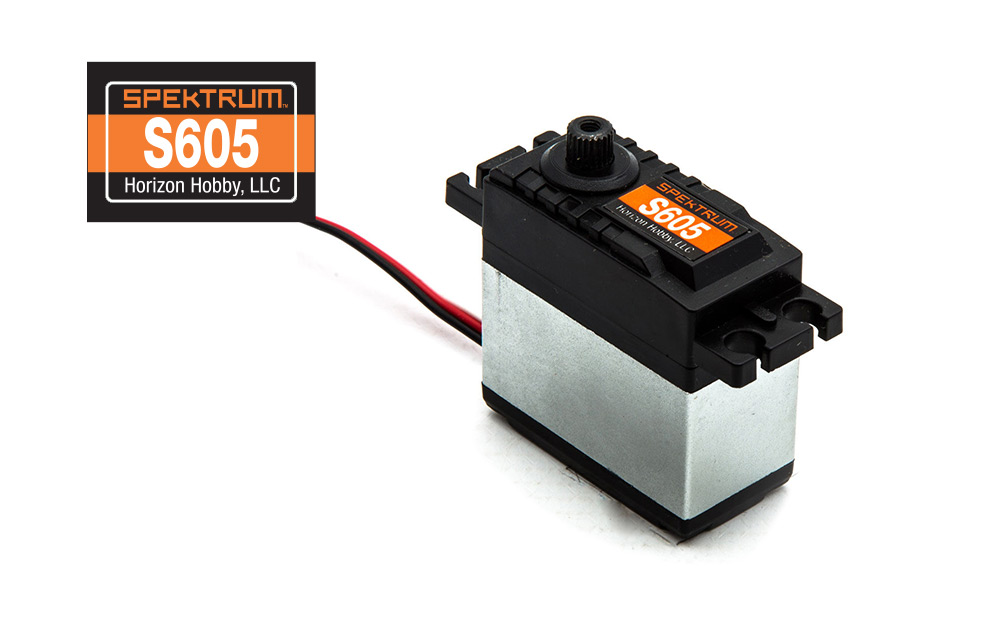 Waterproof Servo
The high torque servo provides more than enough power to keep the boat pointed in the correct direction. Waterproofing makes sure the servo is up to the task of being in a boat without the risk of failure do to getting wet.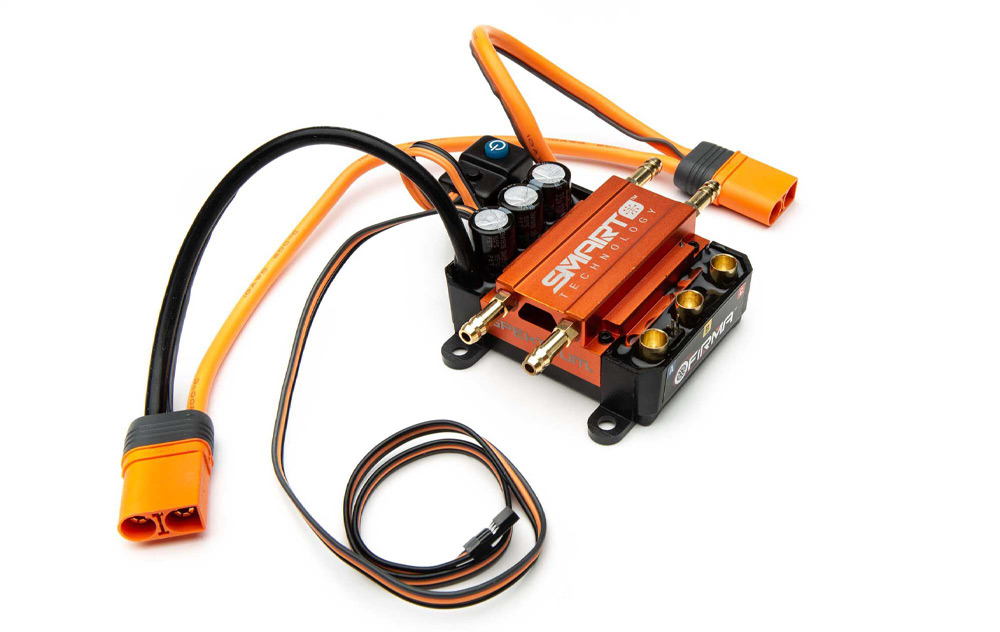 Spektrum™ Firma™ 160A Smart Brushless Marine ESC
Able to handle all the power needed, it is programmable, water-cooled, waterproof, and Smart.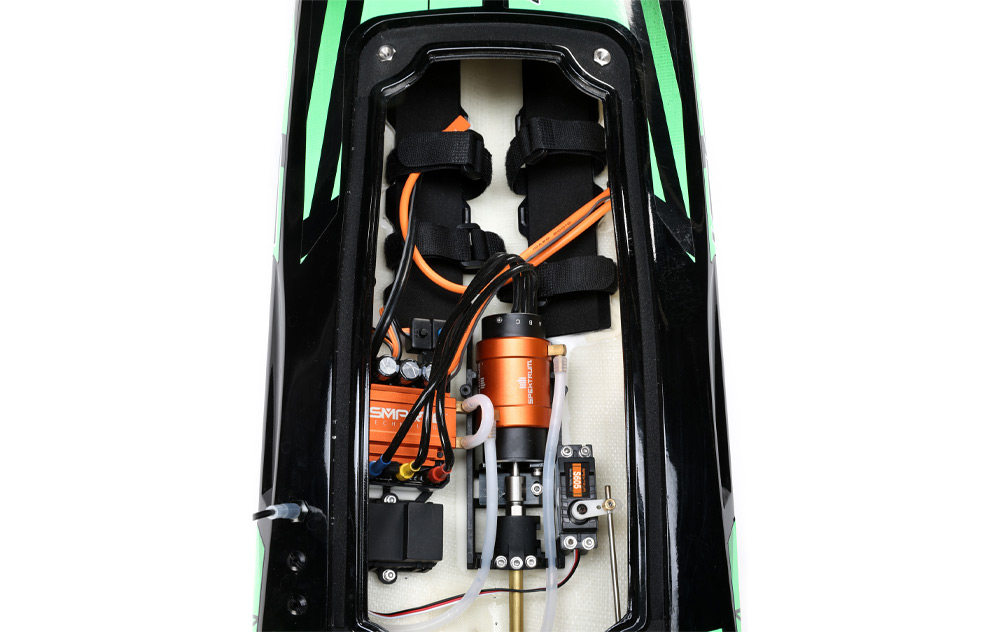 Clean Molded Composite Interior
The interior is wood-free to avoid rot and decay and the grease cup prevents grease from spreading inside. The clean molded composite interior adds rigidity and strength to the hull.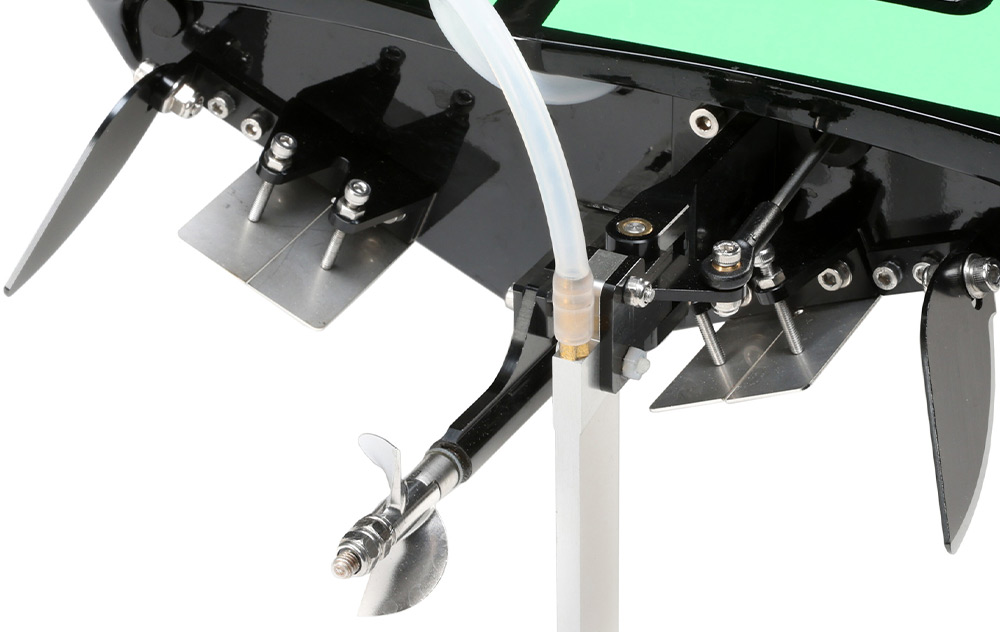 Adjustable Trim Tabs
Fully adjustable trim tabs provide top of the line performance in almost any water condition. Stainless steel construction provides long life.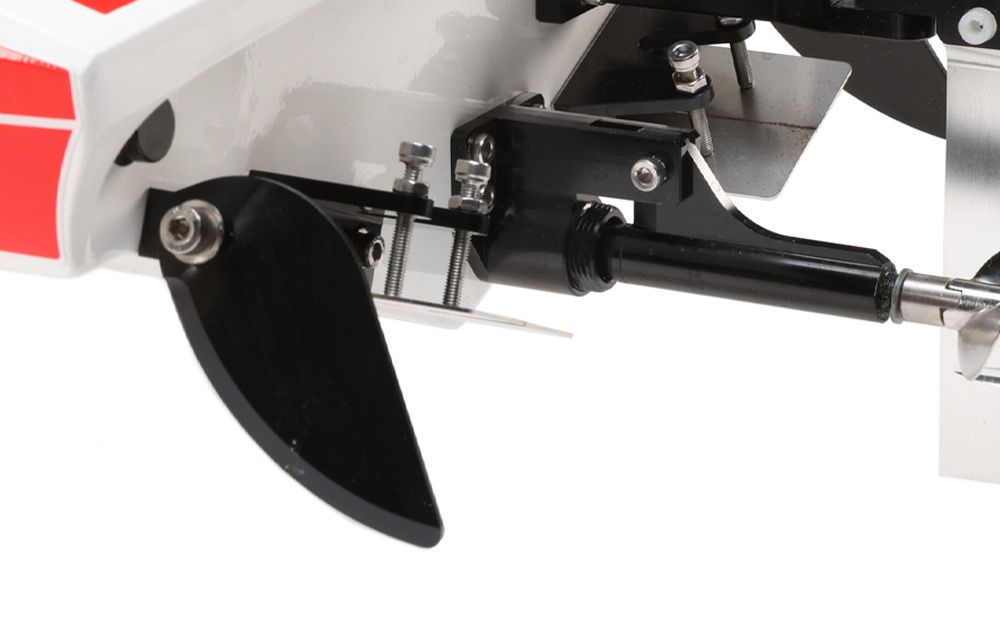 Adjustable Aluminum Turn Fins
Adjustability allows fine tuning for optimal performance in order to keep the boat planted in almost any water condition. Aluminum fins stand up to abuse of hitting floating objects in water. Anodized for protection from hard water.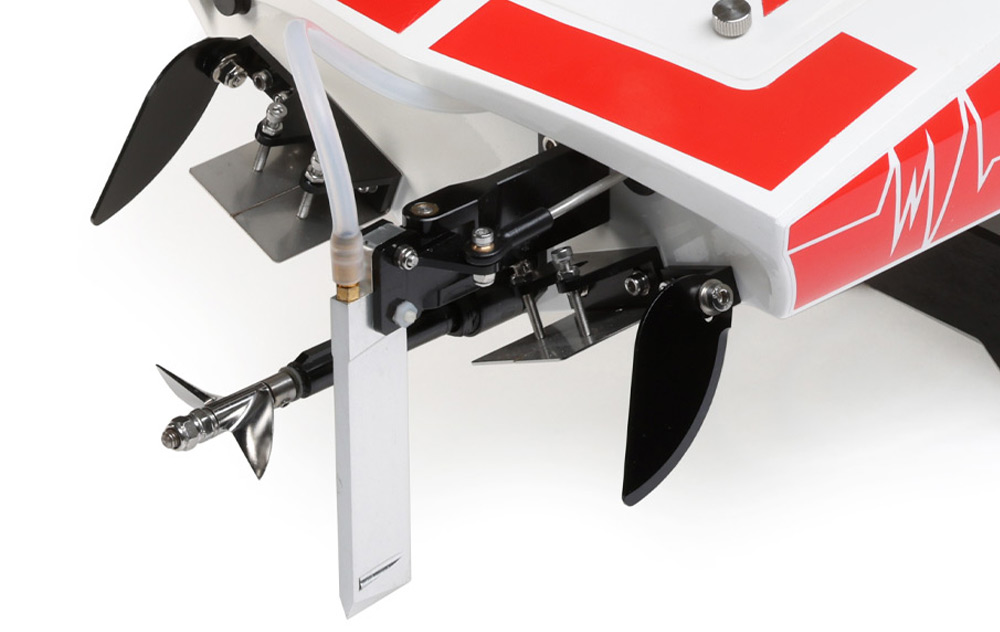 Aluminum Propeller Strut and Rudder
Both the adjustable stinger-style propeller strut and rudder feature hard anodized aluminum. The rudder has a special break away feature that protects the hull from damage in case floating debris is struck.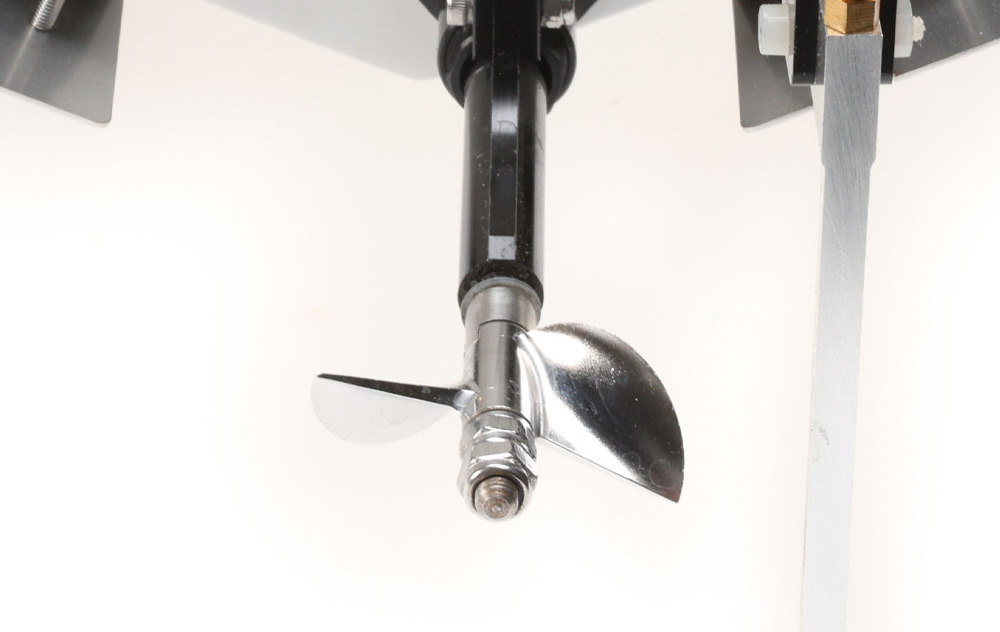 Stainless Steel Propeller
Stainless steel propeller for performance and durability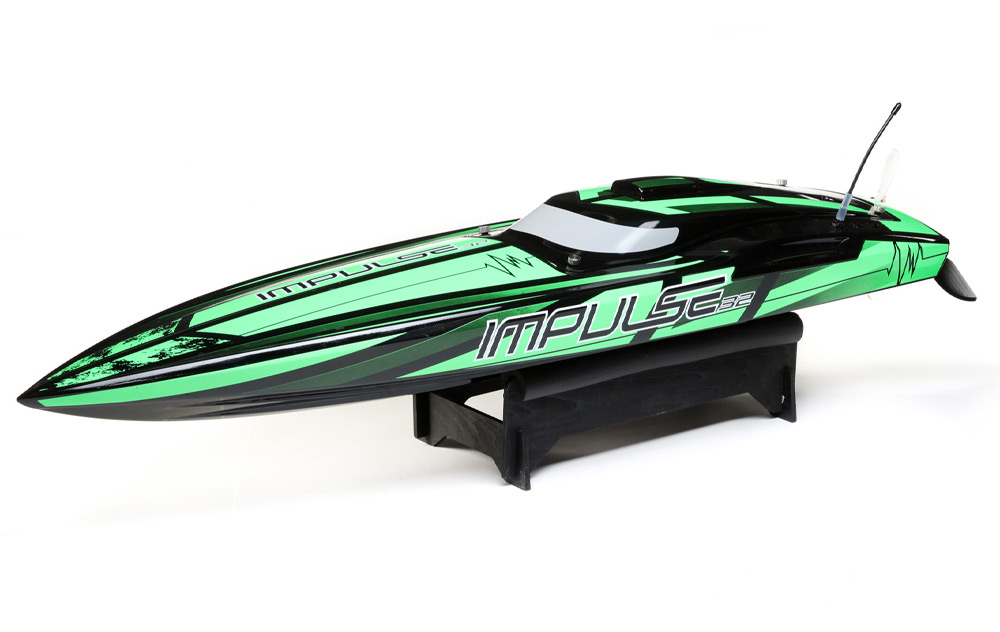 Boat Stand
The sturdy wood construction works as a display or work stand. Foam protects the boat's finish, and it can easily be stained to match any décor.
Approximate Assembly Time

Less than 1 hour

Battery

Sold Separately

Beam

9.36" (238 mm)

Charger

Sold Separately

Color Variant

Green

Completion Level

Ready-To-Run

Drive System

Flex Shaft/Direct

Hull Height

5.75

Hull Material

Fiberglass

Motor Size

3680

Motor Type

Brushless

Product Length

32.95" (837 mm)

Product Weight

8.95lbs

Propeller Size

1.7 X 1.6in - 5mm Shaft

Radio

Included

Receiver

Included

Speed

55+

Speed Control

Included

Steering

Offset Rudder

Trim Scheme Colors

White/Red, Black/Green
Worldwide Shipping
7-Day Shipping Anywhere in the World!
Satisfaction Guaranteed
Our products covered with full manufacturer's warranty.
30-Day Returns
Most un-opened un-used products can be returned within 30 days by contacting us.
24/7 Customer Support
Got questions? We got answers! Just contact our live chat to get an answer within 24 hours!
Customers Sometimes Ask...
Frequently Asked Questions

I'm new here in Pensacola and I called around to a few places to find certain things for my car. And ended up here at kings. I was amazing by the amount of product they car. And the young man behind the counter was so helpful and polite. Me and my sone got what we need and found a few other great info that we really needed.

Thank y'all so much



I live in Texas and have used King's website for a few purchases now, and every time they make sure to get my order shipped as fast as possible. Every order I have received has been packed perfectly and securely. I highly recommend them!



Great experience! They had a rare item in stock. Packaged very well and shipped promptly. I will definitely order from them again.



I've ordered online and now I've been in person. Stellar service and very knowledgeable. Corey and the guys know and love what they do. I'll be back next year for sure!
Great Products - got my RC Porsche from them - through their ebay store - fast shipment - well packed - great service. Very happy with purchase from King Cobra!
When into the shop on a whim with my son because I've been wanting to get back into RC cars. We ended up walking out with an Arrma Granite Mega by recommendation of Corey. He was a great help and answered all my questions. They only thing I was dissatisfied with was I asked about the run and charge time on the battery and was told about 20-30 minutes run time depending with about an hour to recharge the battery. The recharge time for the battery is about 3.5 hours with the charger that comes with the kit. The truck is a lot of fun, great to learn on and plenty fast for my 4 year old. I would recommend immediately buying another battery or upgrading to a LiPO battery and better charger.
I purchased an Axial SCX24 online. It was a quick and easy process, quick shipping, and the only place I could find with the one I wanted in stock! I'll definitely be using them again!
I have had such a wonderful experience with these guys. Over the last few weeks I have ordered an extremely large amount of product from them and I have been taken care of on each question I've asked and each concern that I've had. The real standout of the team so far, is Amanda (Mandie). I have been on the phone with her multiple times over the last few days because of a few little questions that I've had and she has gone above and beyond to help me every single time. I feel like this is a relationship that I will have with this company for a long time and look forward to doing business with them in the future.
These days, it's hard to find customer based businesses that take things seriously and these guys have it for sure. Excellent place and very trustworthy!
Great place!! My husband and I go there almost weekly, the staff is also very helpful. If you want a family feel atmosphere where they know you by name and always very helpful swing in and say hi you won't regret it.