---
Waterproof Electronics and Components
V1 Performance Street Tires
Locked Rear Drive
Dynamite 15-Turn Brushed Motor
AWD Shaft Driven Drivetrain
2.4 GHz Radio System
2 in 1 Brushed ESC / Receiver
Officially Licensed Body
LED Lights
Performance Proven Chassis
Features
Shaft-Driven AWD
Front Differential
Locked Rear Drive
Dynamite 15-Turn Brushed Motor
45A 2 in 1 Brushed ESC / Receiver
Waterproof Electronics
Performance Proven Chassis
Adjustable Battery Strap
V1 Performance Street Tires
Full Length Chassis Brace
Foam Front Bumper
Double Wish-bone Suspension
Motor Guard with Cooling Vents
CE28 Volk Licensed Wheels (LOS03033T1)
5 Spoke Chrome Wheels (LOS03033T2)
Officially Licenced 1969 Chevy Camaro Body
Overview
This striking reproduction of the '69 Chevrolet Camaro comes with a detailed body including a molded grill with bucket lights, fog lights, and rear lights as well as side view mirrors perfectly capturing the look and feel of this quintessential American muscle car. The Losi® '69 Camaro is a faithful recreation designed for discriminating auto enthusiasts as well as beginners looking to show off. The elegant aggression is present in every line and curve of the officially licensed body. Lurking beneath the muscle car exterior is the power and poise of a V100-S chassis. The V100-S chassis provides a balanced, neutral handling car with an emphasis on the locked rear differential. Its potent Dynamite® power system and shaft-driven AWD delivers excellent traction on paved surfaces and superb drift control when sliding across loose surfaces earning you serious street cred right out of the box. Roll down the street and watch the heads turn.
Video Overview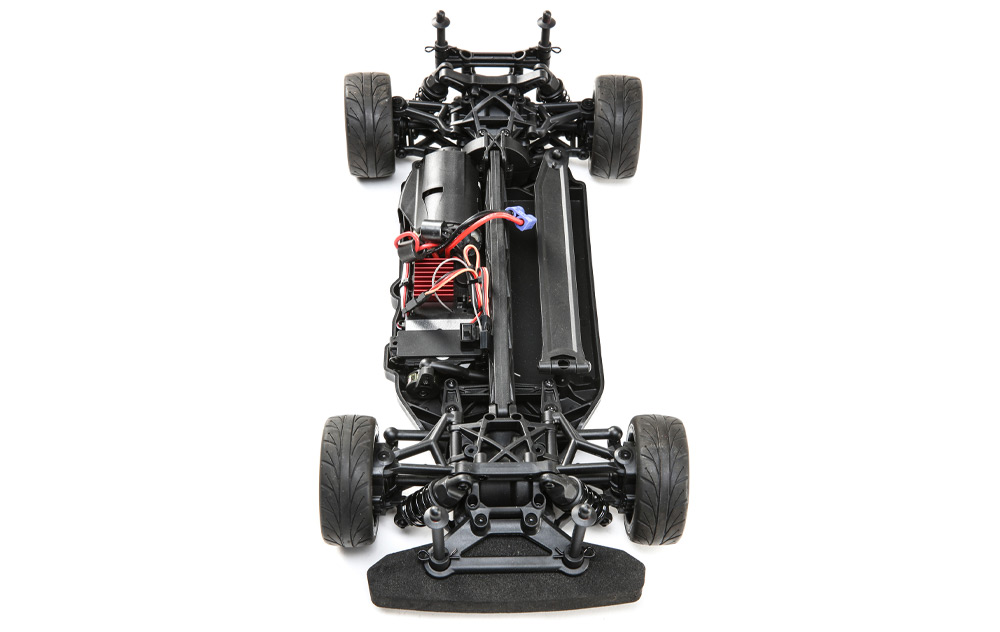 AWD Shaft Driven Drivetrain
The AWD drivetrain provides impressive traction and enhances performance.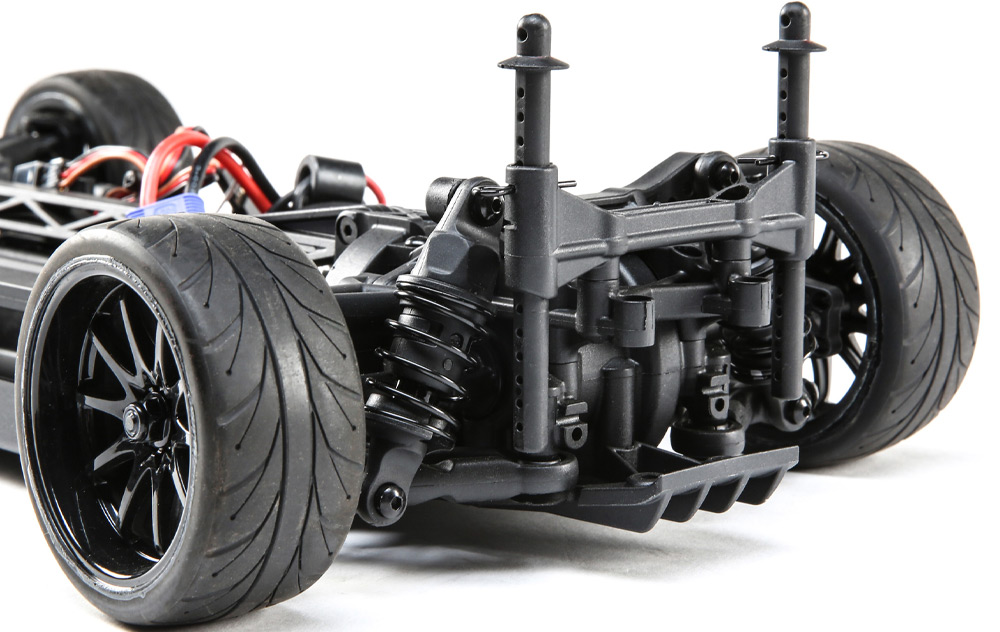 Locked Rear Drive
The all new locked differential in the rear end improves torque and drivability.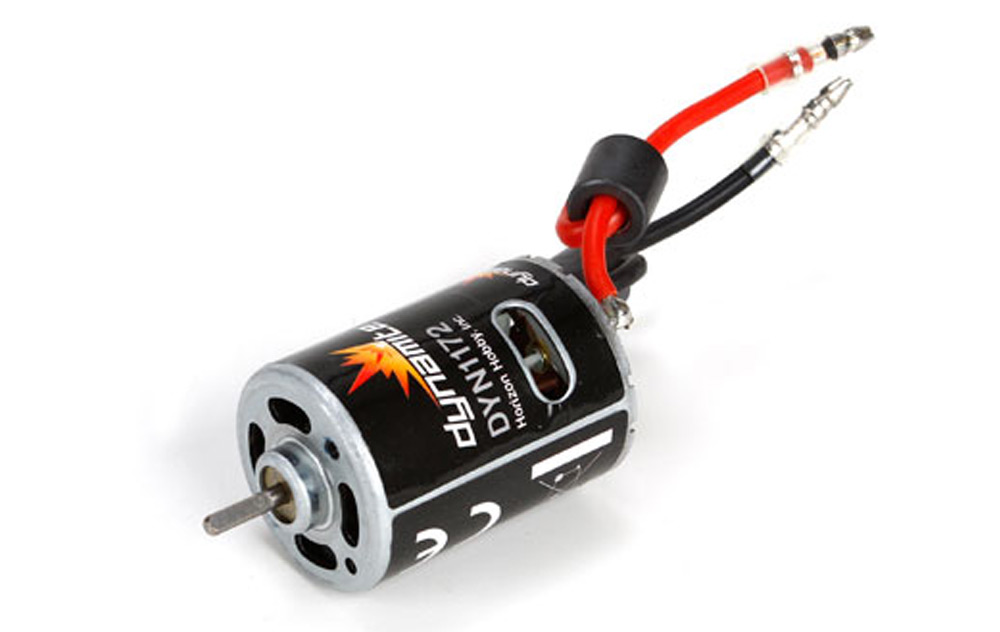 Dynamite 15-Turn Brushed Motor
The Dynamite 15T 540 motor rips out of the turns and has speed to impress on the straightaways.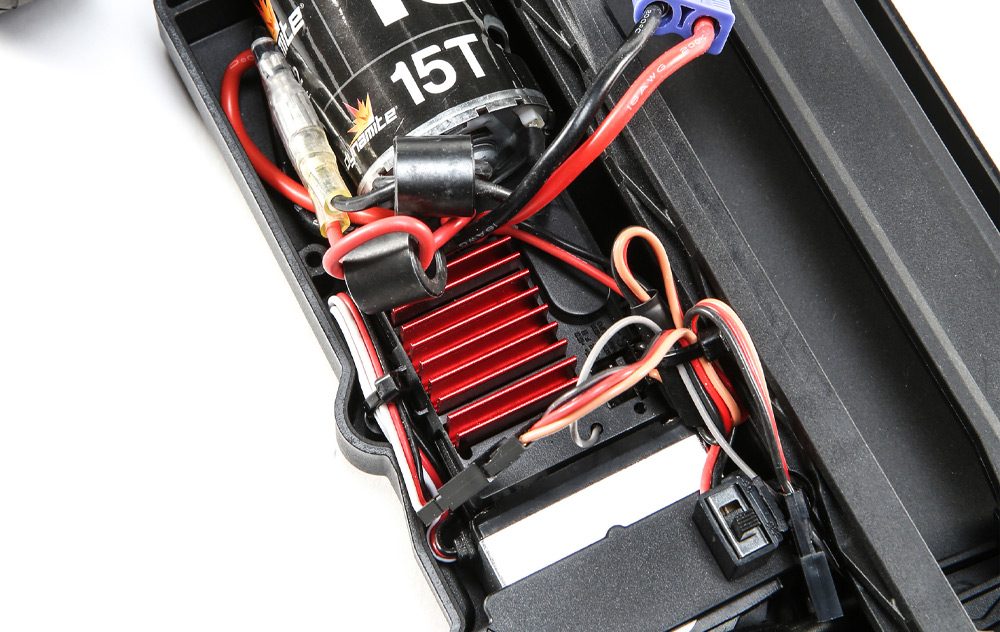 2 in 1 Brushed ESC / Receiver
The V100 Camaro is equipped with a 2-in-1 ESC/Receiver. This reliable and compact system provides 45A of protection and is Li-Po compatible with EC3 connector.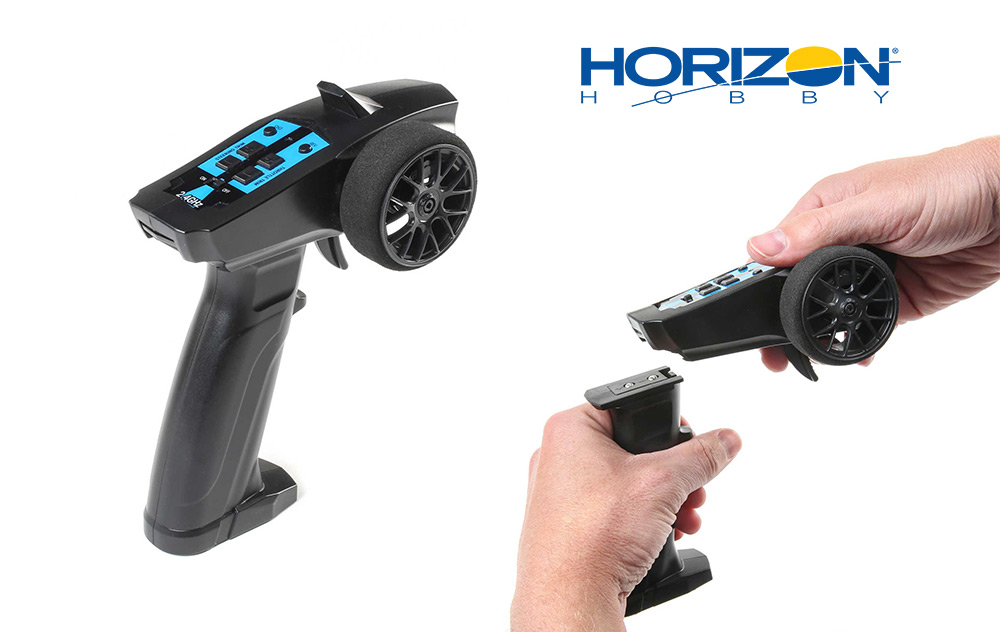 2.4 GHz Radio System
With features like throttle/steering reversing, throttle/steering travel adjust, the included 2.4GHz transmitter packs a lot of features in a small package with the interference-free connection.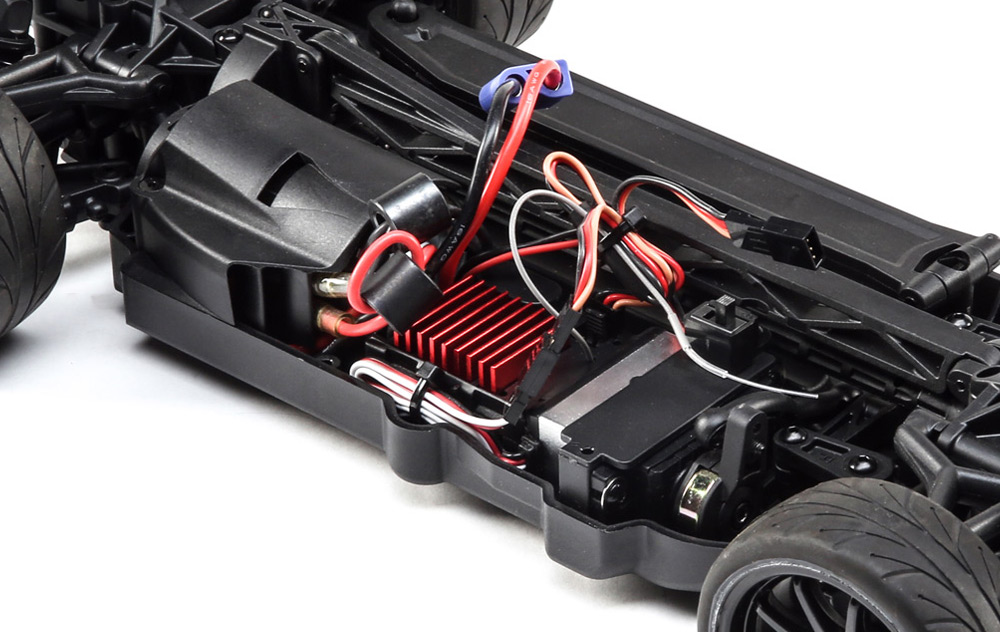 Waterproof Electronics and Components
Drive with confidence through puddles or extremely shallow water.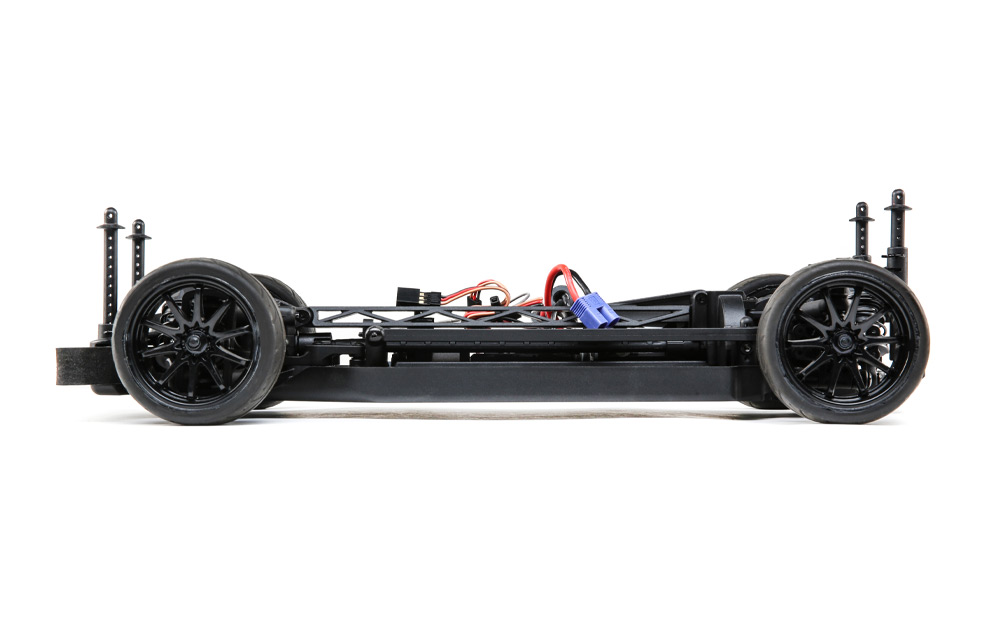 Performance Proven Chassis
This platform is known for taking a beating without flinching. You'll love how it tears up the asphalt without fear.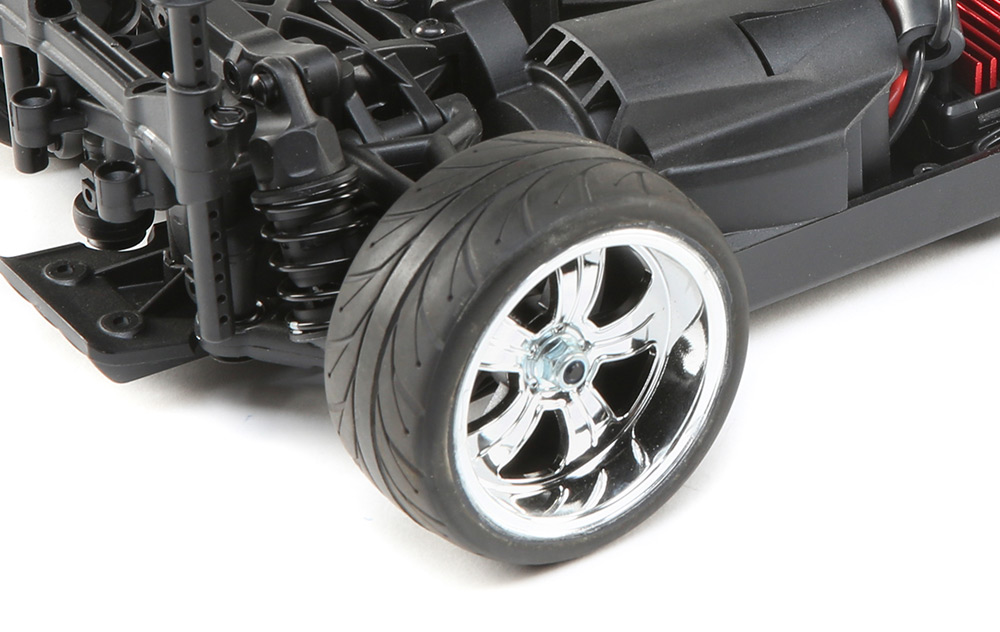 V1 Performance Street Tires
Not only do they look like their 1:1 counterparts, the Losi V1 Performance Tires grip the street and track like no other.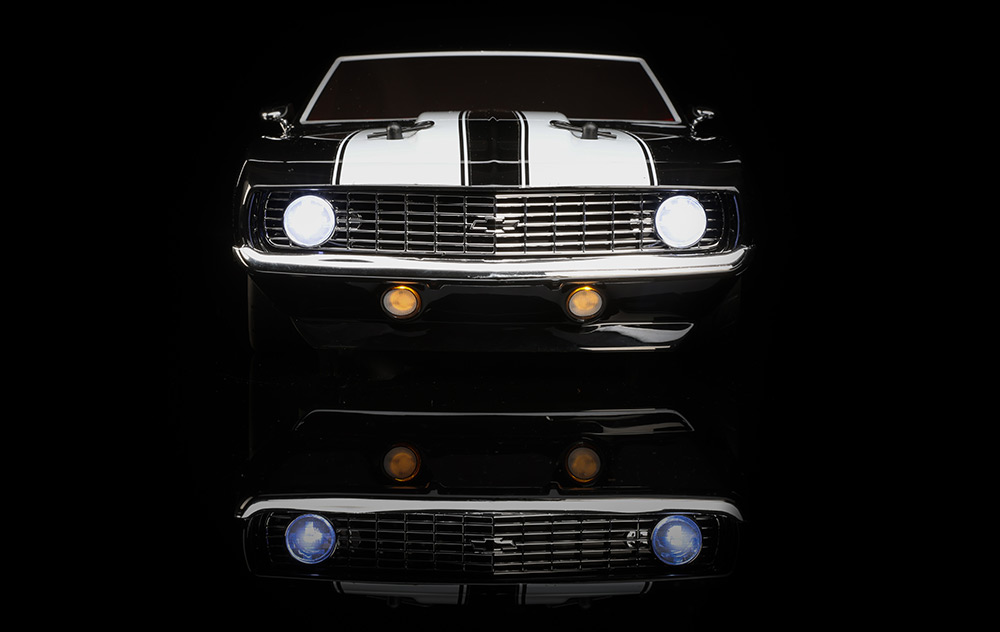 LED Lights
LED lights add to the Camaro's scale realism while amber running lights are mounted on the bumper, just like the full scale version.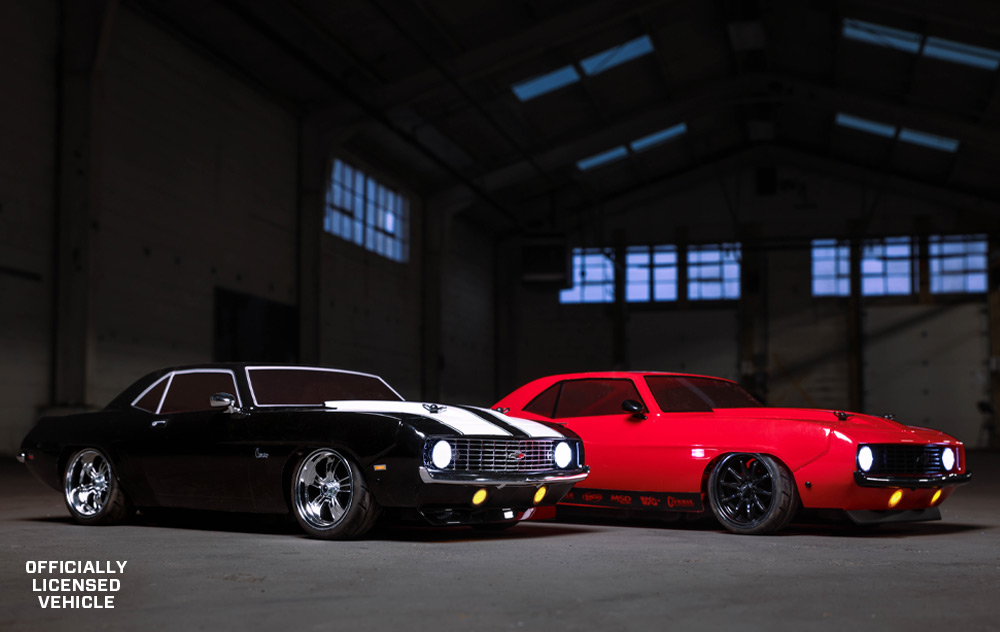 Officially Licensed Body
The full-scale Chevy Camaro is one of the most iconic muscle cars on the planet. Ours is true to scale and honors the real Camaro with a variety of realistic details.
Approximate Assembly Time

No assembly required

Ball Bearings

Drivetrain

Battery

Sold Separately

Body

Painted Polycarbonate

Brakes

Integral with ESC

Bushing Material

Metal

Charger

Sold Separately

Chassis

Injection Molded

Color Variant

Black

Completion Level

Ready-To-Run

Differential

Bevel Gear

Drive Type

Forward/Brake/Reverse

Drivetrain

AWD

Final Drive Ratio

2.66:1

Gear Pitch

48

Ground Clearance

.25" (6mm)

Internal Gear Ratio

3.5:1

Motor Type

Brushed

Pinion

22T

Power Type

Electric

Product Length

17.75" (451 mm)

Product Weight

3lbs 14oz (1758g)

Product Width

7.6" (193 mm)

Radio

Included

Receiver

Included

Scale

1/10

Servos

Included

Shock Type

Injection Molded Friction

Speed Control

Included

Spur Gear

77

Suspension

Independent

Vehicle Type

Touring Car

Water-Resistant

Yes

Wheelbase

10.25" (260 mm)
Worldwide Shipping
7-Day Shipping Anywhere in the World!
Satisfaction Guaranteed
Our products covered with full manufacturer's warranty.
30-Day Returns
Most un-opened un-used products can be returned within 30 days by contacting us.
24/7 Customer Support
Got questions? We got answers! Just contact our live chat to get an answer within 24 hours!
Customers Sometimes Ask...
Frequently Asked Questions

I'm new here in Pensacola and I called around to a few places to find certain things for my car. And ended up here at kings. I was amazing by the amount of product they car. And the young man behind the counter was so helpful and polite. Me and my sone got what we need and found a few other great info that we really needed.

Thank y'all so much



I live in Texas and have used King's website for a few purchases now, and every time they make sure to get my order shipped as fast as possible. Every order I have received has been packed perfectly and securely. I highly recommend them!



Great experience! They had a rare item in stock. Packaged very well and shipped promptly. I will definitely order from them again.



I've ordered online and now I've been in person. Stellar service and very knowledgeable. Corey and the guys know and love what they do. I'll be back next year for sure!
Great Products - got my RC Porsche from them - through their ebay store - fast shipment - well packed - great service. Very happy with purchase from King Cobra!
When into the shop on a whim with my son because I've been wanting to get back into RC cars. We ended up walking out with an Arrma Granite Mega by recommendation of Corey. He was a great help and answered all my questions. They only thing I was dissatisfied with was I asked about the run and charge time on the battery and was told about 20-30 minutes run time depending with about an hour to recharge the battery. The recharge time for the battery is about 3.5 hours with the charger that comes with the kit. The truck is a lot of fun, great to learn on and plenty fast for my 4 year old. I would recommend immediately buying another battery or upgrading to a LiPO battery and better charger.
I purchased an Axial SCX24 online. It was a quick and easy process, quick shipping, and the only place I could find with the one I wanted in stock! I'll definitely be using them again!
I have had such a wonderful experience with these guys. Over the last few weeks I have ordered an extremely large amount of product from them and I have been taken care of on each question I've asked and each concern that I've had. The real standout of the team so far, is Amanda (Mandie). I have been on the phone with her multiple times over the last few days because of a few little questions that I've had and she has gone above and beyond to help me every single time. I feel like this is a relationship that I will have with this company for a long time and look forward to doing business with them in the future.
These days, it's hard to find customer based businesses that take things seriously and these guys have it for sure. Excellent place and very trustworthy!
Great place!! My husband and I go there almost weekly, the staff is also very helpful. If you want a family feel atmosphere where they know you by name and always very helpful swing in and say hi you won't regret it.