---
YOU CAN FLY A JET!
Nearly everyone who sees a radio controlled (RC) jet tear across the sky has the same reaction: "I want to fly one of those!" But because of their speed and handling challenges, RC jets have been almost impossible for first-time or low-time RC pilots to fly successfully — until now. Thanks to the E-flite® Habu STS (Smart Trainer with SAFE®) 70mm EDF jet, you can actually learn to fly RC airplanes successfully with a jet! The Habu STS 70mm EDF is based on the legendary Habu, one of the best high-performance Electric Ducted Fan (EDF) sport jet platforms ever created. E-flite® engineers optimized the design to improve its low speed handling and slow speed performance and added options for taking advantage of exclusive Spektrum™ SAFE® flight assistance technology and innovative Smart components. As a result, the Habu STS 70mm EDF is the easiest to fly RC jet EVER, and the perfect choice to satisfy any RC pilot's desire to fly a jet!
Launch Video
Features
Unique and optimized airframe design improves low speed handling and slow speed performance, making it possible to learn to fly radio-controlled (RC) airplanes successfully with a jet
Based on one of the best first and high-performance EDF (Electric Ducted Fan) jet platforms ever designed — the legendary Habu
Five (5) factory-installed servos and linkages
Powerful brushless electric power system with 70mm 10-blade fan
3S and 4S compatible 70-amp telemetry-capable ESC
Install an optional 4S 3200-4000mAh battery for more power and speed
Oversized tires for operation from a variety of surfaces including grass
Wide-stance tricycle landing gear with steerable nose wheel
Quick and easy assembly — no glue or special tools required
Lightweight yet strong and durable EPO construction
Practice flying this aircraft in the RealFlight® simulator
OPTIMIZED FOR EASY FLIGHT
Engineered for improved low speed handling and performance to make flying and landings easier, the E-flite® Habu STS (Smart Trainer with SAFE®) 70mm EDF makes it possible to succeed in learning to fly with a jet as your first radio controlled (RC) airplane! Based on one of the best Electric Ducted Fan (EDF) sport jets ever designed, it's been optimized with the addition of SAFE® (Sensor Assisted Flight Envelope) technology featuring Beginner, Intermediate and Experienced flight modes to make it easy to fly successfully, especially with the help of an instructor. The inclusion of exclusive Spektrum™ Smart components including a lithium polymer (LiPo) battery and charger make it more convenient to charge properly and safely (battery and charger sold separately for the PNP version). Wide-stance tricycle landing gear with a steerable nose wheel and oversized tires allows for takeoffs and landings on surfaces ranging from paved runways to grass and even dirt, plus you can install the optional Landing Assist Sensor (LAS) that automatically "flares" for smoother landings to make learning to land even easier! Best of all, the durable EPO airframe assembles quickly and easily without the need for glue or special tools — which means you can be ready to fly in less time than it takes to charge a battery.
The Ready-To-Fly (RTF) version includes everything needed to fly in one box and is the perfect choice if you're a new RC pilot. From the Spektrum DXS 2.4GHz transmitter you can use with other Bind-N-Fly® (BNF) and BNF Basic aircraft after you learn to fly the Habu STS, to the 3S 4000mAh Smart LiPo battery and a convenient S120 USB-C Smart charger that can be used with a variety of USB power sources, there's nothing extra you need to buy or provide! A Plug-N-Play® (PNP) version lets experienced modelers choose and use their own transmitter, receiver, battery and charger. And for both versions, the powerful brushless power system including a telemetry-capable ESC and the servos are all factory-installed.
And the fun doesn't stop after you learn how to fly! In the Experienced Mode, the Habu STS 70mm EDF is capable of performing aerobatic maneuvers including loops, rolls, inverted (upside down) flight and more. You can use a 3S battery (included with the RTF version, sold separately for the PNP version) for an excellent balance of power and flight time, or you can install an optional 4S battery for more speed and thrust without the need for any modifications or upgrades (4S battery and compatible charger sold separately for both versions).
As a bonus, the RTF version also includes a Spektrum WS2000 Wireless Simulator Dongle plus a Steam® code to download and activate the RealFlight® Trainer Edition RC flight simulator — an incredible value!. The simulator features six popular Horizon Hobby trainer aircraft, including the Habu STS 70mm EDF jet, and built-in Virtual Flight Instructor lessons. This helps new pilots learn to fly successfully by practicing on a PC at home or on a laptop just about anywhere else! Plus, you can upgrade to the latest full edition of RealFlight via Steam any time at a discounted price!
Video Overview
Needed to Complete
Full-range 5+ channel transmitter and receiver
3S 11.1V or 4S 14.8V 3200–4000mAh LiPo with EC3™ or IC3™ Connector
Compatible LiPo charger
What's in the Box?
(1) E-flite Habu STS 70mm EDF with:

(1) Brushless Outrunner Motor (installed)
(1) 70A Brushless ESC (installed)
(5) Servos (installed)

(1) Product Manual
Flight Talk
BONUS Flight Talk: 4S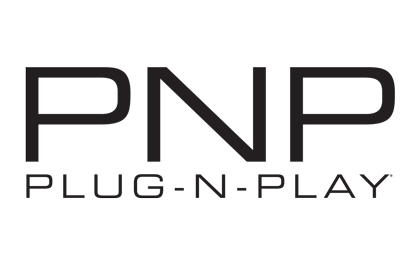 Plug-N-Play® Completion Level
The Plug-N-Play® (PNP) version comes out of the box with a factory-installed power system and servos that are ready to connect to the compatible receiver of your choice (sold separately), plus the transmitter and battery you provide (also sold separately). Simply install the receiver, finish any final assembly, and fly!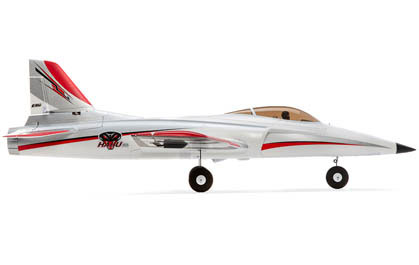 Uniquely Optimized
Jets are typically faster and harder to fly than most of their prop-driven counterparts, which made it impossible for first-time, and even low-time, RC pilots to fly them – until now! The unique and optimized airframe design of the Habu STS improves low speed handling and slow speed performance to finally make it possible to learn to fly radio controlled (RC) airplanes successfully with a jet.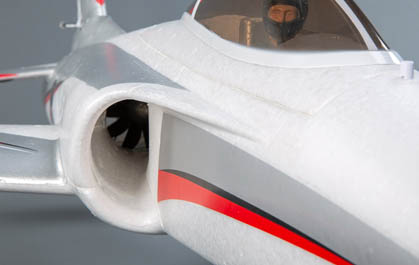 High Power
The factory-installed brushless power system features a 70-amp telemetry-capable ESC plus a specially-tuned motor and 10-blade 70mm fan that delivers an abundance of thrust with a 3S LiPo battery, or more power and speed with an optional 4S battery without the need for any modifications or upgrades.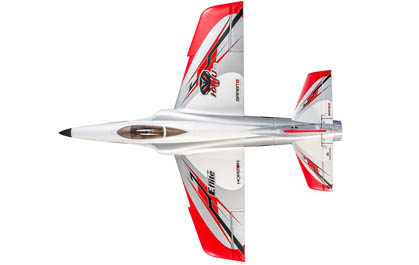 Durable Design
Construction with advanced EPO material delivers a lightweight yet durable airframe that's tough enough to handle everyday flying punishment without getting bent out of shape. And in the unfortunate event you damage any airframe parts or components and can't repair them, a full line of replacement parts is readily available.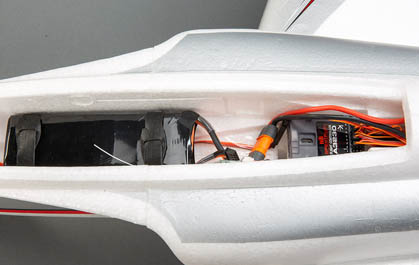 Easy Assembly
The Habu STS 70mm EDF PNP arrives mostly factory-assembled with the power system and servos installed (flight controller and receiver are sold separately). All you need to do is finish some quick and easy final assembly, without the use of glue or special tools, and you'll be ready to fly in less time than it takes to charge a battery!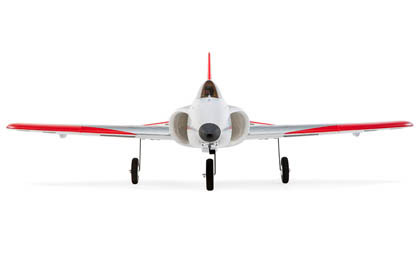 Capable Gear
The wide-stance tricycle landing gear with a steerable nose wheel and oversized tires offers improved ground handling for easier take offs and landings on a wide variety of surfaces from paved runways to grass and even dirt.
Battery

Sold Separately

CG (Center of Gravity)

90 - 100mm from leading edge

Charger

Sold Separately

Completion Level

Plug-N-Play

Fan Size

70mm EDF

Flaps

No

Material

EPO

Minimum Required Radio

Full-range 5+ channel

Minimum Speed Control

70-Amp

Motor Size

2227-3200kV

Power Type

Electric

Product Length

1140" (28956 mm)

Radio

Sold Separately

Receiver

Sold Separately

Recommended Motor Battery

3S / 4S 4000mAh

Servos

Included

Skill Level

Level 2

Speed Control

Included

Technology 

Smart

Transmitter Range

Full-range

Under 250g FAA Weight Limit

251-2000g

Wingspan

40.5" (1029 mm)
Worldwide Shipping
7-Day Shipping Anywhere in the World!
Satisfaction Guaranteed
Our products covered with full manufacturer's warranty.
30-Day Returns
Most un-opened un-used products can be returned within 30 days by contacting us.
24/7 Customer Support
Got questions? We got answers! Just contact our live chat to get an answer within 24 hours!
Customers Sometimes Ask...
Frequently Asked Questions

I'm new here in Pensacola and I called around to a few places to find certain things for my car. And ended up here at kings. I was amazing by the amount of product they car. And the young man behind the counter was so helpful and polite. Me and my sone got what we need and found a few other great info that we really needed.

Thank y'all so much



I live in Texas and have used King's website for a few purchases now, and every time they make sure to get my order shipped as fast as possible. Every order I have received has been packed perfectly and securely. I highly recommend them!



Great experience! They had a rare item in stock. Packaged very well and shipped promptly. I will definitely order from them again.



I've ordered online and now I've been in person. Stellar service and very knowledgeable. Corey and the guys know and love what they do. I'll be back next year for sure!
Great Products - got my RC Porsche from them - through their ebay store - fast shipment - well packed - great service. Very happy with purchase from King Cobra!
When into the shop on a whim with my son because I've been wanting to get back into RC cars. We ended up walking out with an Arrma Granite Mega by recommendation of Corey. He was a great help and answered all my questions. They only thing I was dissatisfied with was I asked about the run and charge time on the battery and was told about 20-30 minutes run time depending with about an hour to recharge the battery. The recharge time for the battery is about 3.5 hours with the charger that comes with the kit. The truck is a lot of fun, great to learn on and plenty fast for my 4 year old. I would recommend immediately buying another battery or upgrading to a LiPO battery and better charger.
I purchased an Axial SCX24 online. It was a quick and easy process, quick shipping, and the only place I could find with the one I wanted in stock! I'll definitely be using them again!
I have had such a wonderful experience with these guys. Over the last few weeks I have ordered an extremely large amount of product from them and I have been taken care of on each question I've asked and each concern that I've had. The real standout of the team so far, is Amanda (Mandie). I have been on the phone with her multiple times over the last few days because of a few little questions that I've had and she has gone above and beyond to help me every single time. I feel like this is a relationship that I will have with this company for a long time and look forward to doing business with them in the future.
These days, it's hard to find customer based businesses that take things seriously and these guys have it for sure. Excellent place and very trustworthy!
Great place!! My husband and I go there almost weekly, the staff is also very helpful. If you want a family feel atmosphere where they know you by name and always very helpful swing in and say hi you won't regret it.