---
DuraTrax Bandito X Belted Mounted Tires, 24mm Black (2) DTXC5500
Guaranteed safe & secure checkout
Micro Fiber Tech (MFT) Belted Tires Feature:
A new innovation and technology
Reduced weight
Reduced tire ballooning at high speeds
A more rigid and consistent overall tire structure
Reduced distortion and flex
Increased stability and more even contact with the road surface
More grip, longer tire life and reliability
Fits Traxxas X-Maxx
LESS WEIGHT, LESS BALLOONING, LESS DISTORTION, MORE DURABLE
Micro Fiber Tech (MFT) is a new innovation and technology which combines a unique woven belt and a special adhesive formula that perfectly bonds within the carcass of the tires. Therefore, its quality is retained over the entire lifetime of the product.
During driving, MFT belted technology effectively reduces and limits the rate of distortion and deformation of the tire, which provides a much more stable and a pleasant driving experience - especially at the high speeds that today's RC cars are capable of achieving! MFT belted technology not only enhances the durability of the tire but also provides ultimate performance, traction and grip.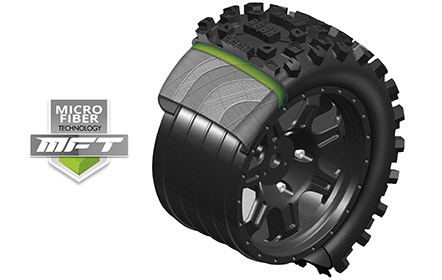 Inner Tire / Outer Wheel Diameter

4.3 in

Package Type

Pre-Mounted

Refinement Color

Black

Tire Tread

Bandito

Wheel Hex Size

24mm

Wheel Position

Front/Rear

Wheel Type

7-spoke hardened plastic construction
Worldwide Shipping
7-Day Shipping Anywhere in the World!
Satisfaction Guaranteed
Our products covered with full manufacturer's warranty.
30-Day Returns
Most un-opened un-used products can be returned within 30 days by contacting us.
24/7 Customer Support
Got questions? We got answers! Just contact our live chat to get an answer within 24 hours!
Liquid error (snippets/product-template line 699): Could not find asset snippets/custom_fields.products.parts_list.liquid