A variety of Tamiya products such as mini-shikakeri, work kits, fun trains, original goods perfect for souvenirs, outlet products at special prices, and featured products limited to the event hall are also available. It is
Outlet product
We sell outlet molded product sets of scale models, such as sports cars and military miniatures. It is a bargain product that parts including parts except decal etc. are complete. We also sell outlet products for completed RC (radio control) cars. In addition to the pre-painted body and the completed car body, the transmitter and the battery etc. are a full set of things necessary for traveling, so you can enjoy traveling immediately if you take them out of the bag and charge the battery.
Items for Event Venues
● DCR-01 (Decross 01) Clear Blue Special (MA chassis) 1,296 yen (tax included)
· Clear blue body
· Super light gray made of ABS MA chassis
· Deep blue plated small diameter low height tire Y spoke wheel
· "PDC DESIGNWORKS / SUPER HARD's white print small diameter super hard low height tires (Black)
● Avante Jr. Black Special 1,080 yen (tax included)
Released in 1989, Reproduced items that are currently being discontinued as event venue limited products .
· Smoked ABS body
· Black ABS type 2 chassis
· Fluorescent pink large diameter wheel
· Mini 4 wheel Koala pastel special (VS chassis) 1,296 yen (tax included)
· Light green body and pink VS chassis are pastel colors ABS-based
tires made of clear small-diameter low-height tires (soft)
and beige koala figures are assembled and painted.
● Mini 4WD basic box cabinet (with 1 box) 820 yen (tax included)
Mini 4WD Is a cardboard cabinet that can hold up to three. One basic box is attached.
● Full cowl Mini 4WD 25th Anniversary Blue Tire & Green Plated Wheel 388 yen (tax included)
● Full Cowl Mini 4WD 25th Anniversary Red Tire & Gold Plated Wheel 388 yen (tax included)
A set of tires and wheels commemorating the 25th anniversary of the full cowl mini 4WD.
· Small size low height tire (hard) with white print of "FULLY COWLED MINI 4WD 25th ANNIV."
· Spiral spoke wheel for small diameter low height tire with plating · Hard to
bounce and hard to slow down at corners Hard type
※ The above items are Tamiya It is a product sold only at the event.
There are a limited number of outlet products and limited products. Please pardon when sold out. In addition, with regard to popular products, we will restrict the purchase quantity of one person. In addition, please understand that the contents etc. may be changed as for the sales product which has been guided.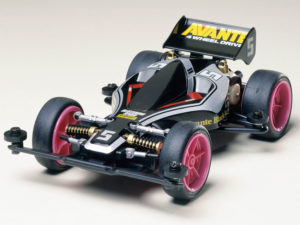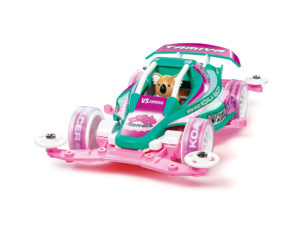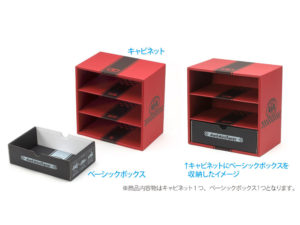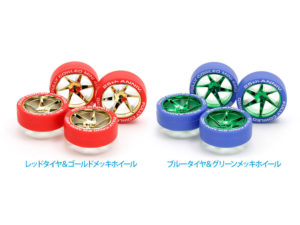 The post Tamiya Hobby World 2019 limited Mini 4WD event sale items appeared first on TamiyaBlog.