We know it's not easy to participate in nationwide series and for those who do, have a rare opportunity to really test their skills against some of the best racers in the US and across a multitude of tracks to really elevate their game. The JConcepts Indoor National Series is the ultimate test of man and machine and after 5 fantastic races, the INS9 season comes to an end.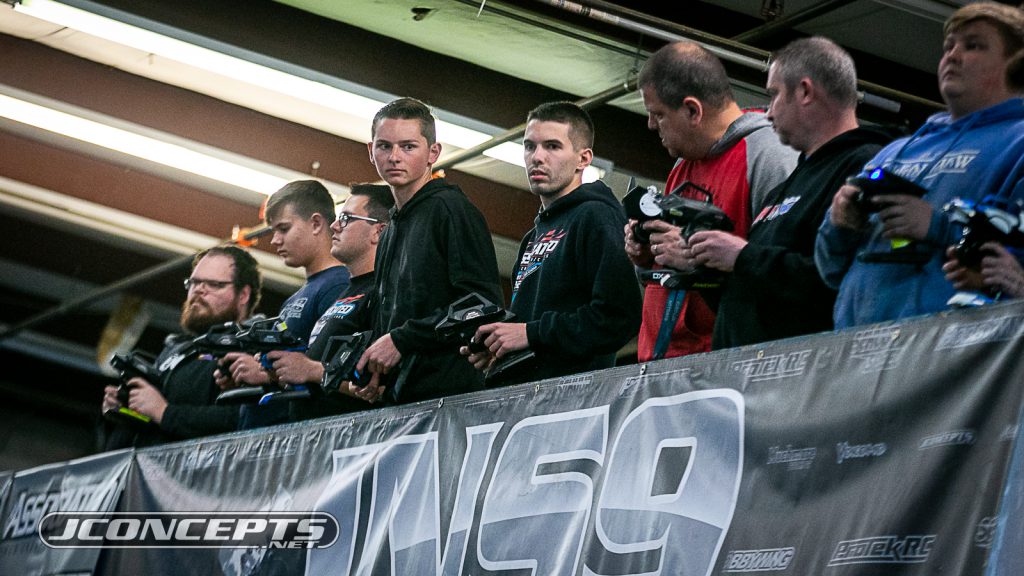 From St. Louis, Tacoma, Chandler, Warren, and Myrtle Beach, each track brought different challenges with tires, setup, layout, and atmosphere making each event unique and a standout race on its own. With 3 races counting out of 5, racer are able to choose which track to attend allowing them to select their favorite tracks or tracks they have not been to.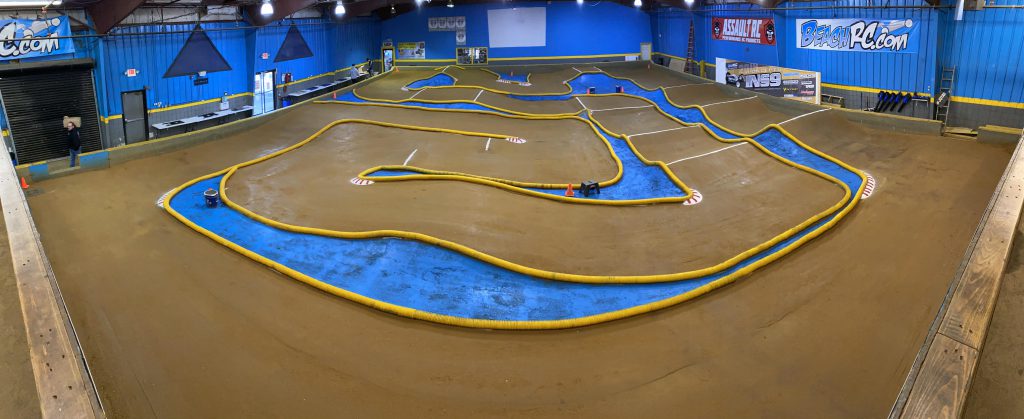 The Final race is such an important and decides who the overall champions are in each respective classes. With everything on the line, racers were here a day in advance to get the most out of their track time. This year, the layout was extra fun with a twist. The triple on the right side of the track really felt intimidating because of the fact that the hard crashes often resulted in breakouts and DNFs. With only 3 rounds of qualifying, failing to finish one qualifier could result in an unfavorable qualifying spot making and made it harder to finish up the grid. The back section of the track was considered very fun to do and when you got it right, felt very, very rewarding and fast! The track had a great flow and the triple kept you on your toes and never allowed you to get over confident on the track no matter how big your lead was. Each lap was a driving pleasure that mixed in difficulty and precision driving. Thanks goes out to Brent Densford and his crew for delivering an awesome track that was a great mix of fun and difficulty.
21.5 Independent Stock 2wd Buggy
The Hobbywing 21.5 Independent Stock 2wd class is always fun and exciting as these drivers have zero sponsorship and race independently on their own without team support. With fixed gearing and a Hobbywing 21.5 urn locked timing handout motor, the class was created to promote fair racing for beginners without all the hoopla required to run 17.5 Pro stock 2wd.
With many 21.5 Indy wins already, Lee Conley Jr. was able to set the TQ and carried the momentum into his 8 minute single A-Main to take another impressive win at the INS9 Finals race. Josh Hatchell put on a charge to fight for the win and came up just a bit short but still a great result finishing 2nd. Jacob Hartman found his way to a clear 3rd place finish with Jerrett Campbell and Erric Irvin taking home 4th and 5th.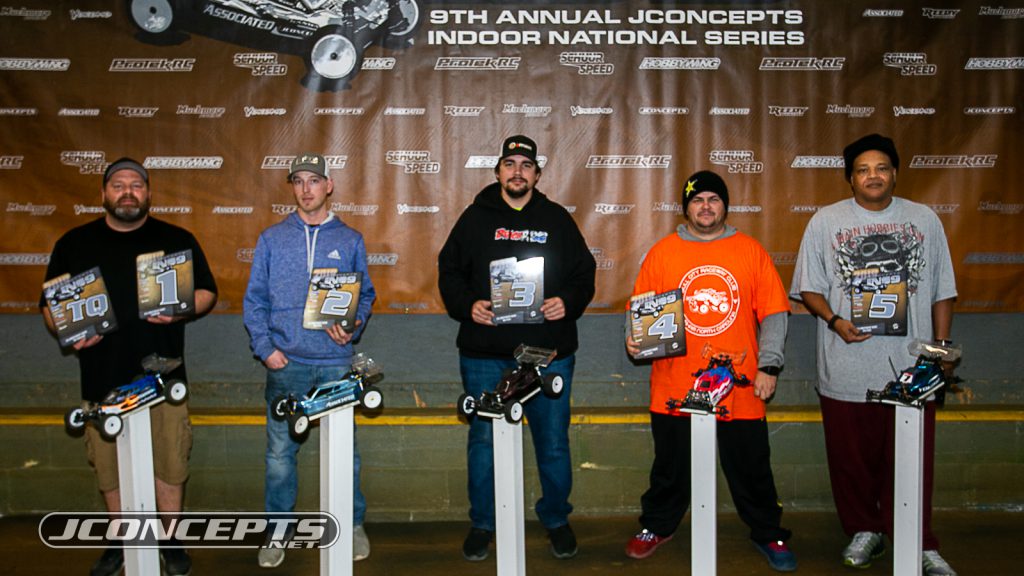 1st Place – (TQ) Lee Conley Jr
2nd Place – Josh Hatchell
3rd Place – Jacob Hartman
4th Place – Jerrett Campbell
5th Place – Erric Irvin
13.5 Short Course
The battle was intense in the 13.5 SCT class as AE/JConcepts' Chris VanRaemdonck scored an impressive comeback win as he and class TQ, Tom Tanner, battled it out for the bragging rights. Tom was close and only finished 2 seconds back in 2nd while Josh Parrish took home the 3rd place trophy. Trinity's Justin Sherman showed the speed to finish 4th with Brad Powell closing out the top 5 in 5th.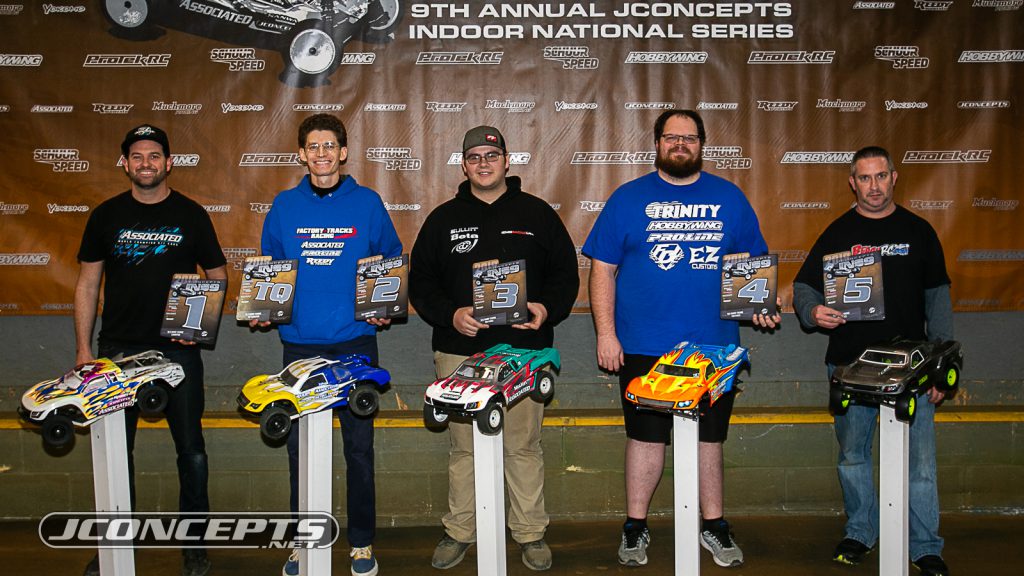 1st Place – Chris Vanraemdonck
2nd Place – (TQ) Tom Tanner
3rd Place – Josh Parrish
4th Place – Justin Sherman
5th Place – Brad Powell
13.5 Stadium Truck
AE's Dillon Latour was on fire in the 13.5 Stadium Truck class as he was able to set the TQ and use his pole position to convert a fabulous win. AE/JConcepts' Frank Deiny definitely had the speed to deny Latour the win, but ultimately finished 2nd overall. Once again, making another podium was AE/JConcepts' Chris VanRaemdonck, who finished the night out in 3rd. Also having a great race this weekend in stadium truck was Yokomo/JConcepts' Chad Eubanks, who made the trip from northern California to join us for the INS9 Finals. The last spot on the 5 man podium went to Lee Conley Jr.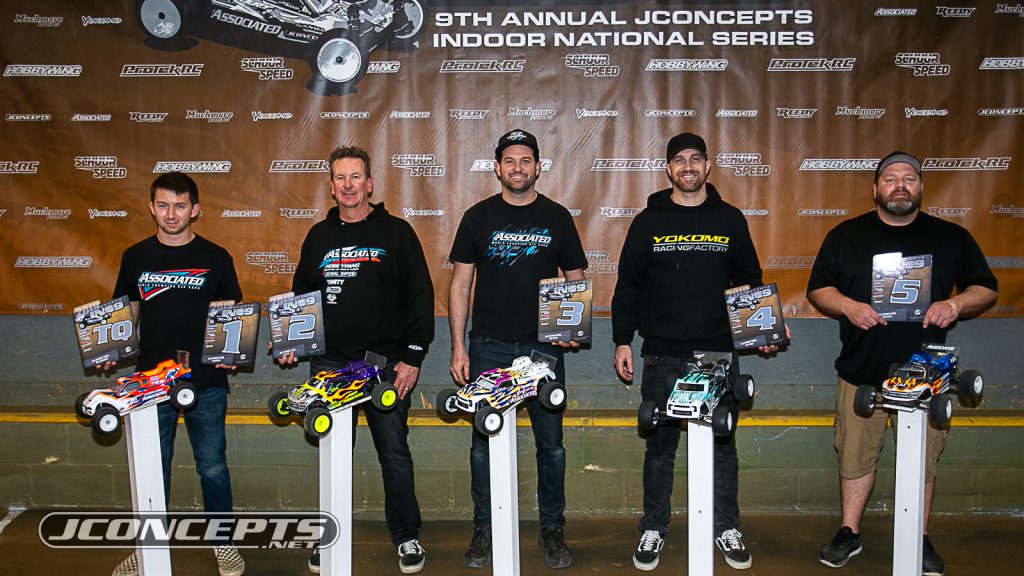 1st Place – (TQ) Dillon Latour
2nd Place – Frank Deiny
3rd Place – Chris Vanraemdonck
4th Place – Chad Eubanks
5th Place – Lee Conley Jr.
4×4 Mini Truggy
In the 4×4 Mini Truggy class, FTR's Austin Horne and Aydin Horne went head to head for the win, but in the end it was Austin Horne taking home the W over his younger brother, Aydin. Both showed great speed all weekend with their FTR converted trucks and have been a huge factor in the overall INS9 season. 3rd place goes to Yokomo/JConcepts' Reid McMichael, who set the fastest single lap and definitely had the speed. Rounding out the top 5 was Erric Irvin and HB Racing's Ryan Daze.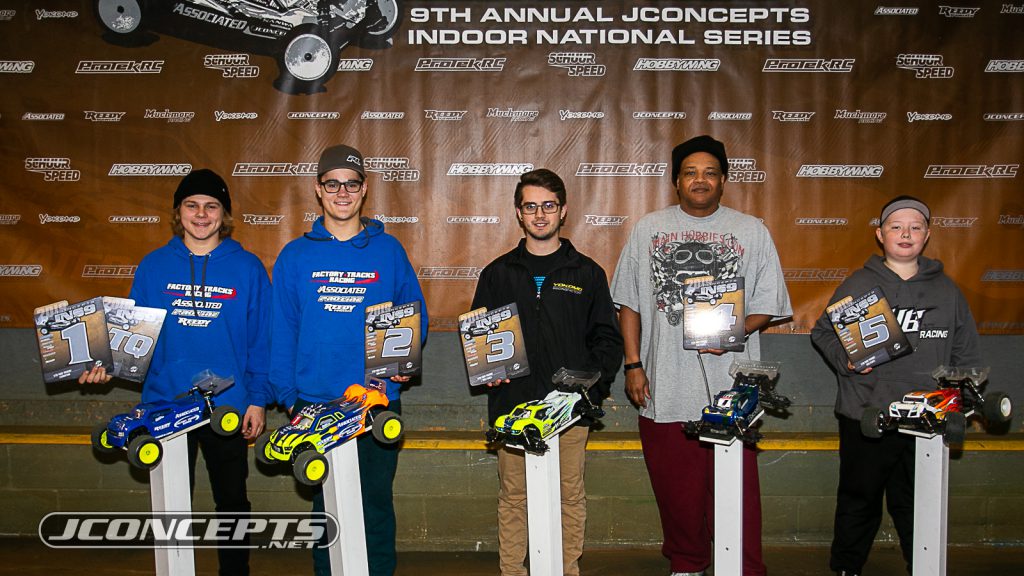 1st Place – (TQ) Austin Horne
2nd Place – Aydin Horne
3rd Place – Reid McMichael
4th Place – Erric Irvin
5th Place – Ryan Daze
17.5 Expert Stock 2wd
The competitiveness in the 17.5 Expert 2wd Stock class was intense. Using his 2wd talents, AE's Matt Cline scores the win over a hefty field of drivers this weekend. Taking home 2nd and always impressive in the 2wd stock class was AE/JConcepts' Aj Marasco. Doing what most thought was impossible was AE's Christian Pahud. Pahud missed all of practice and qualifying because of a wedding, however Pahud bumped from the E main all the way to the A and finished 3rd overall. Tekno/JConcepts' Patrick Rossiter Jr managed a great race and found himself 4th overall with Ryan Millington 5th.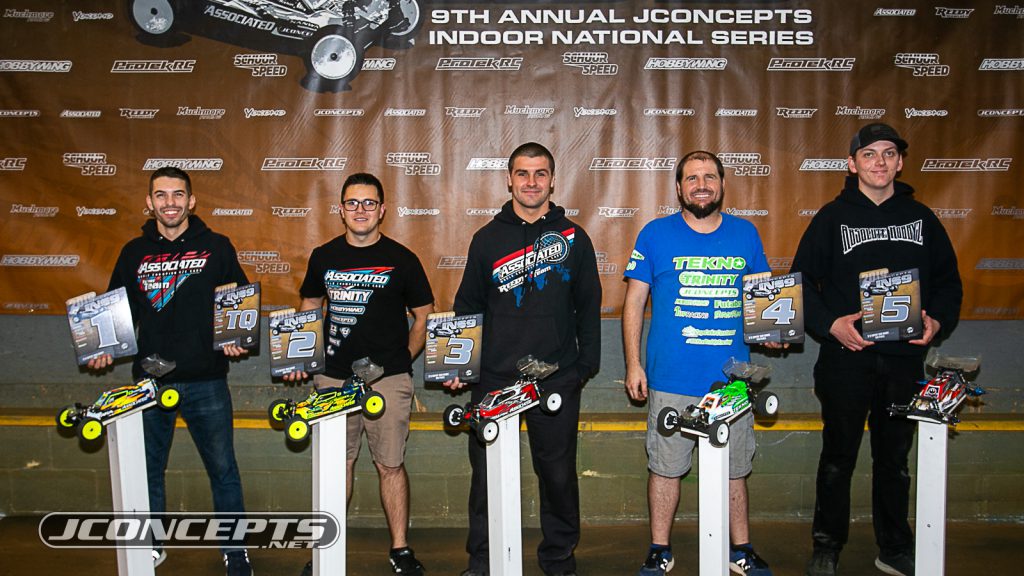 1st Place – (TQ) Matt Cline
2nd Place – Aj Marasco
3rd Place – Christian Pahud
4th Place – Patrick Rossiter Jr.
5th Place – Ryan Millington
13.5 4wd Buggy
Proving that the old guys still have speed, Xray/JConcepts' Paul Ciccarello showed the entire field how it's done by taking an impressive win in 13.5 4wd buggy. Adding another stellar finish to the weekend was AE/JConcepts' Aj Marasco, who finished 2nd overall in the 13.5 4wd class. Putting his name constantly in the mix was Yokomo's team manager, Joe Pillars. Despite not racing often, Pillars was able to hold onto 3rd over a hard charging AE/JConcepts' Joshua Alfaro and 5th place finisher, Frank Deiny.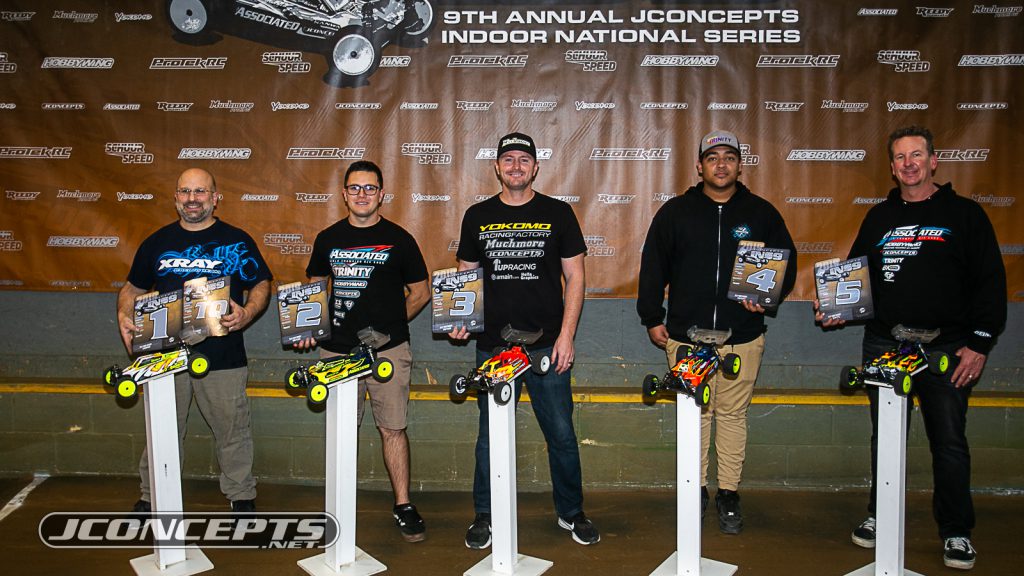 1st Place – (TQ) Paul Ciccarello
2nd Place – Aj Marasco
3rd Place – Joe Pillars
4th Place – Josh Alfaro
5th Place – Frank Deiny
40+ 2wd Modified
The 40+ 2wd Modified class is always a great battle to watch as it features some of the industry's legends. With much left in the tank, FTR's Al Horne took the win with relative ease. Despite a poor start, Serpent's Billy Easton powered his way back to 2nd from dead last. The 3rd overall finisher was none other than Mr. JConcepts himself, Jason Ruona. The final two spots went to AE/JConcepts' Frank Deiny and Xray/JConcepts' Paul Ciccarello.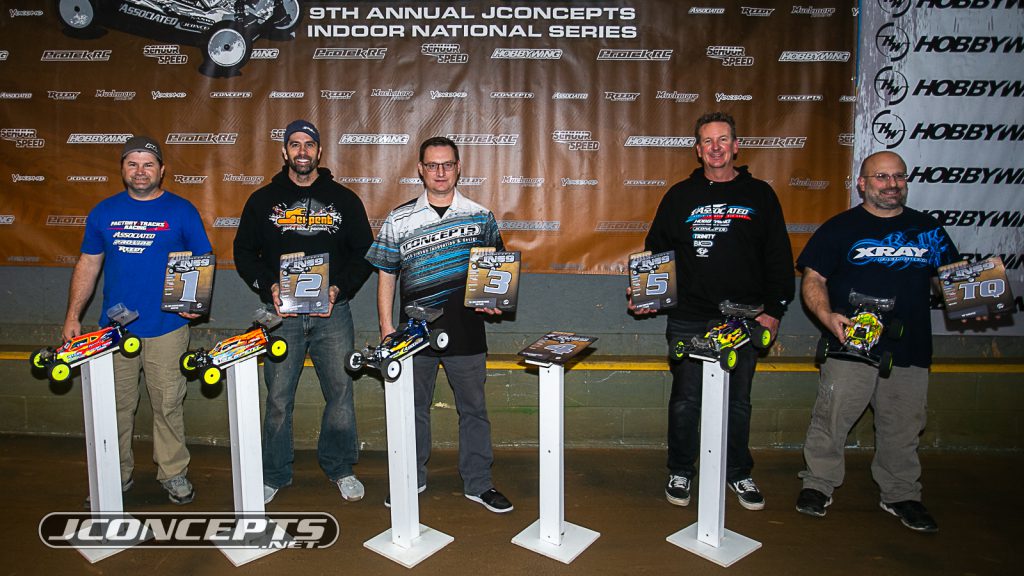 1st Place – (TQ) Al Horne
2nd Place – Billy Easton
3rd Place – Jason Ruona
4th Place – Rob Meyer Jr.
5th Place – Frank Deiny
Open 2wd Modified
Factory Tracks Racing's Joey Crown delivered a fantastic effort when it counted most in the 2wd Open Modified class. Qualifying 3rd, Joey moved up the ranks quickly and held onto the lead with smooth, consistent driving and took home the win. Finishing 2nd on the podium was AE's Cade Burnette along with JConcepts' Alex Mac in 3rd. FTR's Tom Tanner put in a great showing to lock up 4th and Kevin Bullock made it happen in the 8 minute main and finished 5th.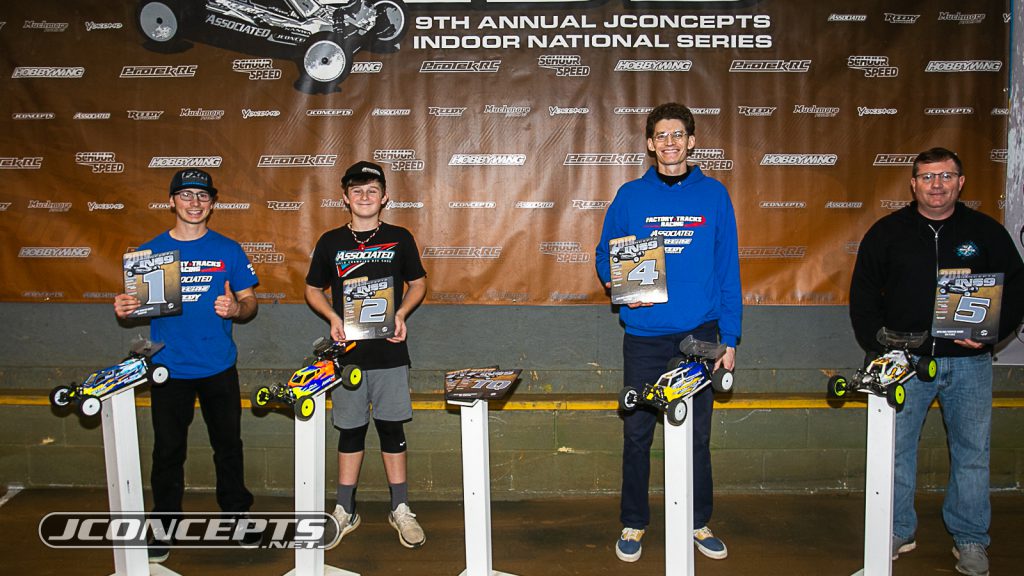 1st Place – Joey Crown
2nd Place – Cade Burnette
3rd Place – (TQ) Alex Mac
4th Place – Tom Tanner
5th Place – Kevin Bullock
2wd Modified
Absolutely on rails, AE/JConcepts' Spencer Rivkin made short work of the competition with 2 picture perfect runs in A1 and A2 to seal the deal in 2wd Modified. The 2wd World Champ has been quite the force since Nationals and adds another impressive win to his long list of accomplishments. Pulling out the win in A3, Xray's Ty Tessmann, put together a fine triple A-Main to finish 2nd overall with Yokomo/JConcepts' Ryan Maifield finishing in 3rd. Taking the last 2 spots on a the 5 man podium was AE's Dustin Evans and FTR's Aydin Horne.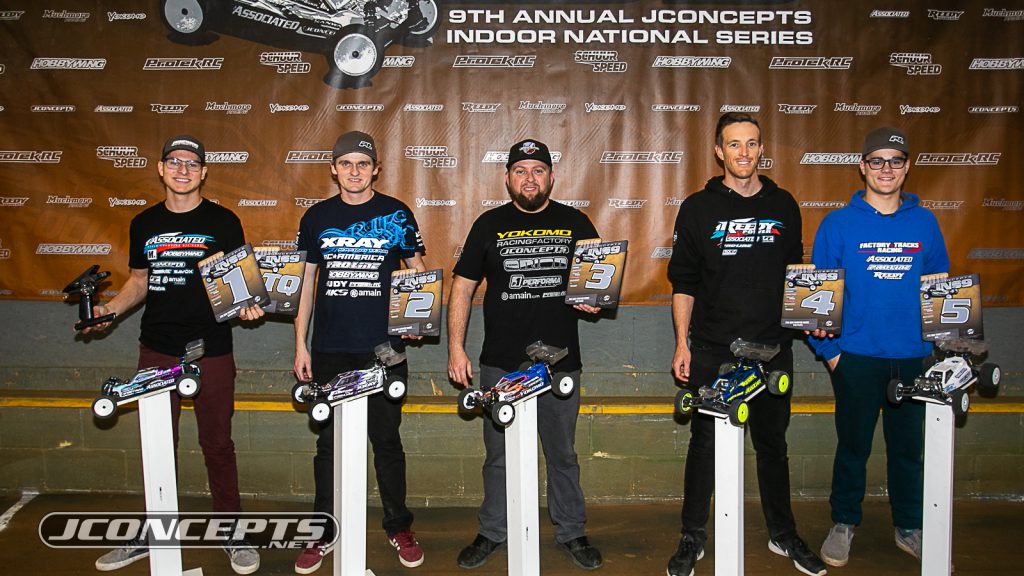 1st Place – (TQ) Spencer Rivkin
2nd Place – Ty Tessmann
3rd Place – Ryan Maifield
4th Place – Dustin Evans
5th Place – Aydin Horne
4wd Modified
After 3 impressive A mains that featured the best 1/10th drivers in the US, the overall results came down to a tie-breaker. With Yokomo/JConcepts' Ryan Maifield scoring a win and 2nd place to his overall, Xray's Ty Tessmann also finished with the exact same results and after adding up the two best time via ROAR tie-breaker, Ryan Maifield took the win with Ty in 2nd. Benefiting from the two leaders making contact in A3, AE"s Dustin Evans came home in 3rd with a fabulous A3 win. AE/JConcepts' Spencer Rivkin and Xray's Mark Sousa found the 4th and 5th spot.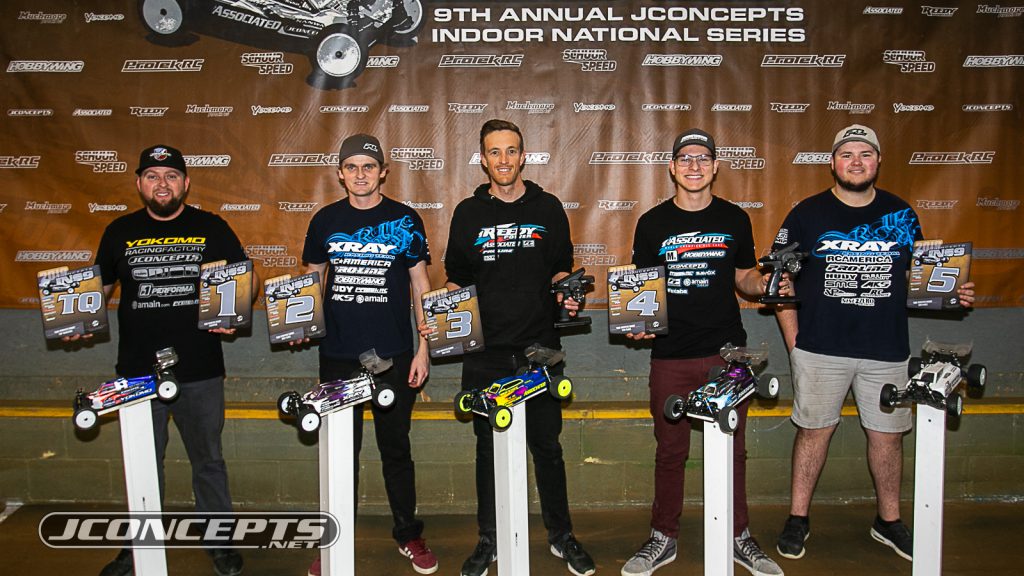 1st Place – (TQ) Ryan Maifield
2nd Place – Ty Tessmann
3rd Place – Dustin Evans
4th Place – Spencer Rivkin
5th Place – Mark Sousa
Videos from the weekend.
A1 of 2wd and 4wd
A1 of 2wd and 4wd Modified!! Yippie kaiyay!!

Posted by JConcepts Inc on Sunday, December 15, 2019
A2 of 2wd Modified
A2 time ladies and gents!! Let's roll!! Let's share this!!

Posted by JConcepts Inc on Sunday, December 15, 2019
A2 of 2wd and A-Mains for all of the other classes including A3 of 2wd and 4wd Modified.
Interview with Ryan Maifield
Interview with Spencer Rivkin
Interview with Lee Setser and Jackson Brunson
Interview with Ron Schuur of Hobbywing and Schuurspeed