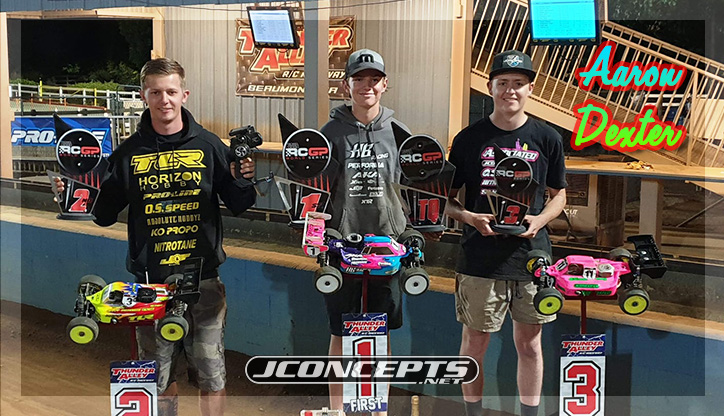 Qualifying doesn't always go well or go as expected and sometimes you have to make up for disappointing qualifying times by bumping your way into the A-Main. Nothing wrong with that as our Australian team driver, Aaron Dexter, perfectly demonstrated just how to get it done at Round 8 of the RCGP. Somehow, Aaron won the LCQ on the final lap moving himself up from 3rd to 1st and bumped into the A-Main. Once in the A, Aaron got an unfortunate start and had to really dig deep to make it back to the podium. Miraculously, Aaron never gave up and finished 3rd overall! Despite getting 3rd place, this effort is a 100% win! #NeverGiveUp #Winning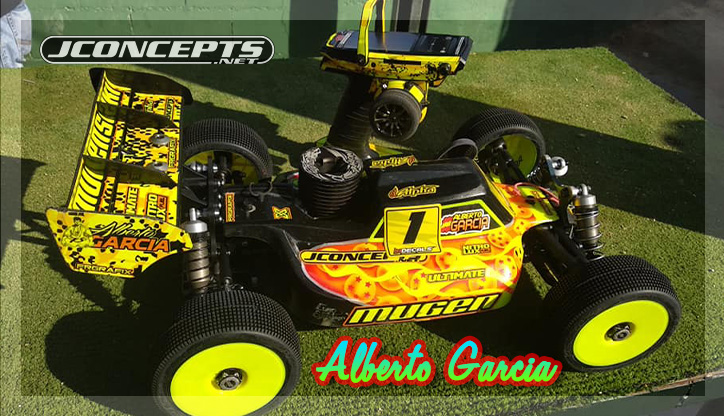 Using the new R2 Blocker tires, Alberto Garcia got the win on the track where they host Buggyland in Madrid, Spain. 3 TQ qualifying runs and the W in the A-Final, that's totally winning right there. Great job Alberto!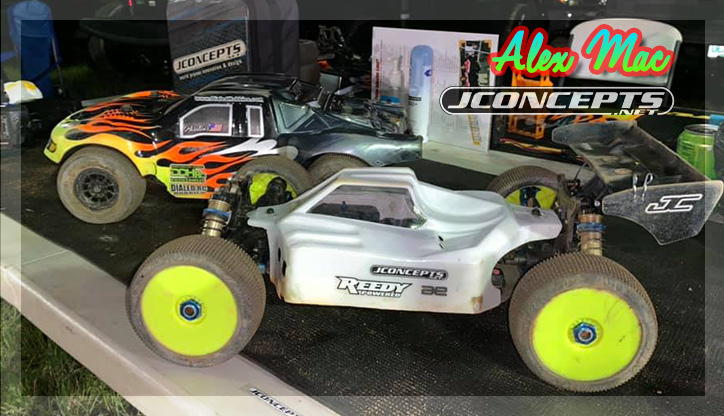 There's no question that Alex Mac is a dedicated racer. Putting in the time at the track and getting club wins week after week, it's turning out to be a great year for the south Floridian. Last week, Alex scored another TQ and win in the Pro 4 SCT class on Subcultures! Those tires are still getting it the job done!!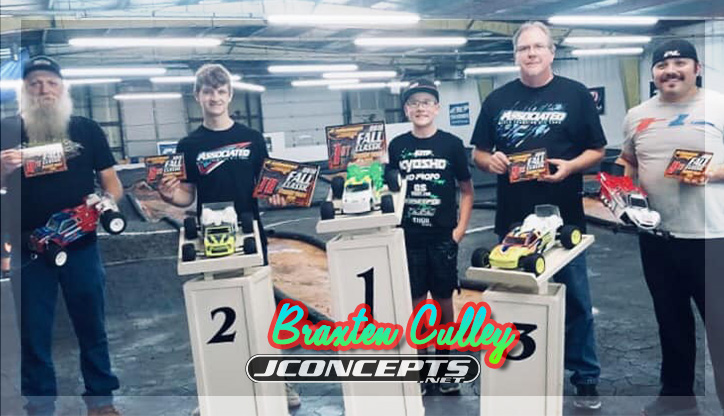 Always impressive and deadly fast, Braxten Culley joins this #WinningWednesday club with his outstanding performance in Stadium Truck where the took home 1st place at the 35th Annual Fall Classic in Hutchinson, KS. Braxten went on to finish 4th in 4wd to complete a very accomplished weekend using gold Ellipse tires.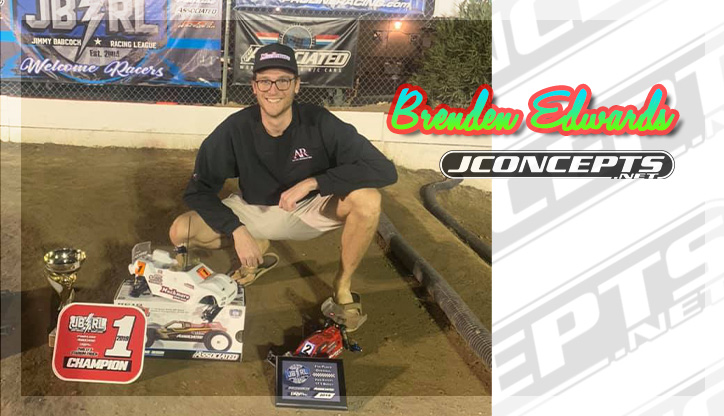 You gotta have fun when you're out there racing. This is a must! Closing out a fantastic JBRL series, Brenden Edwards took the Groot Truck to the top in 17.5 Stock Stadium Truck and is your overall series champion! After a long series and a lot of effort, 1st place goes home to Groot! Nice job on the series championship Brenden!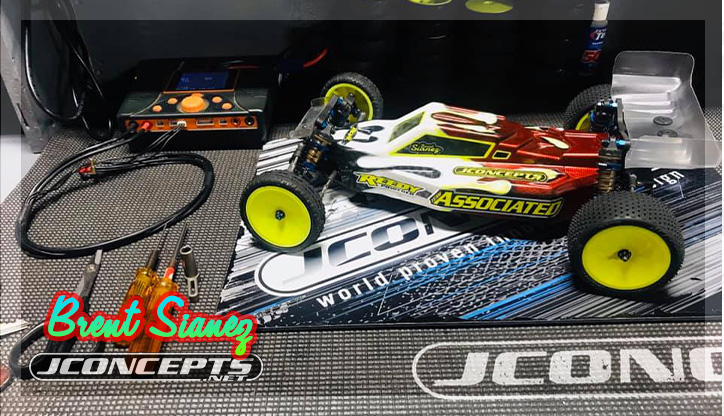 Making it happen last weekend and joining the #WinningWednesday crew, Brent Sianez set the TQ and took the win at his local club race. Nessi rears and Swagger fronts stuck to the track and racked up another win! Good job Brent!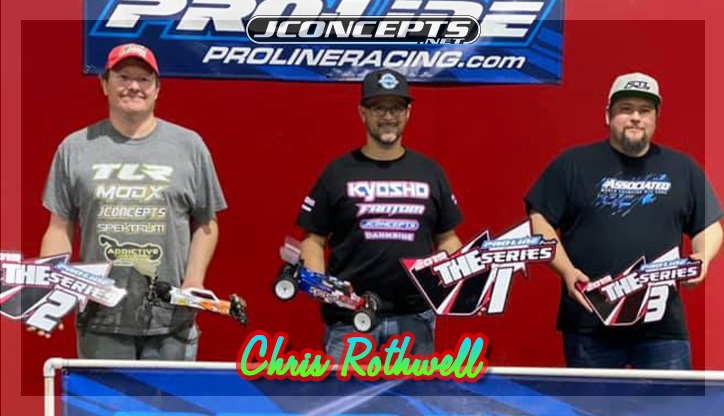 Ladies and gentlemen, we have a new 17.5 2wd The Series Champion, Chris Rothwell!! Chris celebrated at the series banquet where he participated in a 5 race series in Michigan, Ohio and racked up two series championships. 1st one was in 17.5 2wd buggy and the other in 13.5 Stadium Truck. Chris is rolling now as we enter the winter race season. Look for Chris to take home more trophies and wins!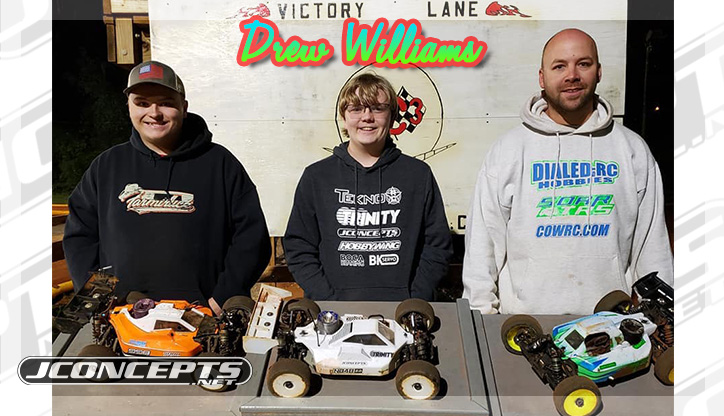 It was a major weekend for Drew Williams as the got a chance to shine at the Blane Hagler's Benefit for Cancer Race where Drew TQ'd Ebuggy, Etruggy, and Nitro Buggy. Unfortunately, Drew didn't get the clean sweep, but really put it down in Nitro Buggy taking 1st place, 2nd in Ebuggy, and 3rd in Etruggy! Simply Amazing!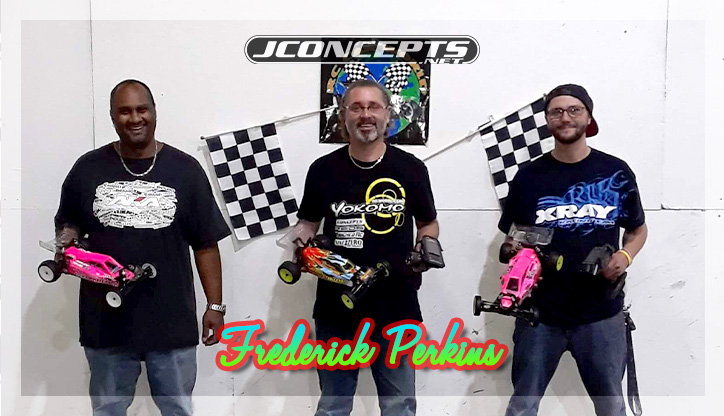 New to the carpet off-road scene, Frederick Perkins had one heck of a weekend on his 1st time out. Not expecting too much, but a big learning curve, Frederick managed to set TQ's and took wins with his YZ-2 on Swaggers and Pin Downs!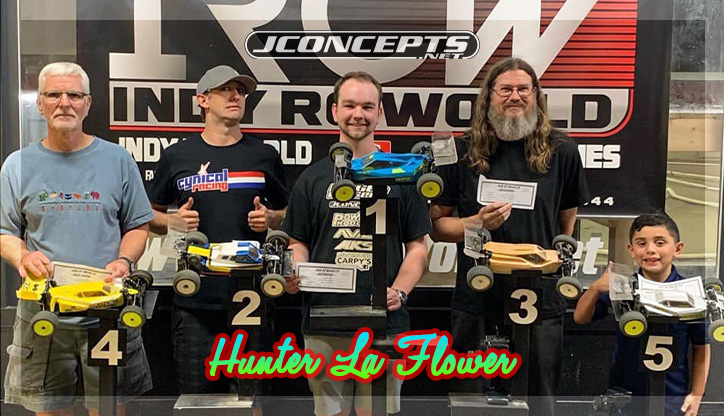 How many wins can Hunter get in a month? Lots! Adding another win in 2wd Modified this weekend, Hunter is proving that he's the quickest racer for mile and miles. Using aqua Dirt Web fronts and aqua Ellipse rears matched with the P2 body, Hunter has won 3 Tuesdays in a row! Let's make it 4 and call it a month of domination!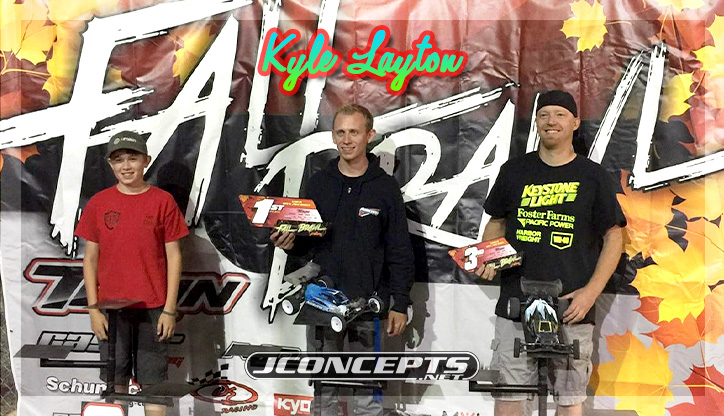 Proving that he's one of NorCal's fastest drivers right now, Kyle Layton put on a great show as he battled it out with CJ Jelin for the 2wd Modified win at AMain's Fall Brawl. Starting 2nd behind CJ Jelin wasn't going to be easy, but somehow crafty Kyle managed to find a way around CJ and took the win in the A-Main using Swagger fronts, Nessi rears, F2 body, and Aero lower front wing and High Clearance rear wing!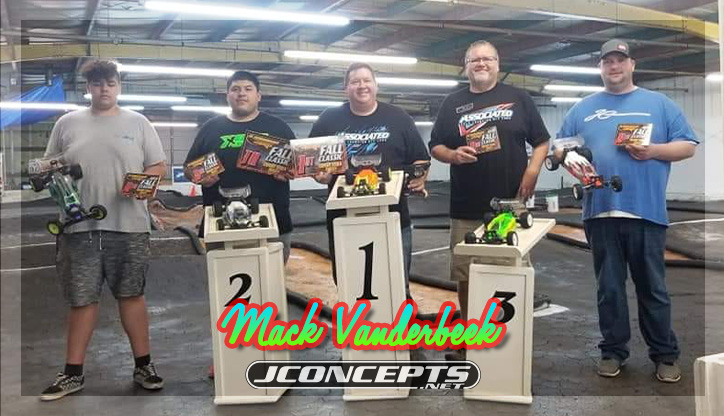 Our veteran team driver, Mack Vanderbeek, attended the 35th Annual Fall Classic in Hutchinson, Kansas where the event saw 220+ entries. The level of competition was high, but Mack didn't let up. Mack had an outstanding race weekend taking home 1st in 17.5 2wd, 3rd in 2wd Mod, and 2nd in 40+ 2wd, Mack showed Kansas just how fast he really is. Mack's "Get it done" tires were the gold Dirt Web fronts and Ellipse rears combo!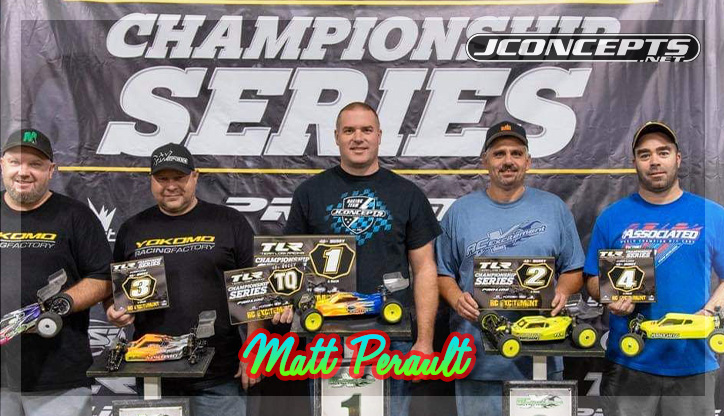 It was a winning kind of weekend for JConcepts' team driver, Matt Perault, as he attended the TLR Championship Series hosted by RC Excitement in Fitchburg, MA. As of late, the aqua compound is working awesome at RC Excitement as Matt ran aqua Octagons mounted on Mono wheels with the F2 body and Aero wing package to get the job done. Matt also finished in the top 5 in 2wd and 4wd Modified placing 5th and 5th!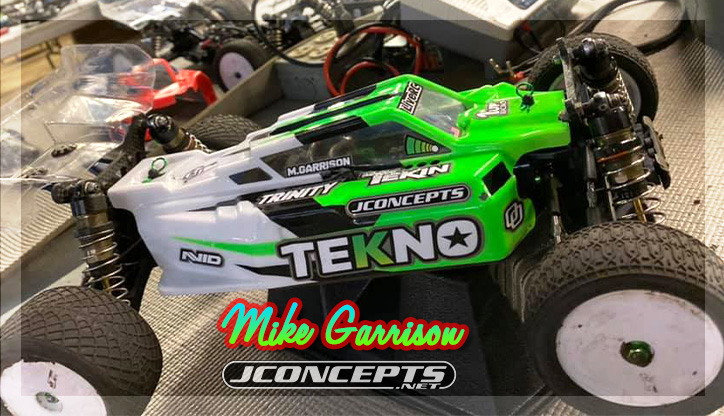 Doesn't that body look awesome? Mike Garrison didn't race last weekend, even though this photo suggests that he did. What really happened was Mike helped his brother-in-law, niece, and a longtime friend get involved in RC cars! Sometimes you have to step back and get friends and family involved because only YOU know how much fun this is.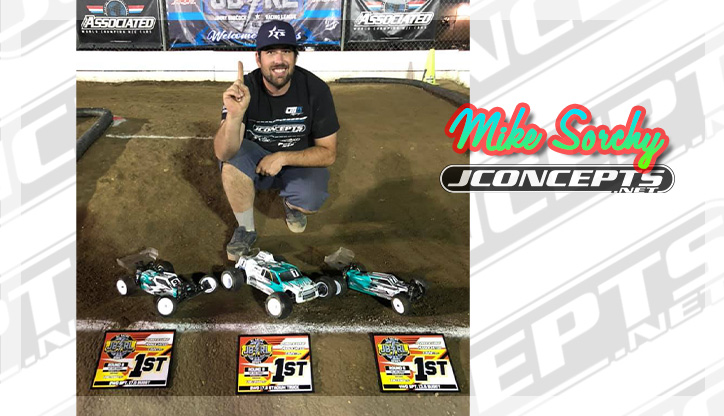 This photo is definitely what awesomeness is made of. Mike Sorchy had an unforgettable weekend as he finished out the JBRL series on a major high note with a clean sweep in 17.5 2wd, 13.5 ST, and 13.5 4wd buggy. Mike's outdoor tire selection was key to his easy to drive fast setups as he went with Double Dee tires on his 4wd, Rips and Double Dees on 2wd, and Flip Outs and Double Dees in truck.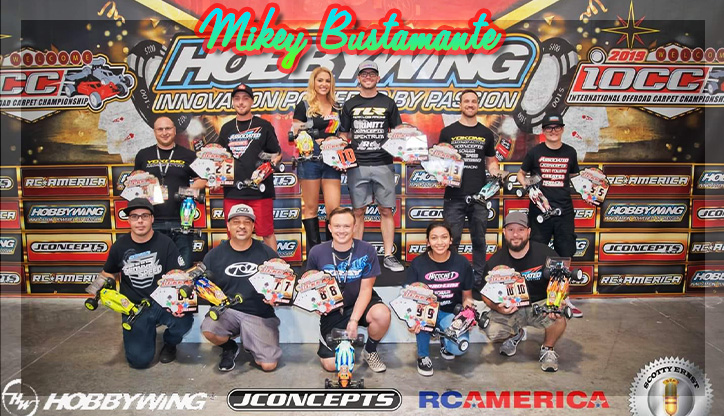 What a fantastic race weekend for Mikey Bustamante at one of the biggest carpet races of the year, the IOCC presented by Scotty Ernst! Mikey got his TLR cars dialed in and was able to TQ and win the very fast 17.5 2wd class. Mikey also finished 3rd overall in 17.5 Stadium Truck! Nice job Mikey!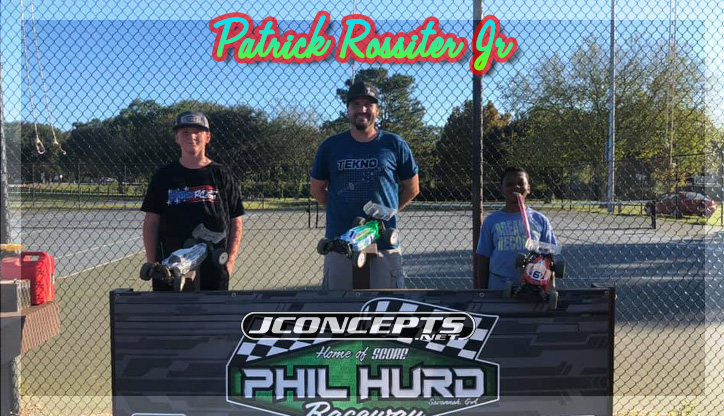 It was another club race weekend at Phil Hurd Raceway for Patrick Rossiter Jr. Guess what? He set the TQ and got the win in 4wd Modified using the new Sprinter tires in blue compound. PRJ is rockin' it these days, check out that smile!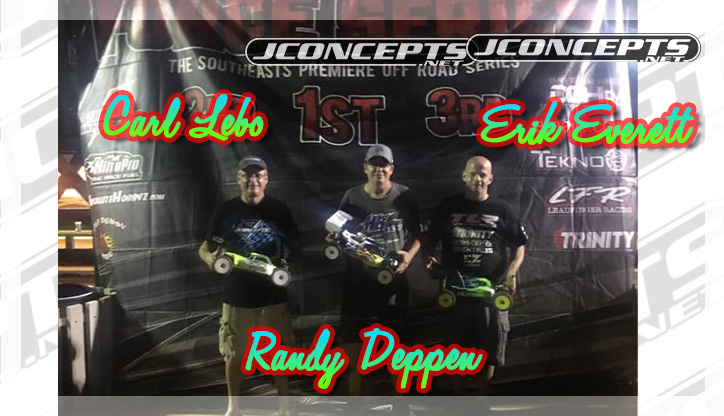 Last week, a few of the JConcepts drivers attended The Force race hosted at Mills Pond, FL and found a lot of success. This included Randy Deppen who won the 40+ Nitro class and finished 3rd in 40+ Ebuggy. The master pit man, Carl Lebo, held it down finishing 2nd in both the 40+ Nitro and 40+ Ebuggy classes. Erik Everett put himself on the box in 40+ nitro finishing 3rd overall and completing the clean sweep. With Tony Rivas winning 40+ Ebuggy, JConcepts drivers also filled out the podium in Ebuggy grabbing another clean sweep.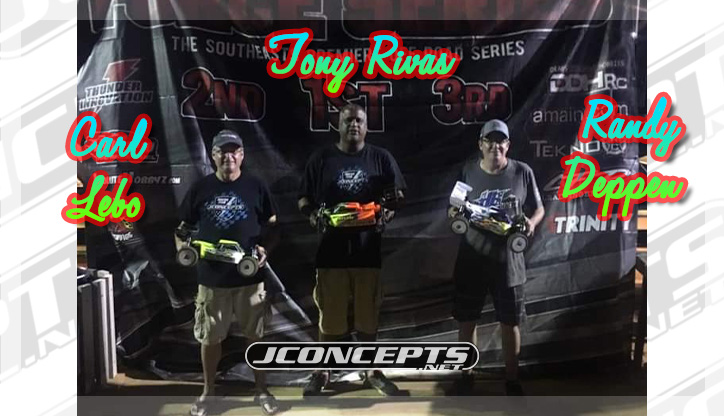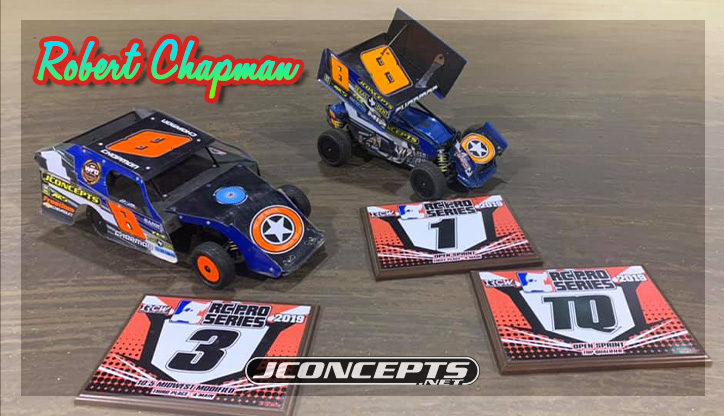 Thanks to Robert Chapman for sending in his awesome reports. It's been great to keep up with all the racing that Robert has been doing these days and the results are always awesome. Attending round 3 of the RC Pro Dirt Oval Series at Gulf Coast Raceway, Chapman joins the #WinningWednesday club with a killer win in Outlaw Sprint class and a 3rd in Midwest! The green Ellipse rears and Dirt Web fronts have been doing work for Robert and has now become his "go to" dirt oval tire!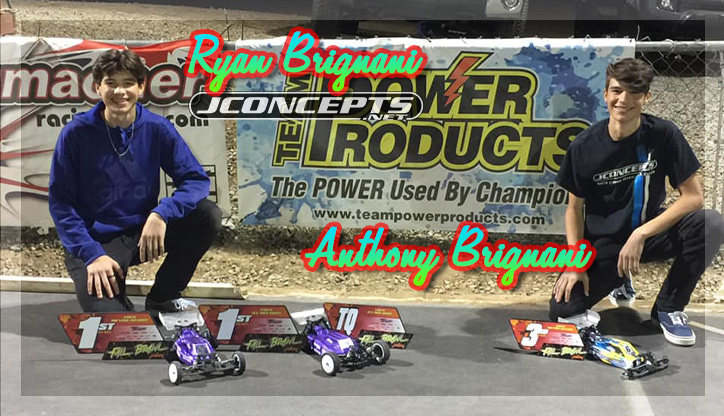 The brothers Brignani are back at it and it's great to see them fighting for wins. Both Ryan and Anthony ran strong at the Tekin Fall Brawl hosted by Amain Hobbies where Ryan got the TQ and won the 13.5 4wd class and terrific, close win in 17.5 2wd. Anthony joined his brother on the podium finishing 3rd in 17.5 2wd clearly showing the speed of the two brothers on Swaggers and Nessi rear tires.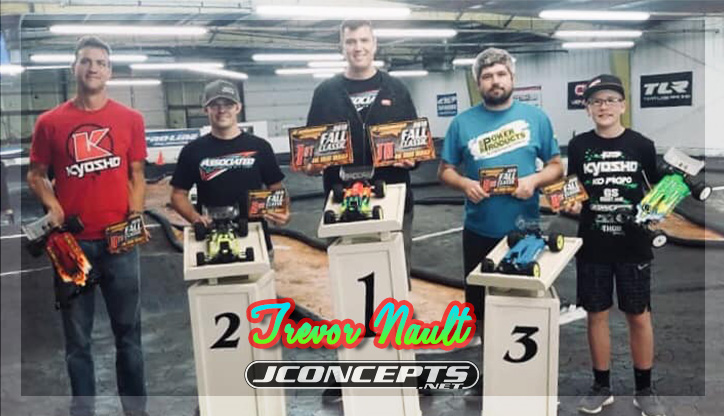 There's no surprise here as Trevor Nault took home the TQ and Win at the Fall Classic in Hutchinson, Kansas. Despite the high level of competition, Trevor was on fire and was the driver to beat in 4wd. Gold Dirt Web tires were the tire of choice for Trevor as he closed out another successful weekend of racing.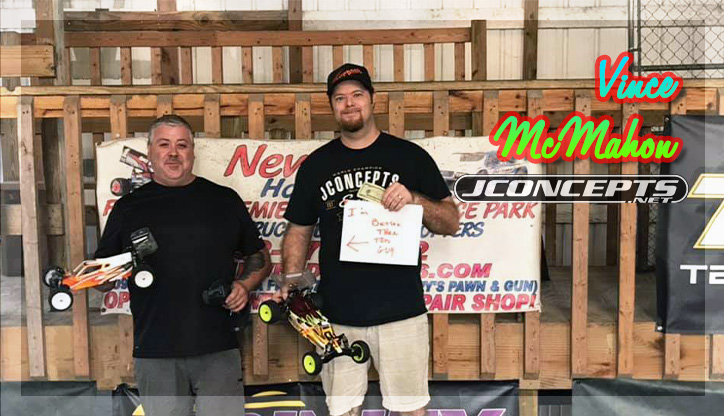 Wonderful job by JConcepts' own, Vince McMahon as he's put in a lot of time at the track club racing. It's the practice and the effort that allows you to get faster as Vince won the so-called "fun Grudge" race against a good buddy, Jim Anderson. A win is a win!