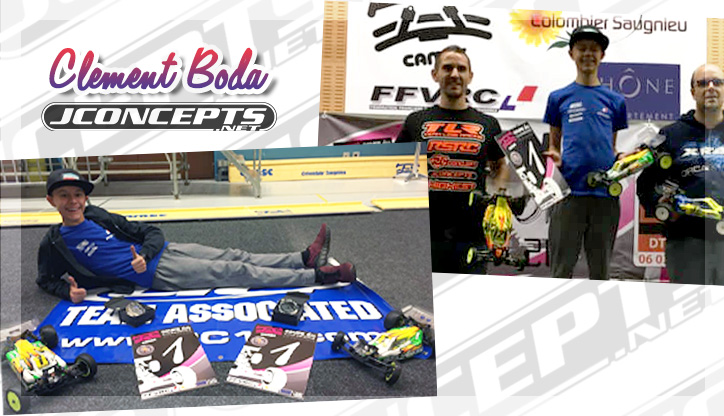 The best way to gauge your personal progress is measure yourself against the competition. There's always someone to chase, a bar set so high or a goal that seems impossible to reach, but eventually, hard work and dedication gets you there. Last week, our talented French connection, Clement Boda's performance was absolutely stellar. With a double TQ and double win at the Coupe des Champions in La Dauphinoise sports hall in Colombier-Saugnieu, France, Clement is emerging as one of France's fastest. 2019 has been a wonderful year for Clement and we have a feeling that 2020 is going to be even better. Congrats to Clement!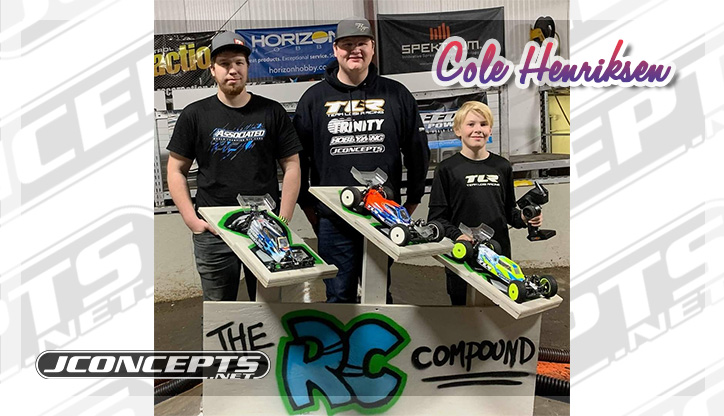 It's great to see JConcepts' Cole Henriksen at the track continuing his momentum from the JConcepts 9th Annual WIS and Invitational a few weeks ago. With 100+ entries at last week's point series race hosted by the RC Compound, Cole came out on top in the 17.5 2wd Expert stock class after a close batter with another WIS star, Nate Sutherland. With the growing talent at the RC Compound, Cole has established himself as one of the front runners in the 17.5 2wd Stock scene.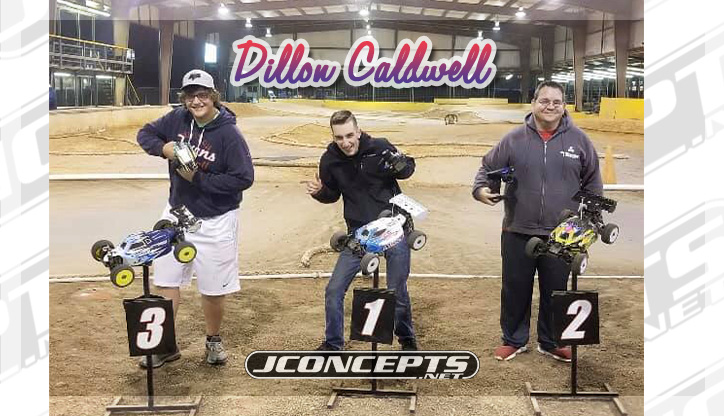 It's been a massive year for JConcepts' Dillon Caldwell, as he's stepped on the top step of the podium countless times in 2019! It's been impressive, to say the least. One thing that helps Dillon achieve his winning ways is being familiar with the tires and compound. By selecting blue Reflex for his Ebuggy, Dillon rocketed himself to the front and got the win at Mike's Hobby Shop's local club race. Keep at it buddy!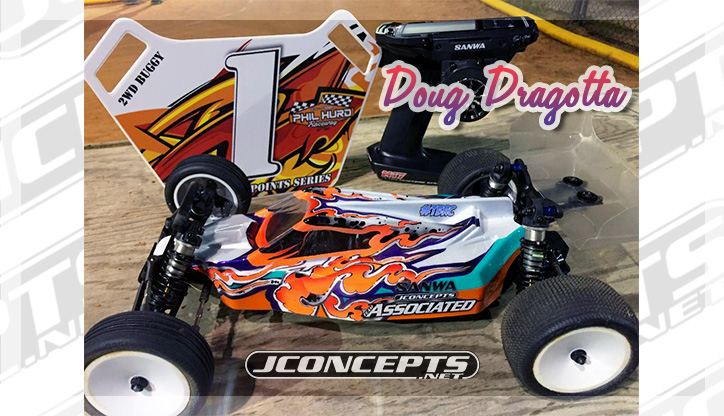 We have to say, that's one heck of a paint job on Doug Dragotta's Team Associated B6.1 rockin' the P2 body for extra downforce and style. After a great weekend of racing at Phil Hurd's Summer/Fall points series race, Doug ended the weekend with a TQ and win in 2wd Modified giving him enough points to lock up the overall series win in the class! The fastest combination of tires for Doug at Phil Hurd were blue compound Rips upfront and a mix of Hybrids and Sprinters to lock in the rear. Nice job Doug and congrats!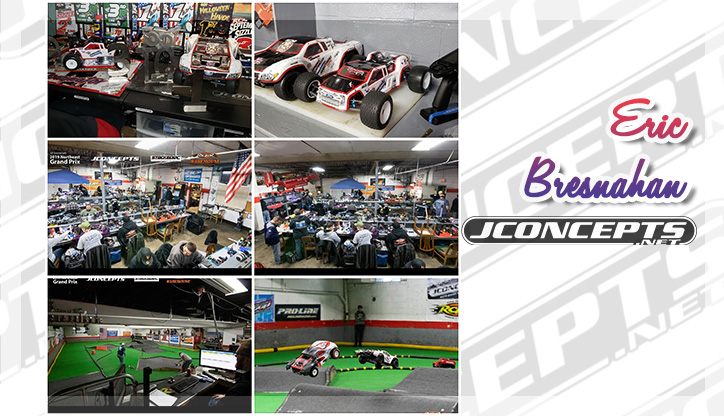 Another slayer of a weekend for JConcepts' team driver, Eric Bresnahan, as he faced stiff competition in at RCHR in Waterbury, Connecticut. The turnout was huge with 50+ entries in just 17.5 2wd buggies alone. Using the JConcepts Swaggers and Pin Downs, Eric managed to set the overall TQ in both the Stadium Truck and Short Course classes at the event and eventually went on to win the SCT class and placed 3rd in Stadium Truck after a hub bearing failure compromised his chances at a win.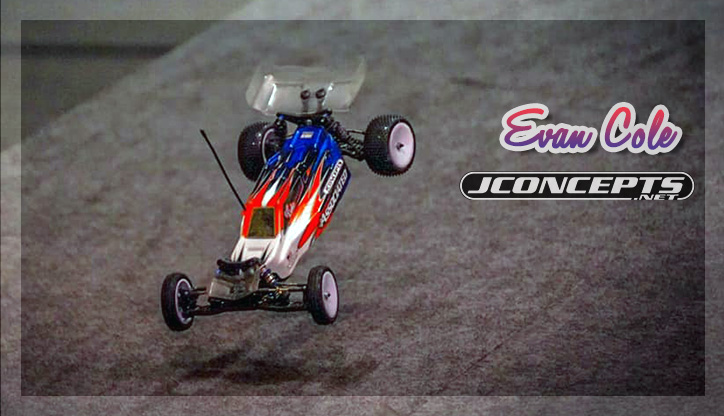 Keeping it close to home, Evan Cole found the time to hit the track and do a little club racing at WFO Raceway. With Nessi rears and Swagger fronts as his tires of choice, Evan put the moves on the field and worked his way to the front to challenge for the race win. While on the final lap, Evan timed getting on the straightaway perfectly and made the pass for the lead and took the win! Exciting stuff right there and a great job by Evan on keeping his head down to get that win in the end.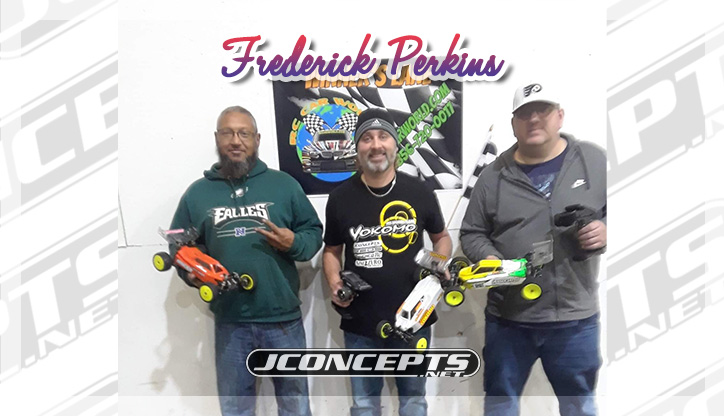 It was another successful weekend for JConcepts' Frederick Perkins as he attended the local club race at RC Car World. Frederick has been on point lately and really in tune with his car, setup, and driving and it shows. With a great effort, Frederick set the TQ and took the win in both the 17.5 2wd Buggy class and the 13.5 4wd class at his local track's club race last week.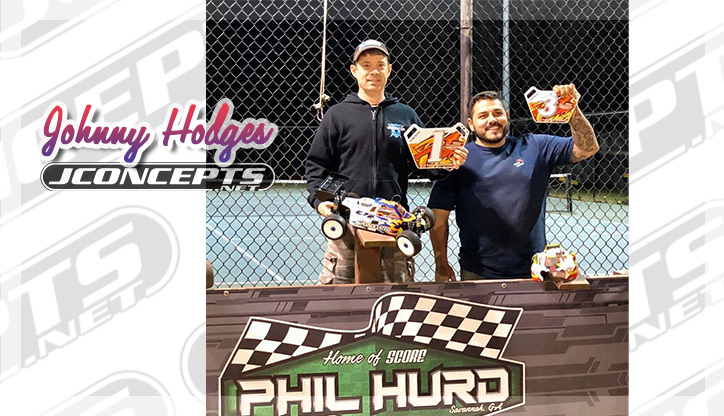 Another points series wrapped up, but this time for Johnny Hodges, as he completes the 2019 Fall Points Series at Phil Hurd Raceway in Savannah, GA. After a long series, Johnny took home the overall 1st place series championship in the Nitro Buggy class! Noting that his tires played a big part in his success, congrats to Johnny on a job well done!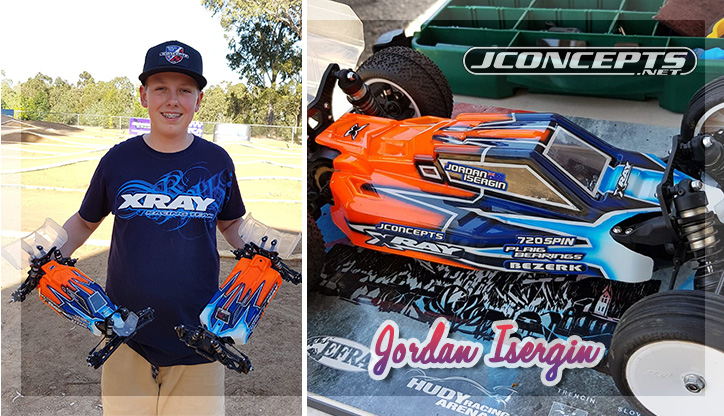 Making a monumental decision for the rest of 2019, 2020, and beyond, Jordan Isergin, decides to change it up with a new chassis sponsor as he switches over to Xray. Despite all new cars that require new setups etc, Jordan was impressive nonetheless completing the double win last weekend in 2wd and 4wd Modified at his local RC club. Blue compound Rips and 3Ds made it possible on 2wd while Dirt Webs got the job done on 4wd! The cars look awesome with the F2 bodies!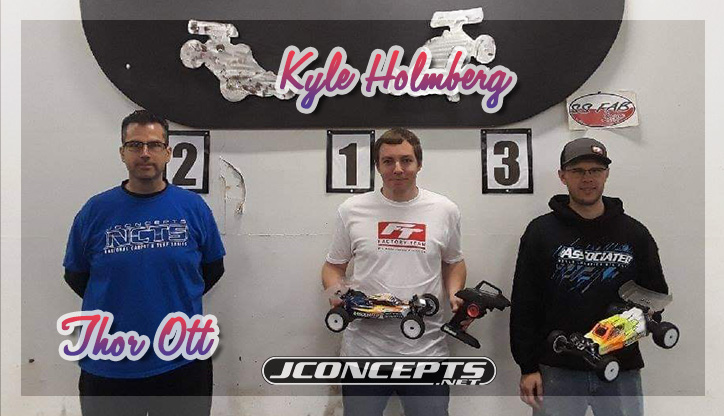 It was double trouble for Kyle Holmberg and Thor Ott as both of them competed last weekend at The Toy Box's winter point series. With silver compound Ellipse tires on his 2wd, Kyle finished out front with the win while Thor slotted himself 2nd on the podium. Deciding to go with gold Ellipse rears and Dirt Web fronts on his wheeler, Kyle managed to get some valuable points finishing 2nd. As we all know, points series is all about consistency!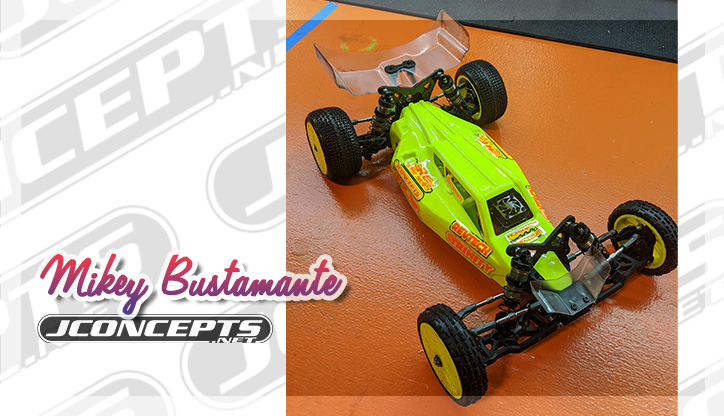 Thanks to Mikey Bustamante for sending us an update to his busy racing weekends. Despite the all yellow lightweight Silencer body for his TLR ride, the 2019 IOCC star scored some valuable points in the 702 RC Raceway's High Desert Points Series by finishing 1st in 17.5 Expert 2wd.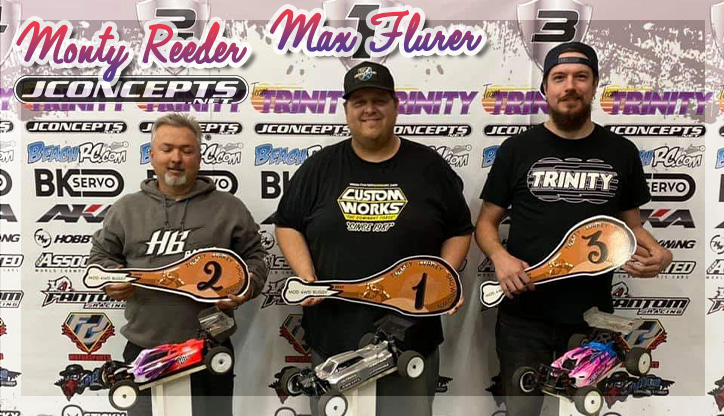 Fortunate to call Beach RC their home track, Max Flurer and Monty Reedy had some fun at Beach RC's Turkey Lurkey Showdown that happens right before Thanksgiving. Rockin' the silver compound Ellipse tires, Max set the pace in both the 2wd and 4wd Modified classes with a double TQ effort. Moving towards the mains, Max only got faster and was able to secure the overall win without too much fight. Monty Reedy finished 2nd on the podium in the 4wd class.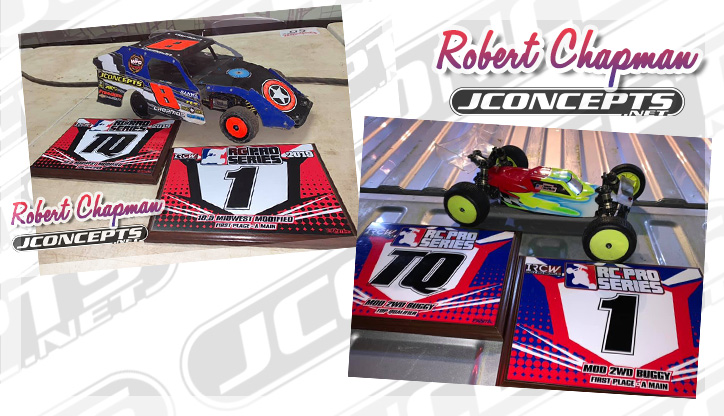 The multi-talented Robert Chapman spent last weekend going hard at the RC track. With a TQ and win in the Midwest Modified class at Thornhill Racing Circuit for the RC Pro Oval Series, Robert stunned the field with his speed while running the JConcepts blue compound Dirt Webs up front paired with blue Ellipse tires on back. Smooth, steady, and accurate and fast, Robert carried the winning form into the RC Pro Series racing 2wd Modified and also go the win there! Blue Sprinter tires on both the front and rear of Robert's TLR rides were dialed! Super weekend buddy!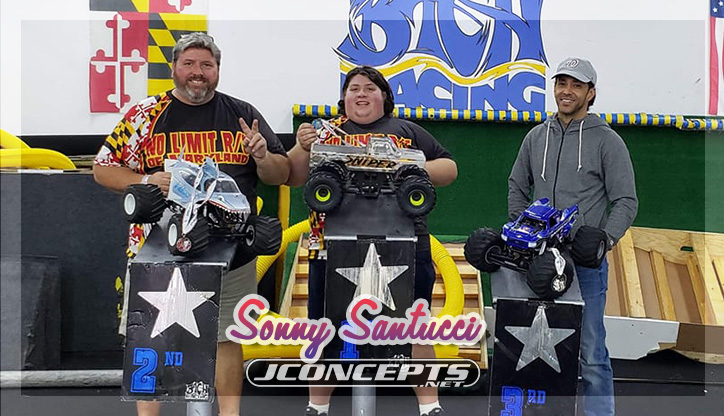 Thanks to Sonny Santucci for sending in his race report from the No Limit R/C Winter Points Series, race #1. With some of the best MT pilots around, Sonny was up against a real test. Never losing his cool, Sonny set the TQ and took 1st place in the Clodbuster and Shafty classes while hooked up on JConcepts bodies and tires. Providing traction and good looks, the gold compound Renegades on Tribute wheels were magic!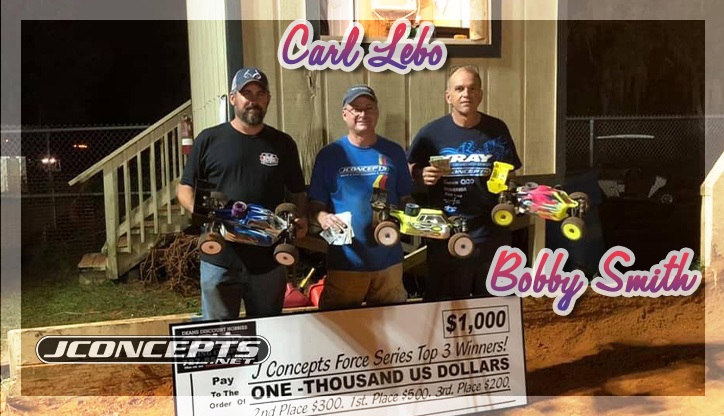 It was a fantastic weekend at the Force race last weekend as Carl Lebo took home the grand prize in the money race finishing 1st overall in the 40+ Nitro class. With a 1st place finish in the series, Carl took home $500 cash money! While Carl has ran an array of JConcepts tires throughout the Force Series, the one that got the job done on this day was green compound Blockers. Taking home $200 cash was the overall 3rd place finisher, Bobby Smith! Great job guys!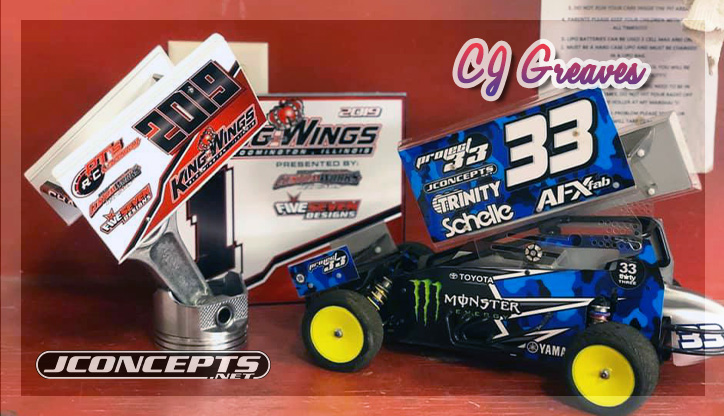 Performing on all cylinders, JConcepts team driver CJ Greaves made the most his time at the King of Wings oval race. While on silver compound Ellipse rears and Silver Dirt Web front tires, CJ got his race package on pace and was able to finish the weekend out front. Congrats on your 1st place win at the King of Wings, CJ!