In this week's JConcepts Race Team Update, drivers check in to tell us about their wins over the weekend, plus updates on the status of their car builds involving our winning products.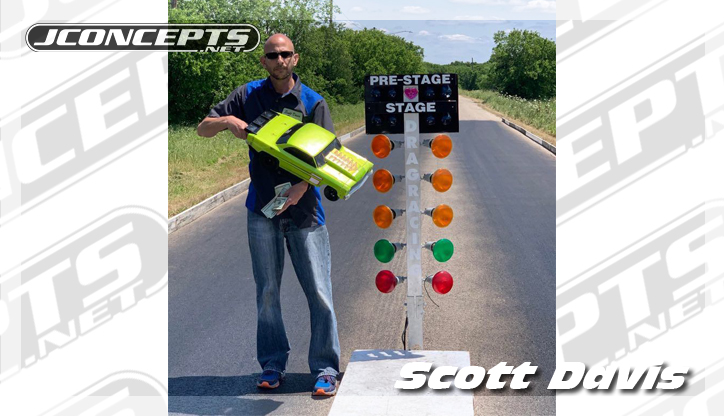 Team driver Scott Davis did some drag racing this past week at a Street Eliminator event. His dragster was using the JConcepts 1966 Chevy II Nova V1 body along with non-belted Hotties mounted on Startec wheels. After doing some testing in the morning he was able to dial his car and was the fastest car to reach 132 feet! Nice job Scott!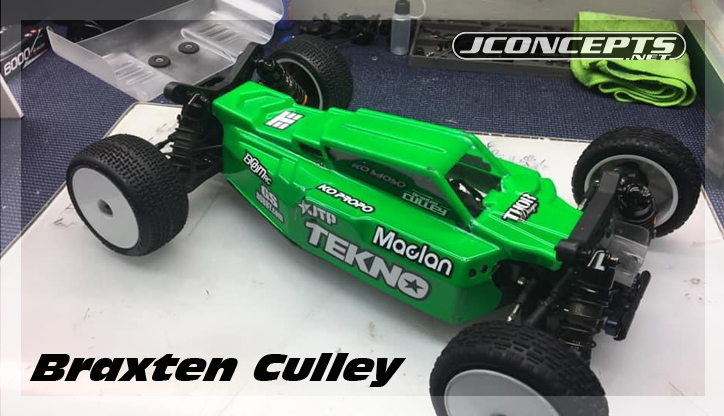 Team mate Braxten Culley reports on a successful session of carpet off-road club racing at Polk County R/C Raceway (PCRC) in Bolivar, MO. He said he competed in both Mod 2wd and 4wd and finished in 1st place in both classes! The winning tire combination for both cars were Swaggers in the front and Nessi tires in the rear!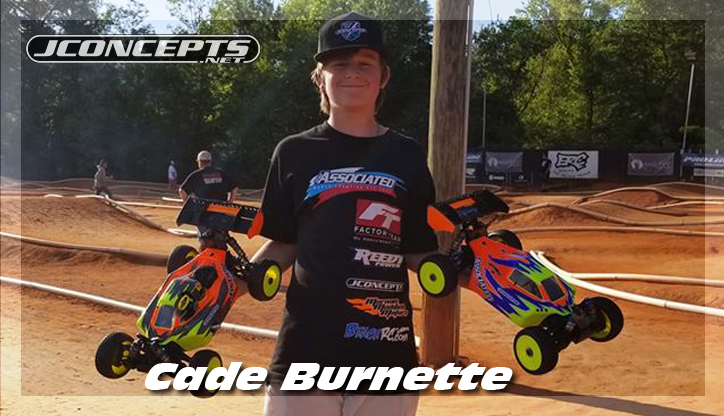 JC driver Cade Burnette had a good weekend competing at The Hobby Connection in Easley, SC for the SOS Series warm up race. He competed in the Pro Nitro and Electric 1/8 Buggy and was able to TQ both classes. He reports that he started the race program on the JConcepts Detox tires in the Green compound, but for the 2nd round of qualifying he switched to Ellpses in the Blue compound. For the mains he stuck with the Ellipses and took home the double win!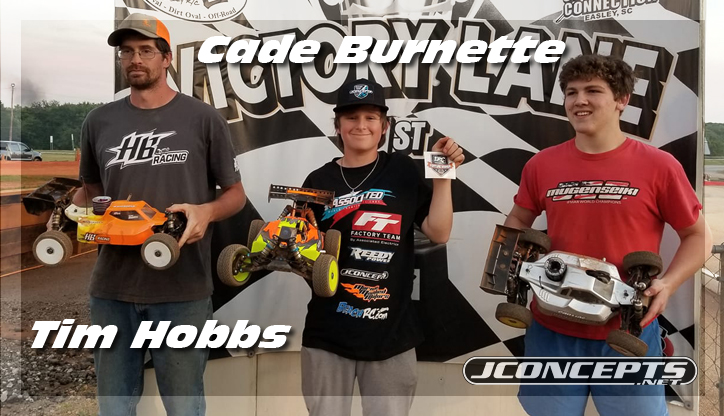 Team mate Tim Hobbs joined him on the podium in the Pro Nitro Buggy class too! Way to go Cade and Tim!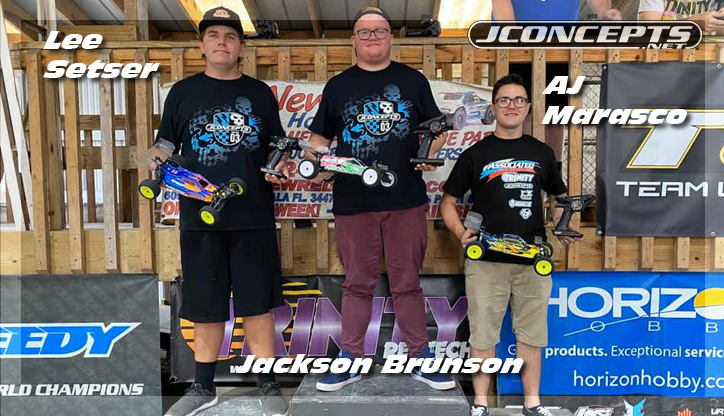 Down in Florida, the JC race team was in full force at Round 4 of the Super Cup Series at Newred Hobbies in Ocala. They were host to 115 entries on Saturday with 2 rounds of qualifying and double-A mains for all classes. JC driver Jackson Brunson competed in the Mod 2wd and 4wd classes and was able to to TQ and win in Mod 4wd while also taking the win in Mod 2wd! He said that he sanded down his JConcepts Ellipses in the Silver compound and they were money! Joining him on the Mod 2wd podium were team mates Lee Setser (TQ) and AJ Marasco.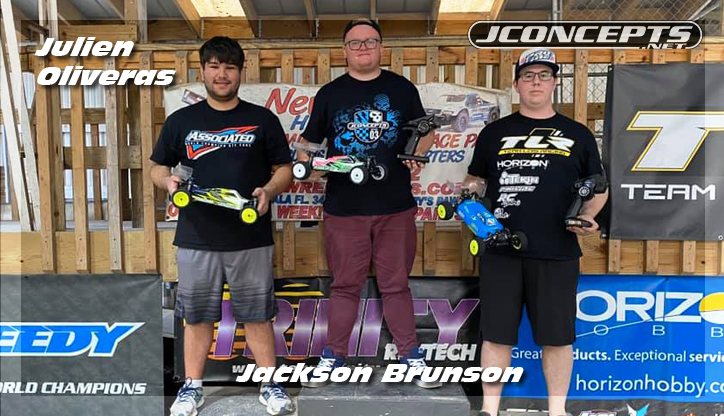 And on the Mod 4wd podium, JC driver Julien Oliveras finished in 2nd place overall as well.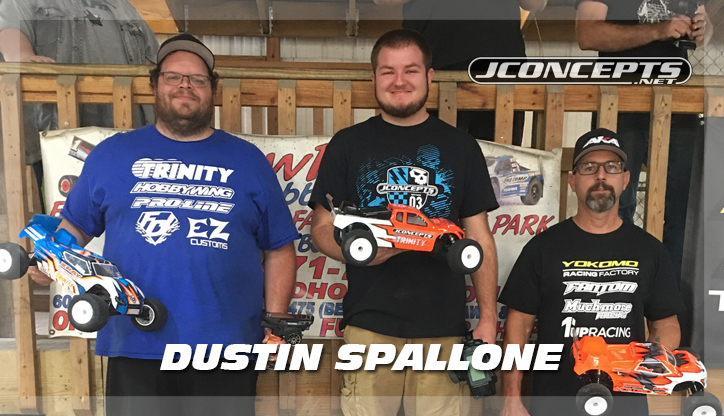 At this same event, team mate Dustin Spallone took the win in the 13.5 Stadium Truck class! He reported that he ran on the same set of JConcepts Octagons in the Gold compound all weekend and they were hooked up! Great driving JC team!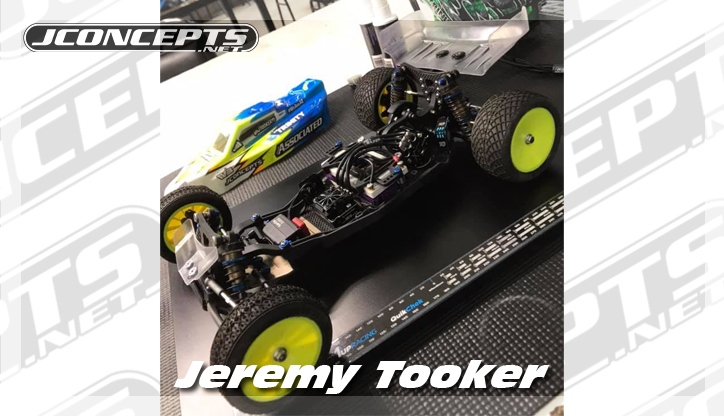 JConcepts driver Jeremy Tooker checks in to report that he got some practice laps in with his Team Associated B6.2 last week. His ride is using the JConcepts lightweight F2 body, Fin Titanium Shock Stand-offs, 3-Gear Laydown | Layback Transmission Motor Plate, Carpet | Astro High-Clearance Rear Wing, Aero Lower Front Wing, Carbon Fiber Shock Towers, Dirt Webs in the front and Ellipses in the rear all mounted on Mono wheels in the yellow color option. Looking good Jeremy!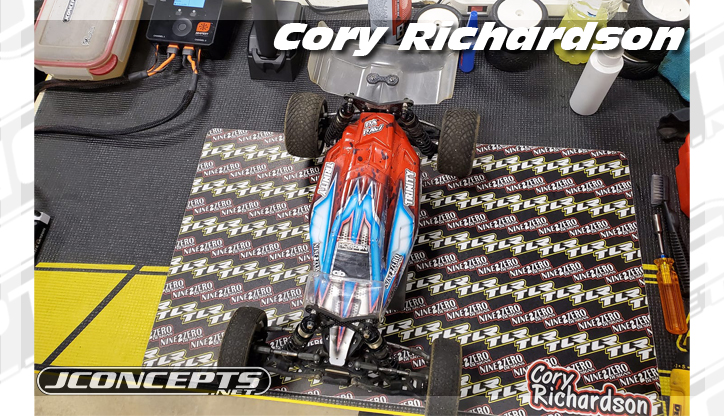 JC Team mate Cory Richardson recently got some club racing in at Bill's RC Hobby Shop in Marion, IN. He said he finished in 4th in the Mod 2wd class and TQed Mod 4wd but was unfortunate to not come away with the win. He said that he has been running Silver compound Ellipse tires in the rear and Dirt Webs in the front on all his TLR rides.
Team driver Erik Voelkle couldn't make it out to a track so he did the next best thing and purchased VRC-PRO. He got his adapter last Friday ran so he could run some virtual laps, and aiding him was his Dirt-Tech Foam Grip.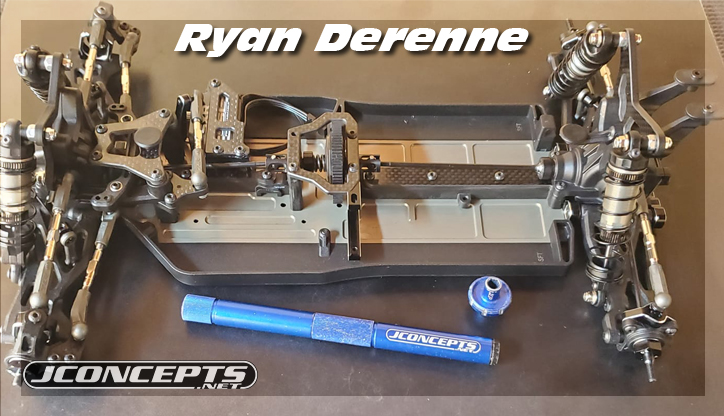 His fellow team driver Ryan Derenne reports that he was able to get his new TLR 22X-4 built over the weekend. Here you can see it along with the JConcepts Combo Thumb Wrench and Precision Hobby Knife Handle in the blue color options. Next he said he needs to top it off with some JConcepts goodies like a F2 body and Silver compound Ellipse tires.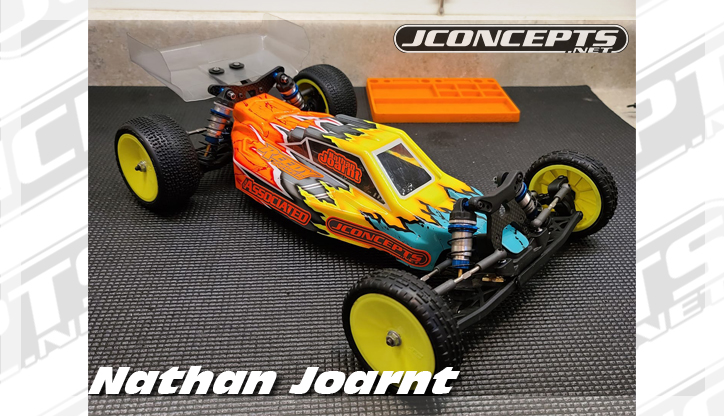 Team driver Nathan Joarnt said he got some cleaning and maintenance done on his Team Associated B6.2 while tracks are still closed around his state. When they open back up he'll be using the JConcepts F2 body, Aero S-Type 7″ Rear Wing, plus Twin Pins and Swaggers tires.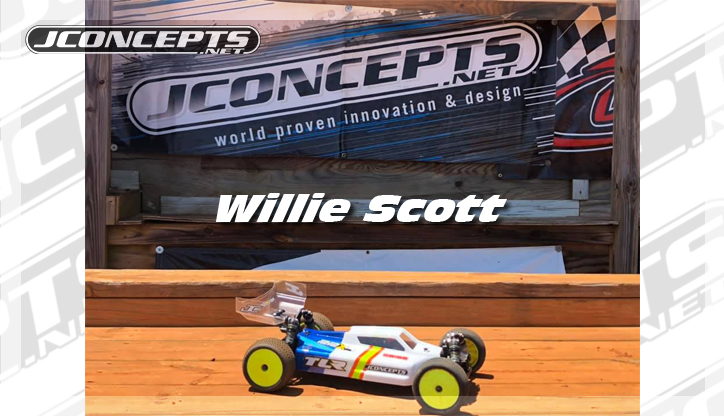 JConcepts driver Willie Scott stops in to update us on his TLR 22X-4 build. He went to his local track for a shake down and is happy to report it performed well. He tested Green compound Reflexes in the front and Green compound Goose Bumps, Double Dees, and Triple Dees in the rear. Next he will try out some Sprinters and the JConepts F2 body.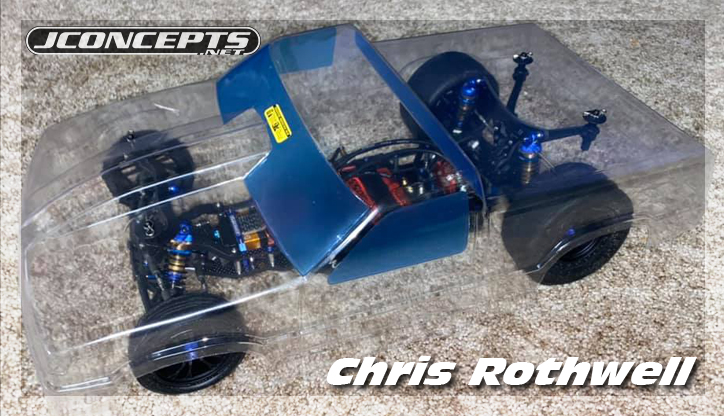 JC team mate Chris Rothwell reports that his B6.1 based T.A.R.P Racing chassis is almost ready to drag race. He is prepping a fresh JConcepts S-10 body to use along with his Tactic rims and Hotties tires.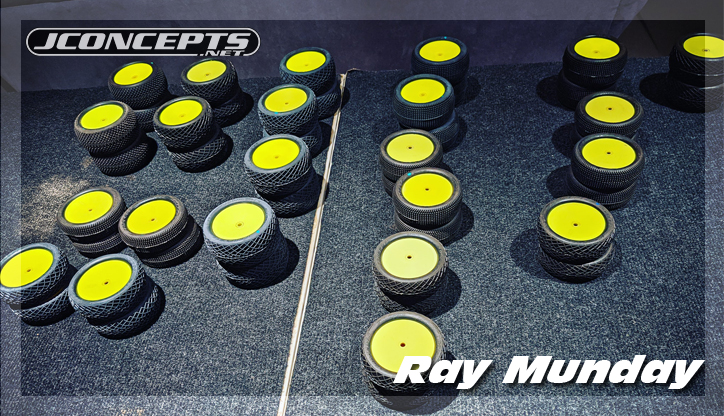 Australian JConcepts driver Ray Munday reported that tracks aren't open in his area yet so he spent his time gluing up some fresh JConcepts rubber. Since he runs mainly on outdoor dirt tracks he plans on using the JConcepts Sprinter and Ellipses in both the Green and Blue compounds.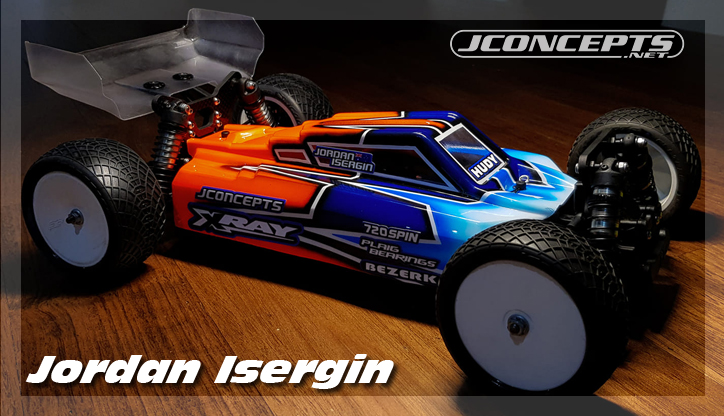 Fellow Aussie JCon driver Jordan Isergin also checks in to say that he rebuilt his XRAY XB4 '20 for when racing starts up again the Melbourne area. For his rebuild he used the RM2 Heavy Metal and Red O-Ring Grease, and his buggy will be using a JConcepts Aero S-Type 7″ Rear Wing, F2 body, and Blue Compound Ellipses on all four corners.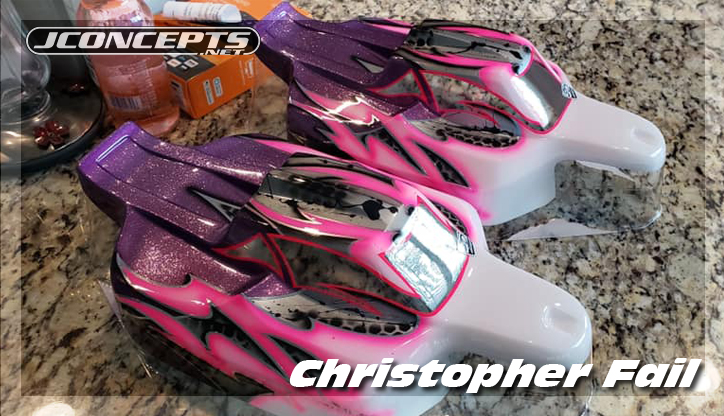 Finally, JConcepts driver Christopher Fail said that he hopes to be racing next weekend and he some fresh JConcepts bodies for his HB D819RS painted already.