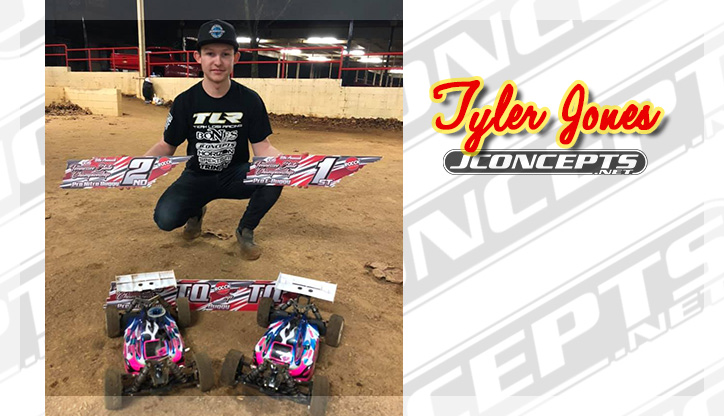 Being a student and racing can be a time-consuming thing, but Tyler Jones does a remarkable job balancing both. Last weekend, Tyler had a chance to race the Tennessee State Champs where the TLR/JConcepts star was able to TQ both the Ebuggy and Pro Nitro Buggy classes and convert the win in Ebuggy and finished 2nd in nitro. Tyler used the new gold compound 1/8th Ellipse tires on both rides to deliver the unbelievable results. Nice work T.Jones!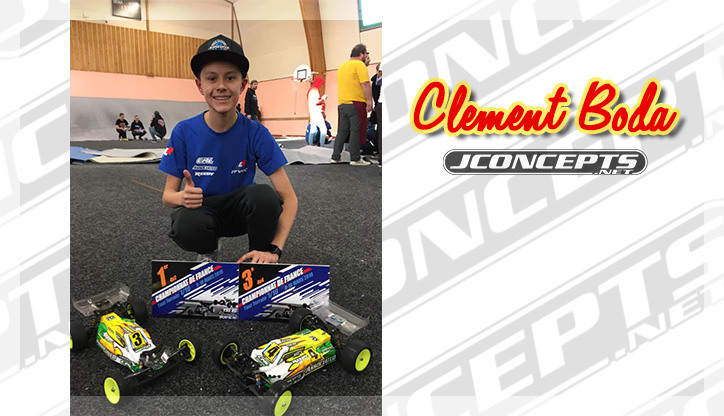 Welcome to the JConcepts team Clement Boda! If you haven't heard of this up and coming talent from France, you certainly will in the near future. Last weekend, Clement put in an impressive performance at the opening round of the French 1/10th Electric National Championships, hosted by The Sport RC 56 Club in Merlevenez, France. Despite not getting the TQ, Clement pushed hard in the mains and won both A1 and A2 to lock up round 1 in 2wd Modified. With great driving and consistency, Clement made the 4wd Modified podium finishing 3rd nailing a terrific double podium weekend.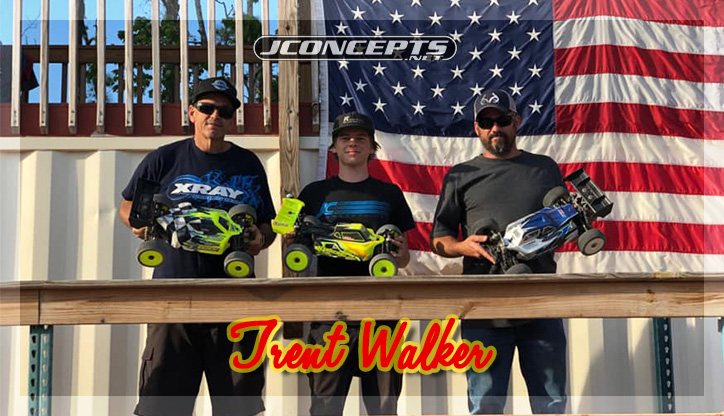 The only way to get better is to go and race. While practice is nice, it's just not the same thing as racing and competing. Making his way out to Strickland R/C last weekend, team driver Trent Walker, took the win in Ebuggy running blue Triple Dees and finished in 2nd place in Nitro Buggy while on R2 Triple Dees. On Trent's right (our left), Xray/JConcepts' Bobby Smith made the podium as well rockin' green Reflex tires!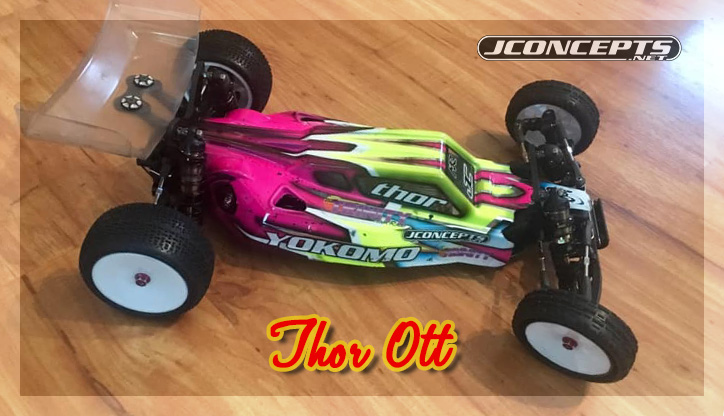 We're getting pretty accustomed to seeing this YZ2 paint scheme as Thor Ott has been killing it lately in his regional area. Last weekend, Thor took the TQ and won the 17.5 2wd Stock class using the new Twin Pins and Swagger fronts along with the S2 body to provide him the speed and style to win. Keep up the hard work Thor, it's paying off indeed.
It was a monstrous weekend for Sonny Santucci. The ace MT driver was definitely on top of his game last weekend at the JConcepts Monster Cross event hosted by TR Raceway in Pennsylvania. Here's what Sonny had to say about his killer weekend, "Took the win in the Clod Buster, 2.2, and Mega Truck classes and got 2nd in the open class at the 2019 JConcepts Monster Cross. My Clod and open truck were running gold compound Renegades glued to Tribute wheels. My 2.2 truck was running the blue compound Ranger tires glued to the Midwest wheels. My mega truck was running blue compound Fling King tires glued to the Dragon wheels. All my trucks looked great running all JConcepts bodies."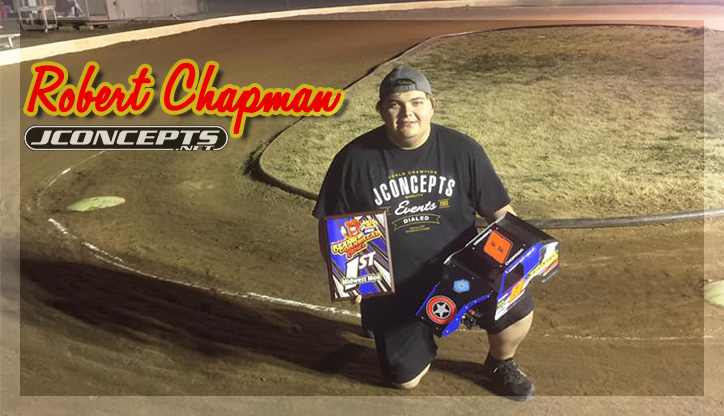 One of the hottest oval racers in the region, Robert Chapman can turn heads with his oval car, 1/8th car, and 1/10th. Fully faceted and super skilled, Robert attended the 5th Annual Beans and Cornbread Bowl at Lawton R/C Raceway and Hobby Shop in Oklahoma. At first, Robert struggled a bit in Outlaw Sprint finishing 6th in the A, but took the win in the Midwest Modified using green Dirt Web fronts and green Ellipse rears!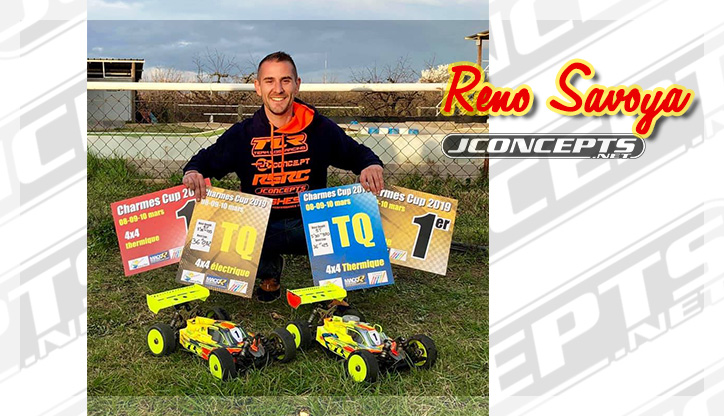 Judging from this picture, Reno Savoya had one heck of a weekend. With his new 8ight X cars, Reno took the TQ and win in both Ebuggy and Nitro Buggy at the Charmes Cup. The secret key to Reno's traction success were the green compound Stalkers and Kosmos tires!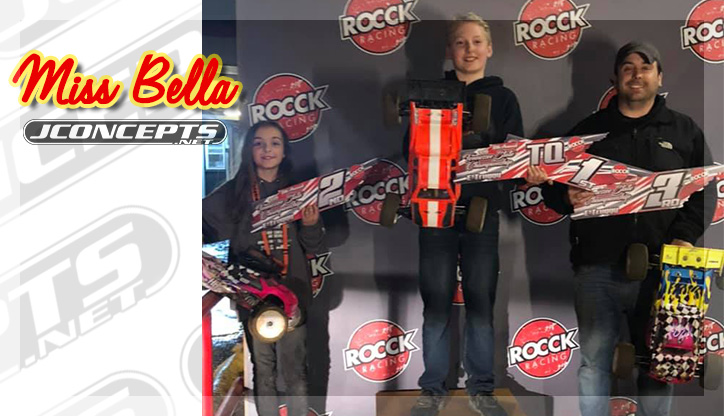 Yep, that's our Miss Bella on the podium in 2nd place in Etruggy! It's always great to receive a race report from Miss Bella and it's not because of how well she is doing, but because of her positive attitude and her reflection on the event itself. Judging by her reports, she's her toughest critique and that's great! The only way to improve is to understand what went wrong and try to improve it for the next race. Not a great finish in Ebuggy, but a wonderful 2nd place in Etruggy. With racing, you have to take the good with the bad and keep truckin' forward. Nice job Miss Bella, we're cheering you on!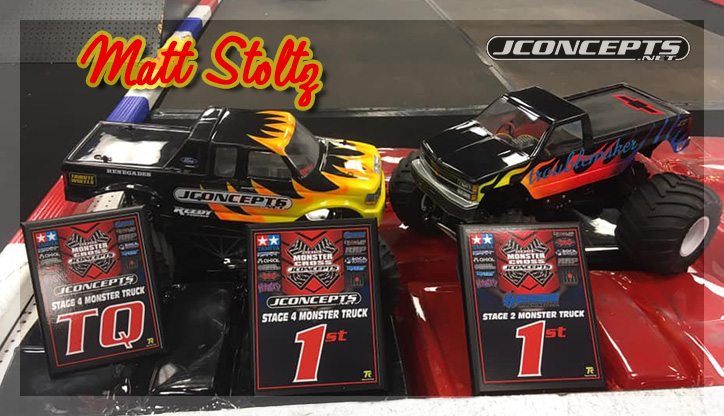 It was a wonderful weekend for our multi-talented Matt Stoltz as he grabbed a couple of impressive wins at the JConcepts Monster Cross race last weekend in Pennsylvania. Matt received 1st place after being the fastest in a monster truck shootout race with a 1st place in Stage 2 and a 1st place finish in Stage 4. Matt's tire preferences were the gold compound Renegades on his Stage 2, but opted to go with the Golden Year Tires in Stage 4! Whatever it was, it was a deadly winning combo.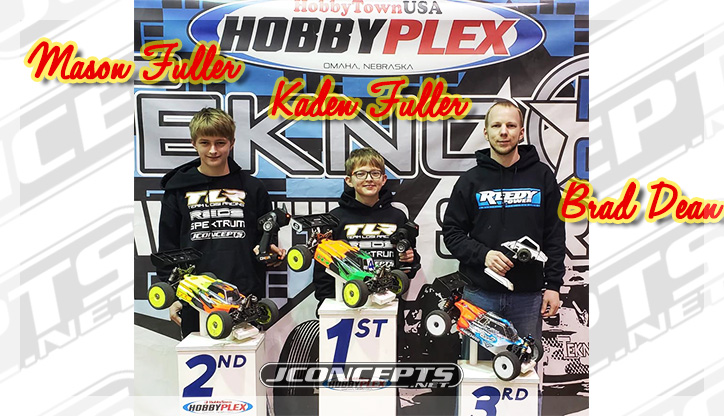 Our Midwest team was working hard last week at the final round of the Tekno Winter Finals in Omaha, Nebraska hosted by the Hobbyplex. It was a killer final round of racing as the top 3 in Ebuggy were all on JConcepts. Taking the win was super talented Kaden Fuller ahead of his lightning-fast older brother, Mason. Standing in the final spot of the podium was St. Louis' Brad Dean who seems to always find his way to a podium. Mad skills.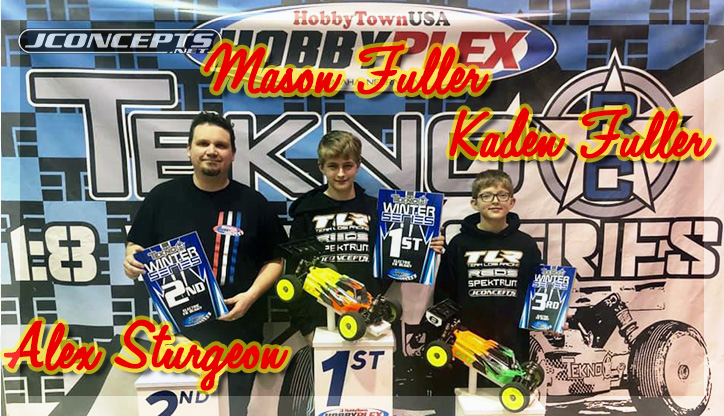 With the conclusion of the 2018 Tekno Winter Finals Series, the overall Champions were crowned in all classes with Mason Fuller finishing 1st, Alex Sturgeon taking home 2nd and Kaden Fuller rounding out the top 3 in 3rd. This has been the ultimate fast guy lineup for a while there at the Plex …… and we like it! Nice job team and way to sweep the podium!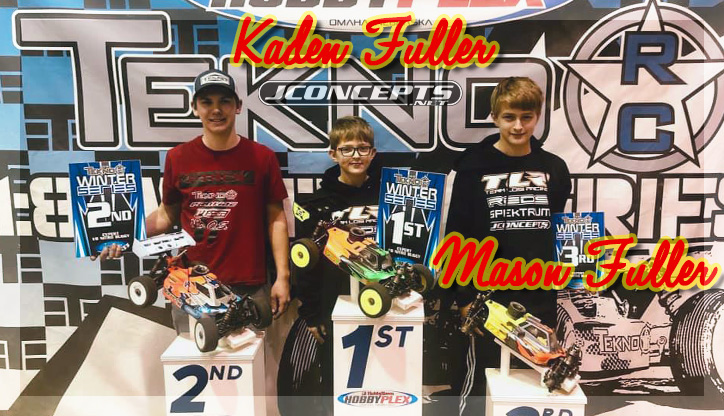 The above photo is the overall series title winners from the Tekno Winter Series and check out the little guy right in the middle. Taking the overall win in the 1/8th Nitro Buggy class was none other than Kaden Fuller. Kaden has been quite impressive lately and doing very well in the stock 1/10th and 1/8th classes and starting to mimic his super fast older brother, Mason. Mason went on to finish 3rd in the series, but definitely, a racer's favorite to watch.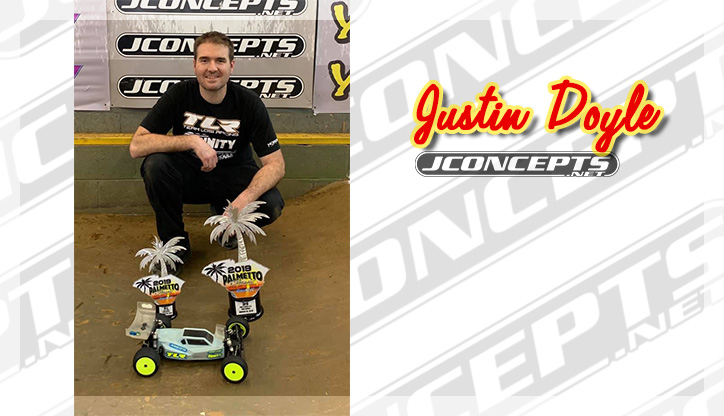 Justin Doyle also attended the Palmetto Classic in Myrtle Beach, SC, and found great success in the 17.5 2wd Stock Buggy class finishing 3rd overall using gold Dirt Webs and Ellipse rear tires on his TLR rides. Justin also ran 2wd Modified and finished 4th!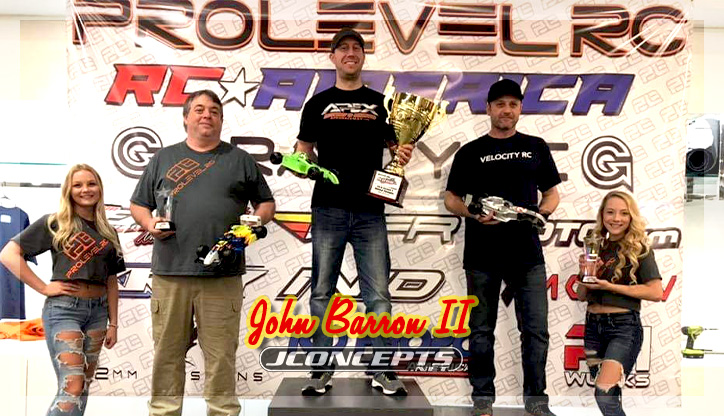 Congrats to our National F1 Champion, John Barron II!! It was a close race in the end, but John Barron rose to the occasion when it mattered most with a win in A1 and A2 to seal up the national title. What an accomplishment and congratulations National F1 Champ!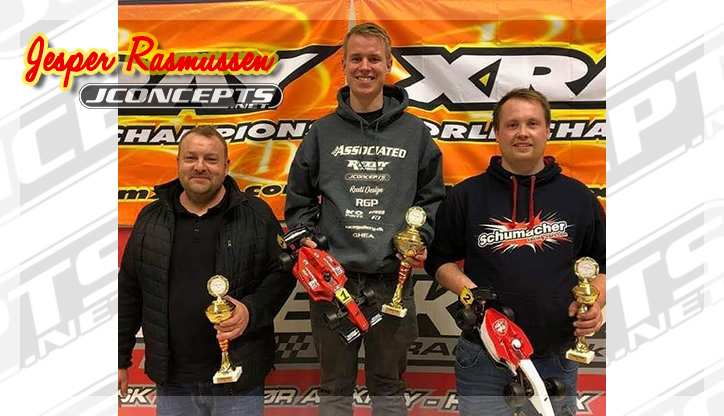 Great job by our Danish speedster, Jesper Rasmussen, as he finished on top at the Danish Championships round 6 held at Skanderborg RC. Jesper piloted his Team Associated F6 to a perfect weekend by TQ'ing every round and going on to win the A-Finals. Currently, Jesper is leading the points championships so let's wish him good luck!!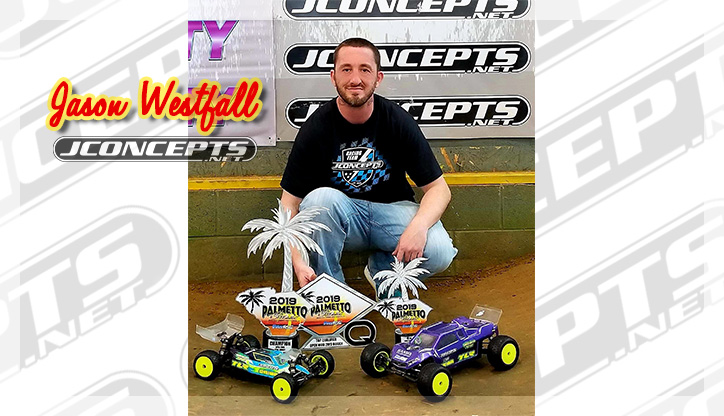 Jason Westfall had a blast running the Palmetto Classic last weekend at Beach RC. The Atlanta, Georgia native capped off a great event with a TQ and win in the Open 2wd Modified class and just missed the podium in Mod Truck finishing 4th overall. Terrific job Jason and that's a killer looking shirt!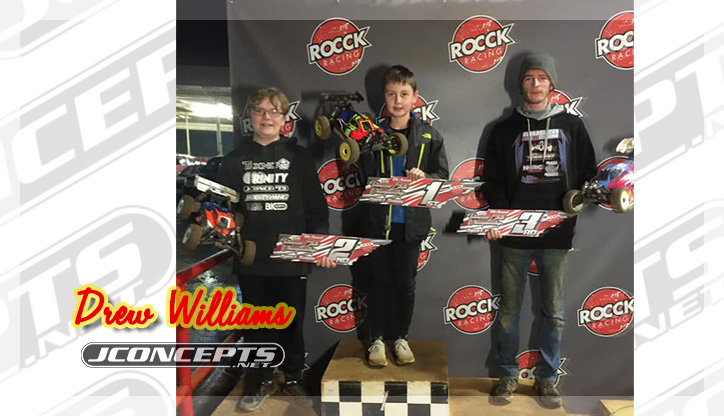 Also attending the ROCCK's 2019 Tennessee State Championships, young Drew Williamson had a bit of a rough time in qualifying, but things seemed to work themselves out in the main as Drew bumped up from the B of the Open Ebuggy class and remarkably scored himself a 2nd place finish. Drew also made the A-Main in Nitro Truggy, but was able to run the main b/c he was injured while corner marshaling. Hope you weren't hurt seriously Drew. We wish you a speedy recovery and nice job on 2nd!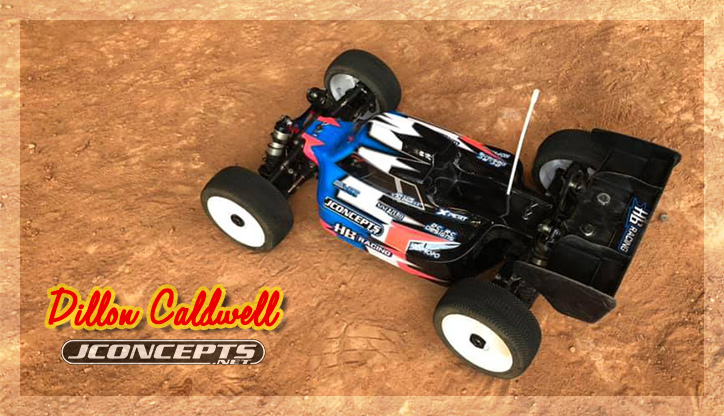 It's always something to cherish and no matter how big or how small of an event it is if you win… remember it and cherish it because we can't win forever. Last week Dillon Caldwell took the win in Ebuggy at Mike's Hobby Shop.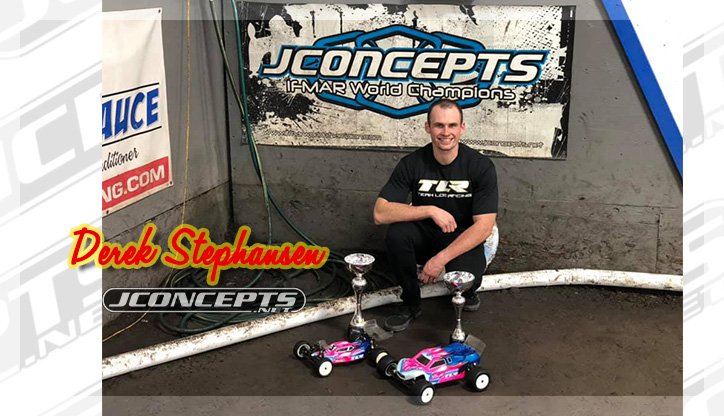 Attending the Team Powers Cup race last weekend at NorCal Hobbies, Derek Stephansen proves that he gets it done. It was a TQ and win for Derek in the 13.5 Stadium Truck class and a close 2nd place finish in the 17.5 2wd class. The unique thing about this race is the format is using the Reedy race style, but with stock 2wd and truck! Nice job Derek!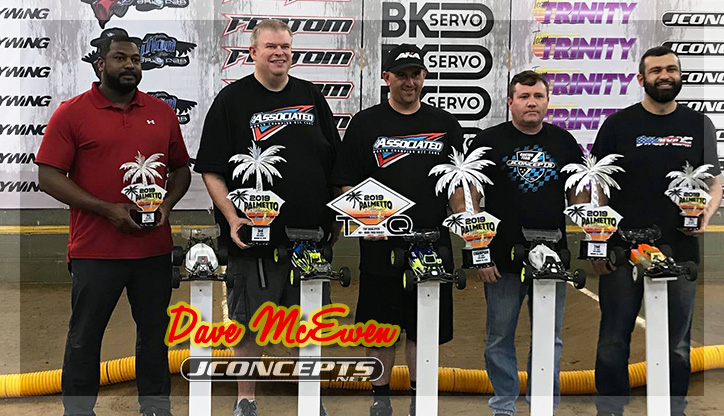 Great job to our team driver, Dave McEwen, as Dave attended the Palmetto Classic and had great results all around. Dave finished 3rd in 40+ 2wd Modified, 7th in 17.5 2wd Stock Buggy, and 12 in 13.5 4wd. Low pin tires were the ticket as Dave mounted and ground down gold Ellipse rears and Space Bar fronts to provide him with speed and traction he was looking for.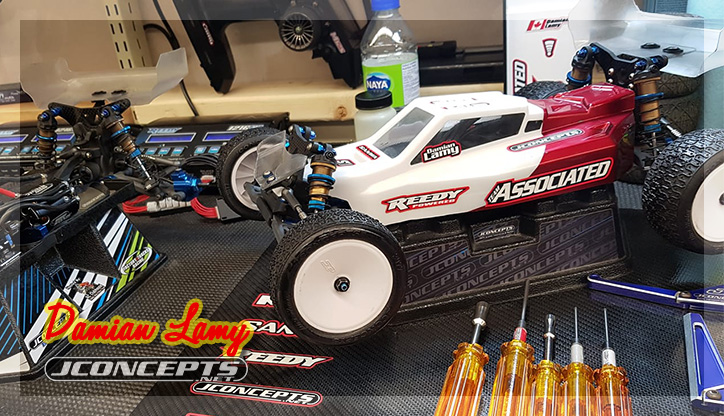 111 entries at a club race? No problem. Our Canadian sensation, Damian Lamy, has been on fire up north rockin' the JConcepts Dirt Webs in gold compound, F2 body, aero wing package and taking wins left and right. Last weekend it was no different as Damian set TQ and took double wins in both 2wd and 4wd at the Centre Du Hobby. FIRE!!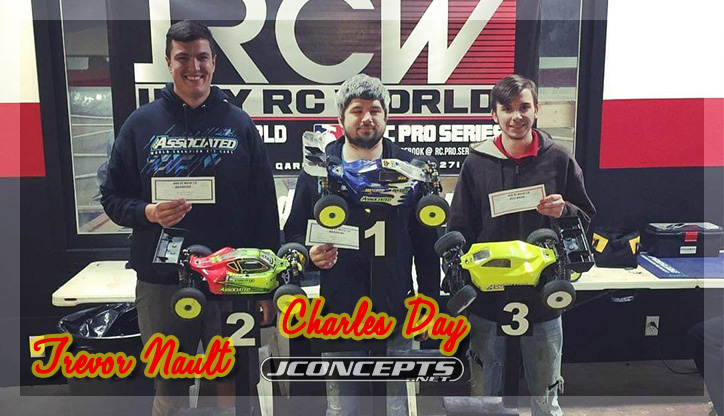 In preparations for the upcoming Icebreaker race, Charles day made it to the track for a bit of extra practice and club races last weekend at Indy R/C World. Charles chose to run the blue Detox tires and he definitely made the right choice as he took the win in Ebuggy. Super fast and friendly, Trevor Nault, took home 2nd place and a big smile.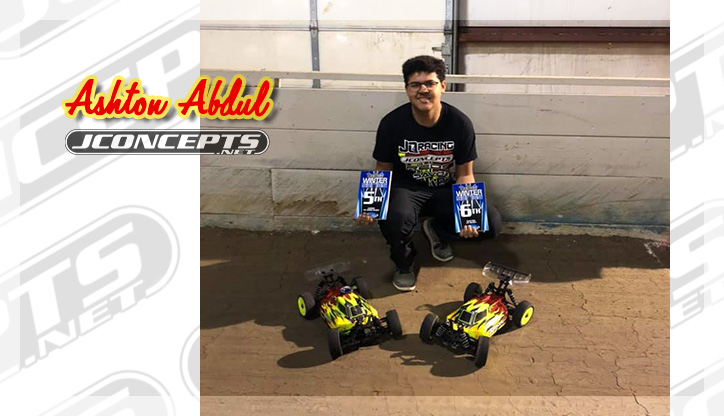 Ashton Abdul has a lot of competition out there in Omaha, but that's a good thing. Having fast people to chase week after week is important and a key to getting faster. Putting in a solid result in Ebuggy and Nitro Buggy at the Tekno Winter Series Finals, Ashton finished 5th in Nitro and 6th in Ebuggy. Keep up the hard work Ashton and you'll be dicing at the front in no time!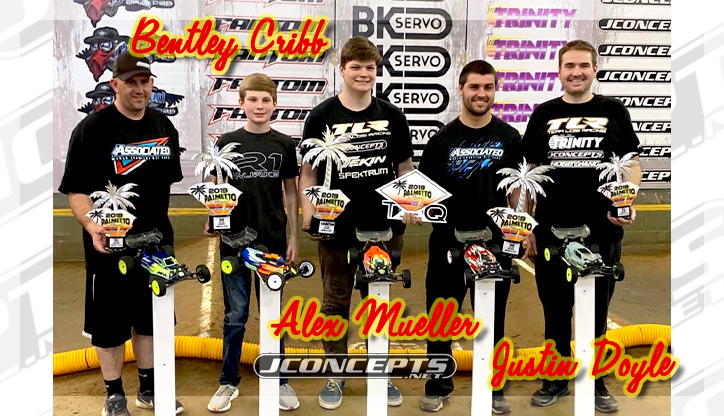 Once again, congrats to our JConcepts team drivers who made the trip to the Palmetto Classic. Alex Meuller led the way in 2wd Modified with a TQ and win effort. Bentley Cribb also managed to find himself 3rd overall with Justin Doyle finishing in 4th!