Thanks for the weekly race update from the Viking himself, Erik Voelkle, as he states he, "Did some club racing Friday night at my home track, MakinTraxx RC! Running the Reedy "heads up" format, I was able to finish 2nd in 4WD mod and 3rd in 2WD Mod. Lots of great racing Friday night! As always, my black Octagons were hooked up all night long. This week I am wrenching on my Ebuggy and Etruggy to get my 1/8th scale program ready for the season coming up shortly."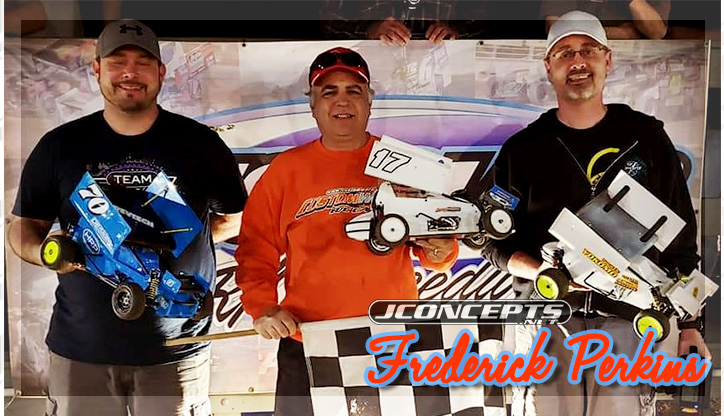 Every now and then, it's great to race something you're not familiar with, but it's even better when you do well and stand on the podium racing that new class. Taking home 2nd place in his 1st oval race, team driver Federick Perkins had a great time at the Ron Boorman Memorial Race and finished 2nd overall on green Dirt Web fronts and black compound Ellipse tires. Way.To.Go!
Our multi-talented racer, Hunter La Flower gets in done in so many levels and in so many disciplines. Last weekend was a doubleheader for Hunter as he raced 1/8th at Indy R/C on Saturday, where he finished with a TQ and win! The night before, Hunter ran some oval and finished 3rd in the Modified Sprint class at Wild Bill's Friday night.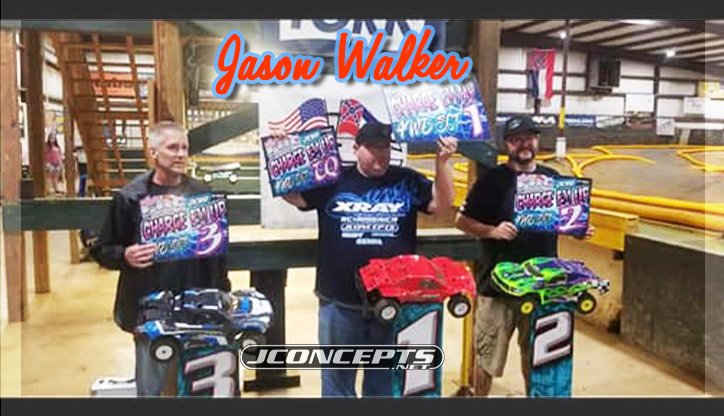 Hitting up the Chargem Up IX race at Flowood R/C in Flowood, Mississippi, Jason Walker had an excellent weekend placing himself 4th in the 40+ Ebuggy class and took the TQ and win in the SCT class! Using green Diamond Bars on his Ebuggy and a combination of blue Pressure Points and green Double Dees, Jason had the winning traction and with excellent driving took the win!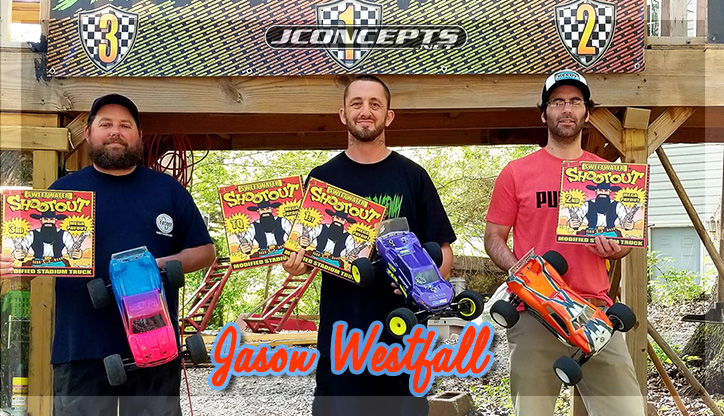 Back at it! Jason Westfall continues to find great success in the South East as he attended the Sweetwater Shootout and scored an impressive win in Mod Truck class and placing 3rd in 2wd Modified at the 5th Annual Sweetwater Shoot-Out! Jason used ghosted out gold Dirt Webs that provided him with the winning grip in truck!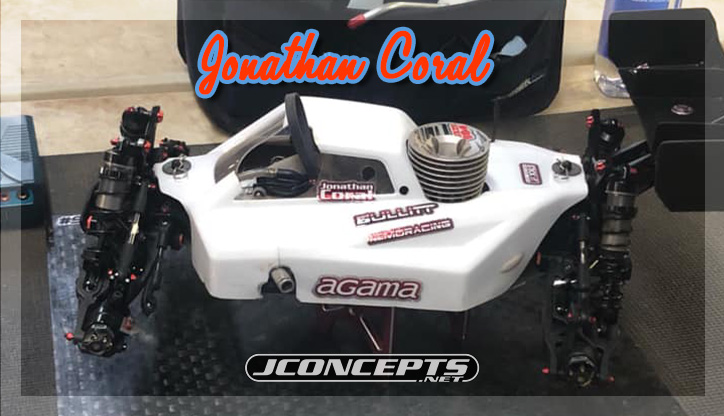 Timing is everything and switching to the right tires at the right time is a crucial part of racing these days and Jonathan Coral timed it perfectly last weekend as he attended round 3 of the Houston Championship Series at Gulf Coast Raceway in Porter, TX. After a great qualifying effort, Jonathan went up a compound from green to blue Reflexes and killed it in the mains taking home 1st place!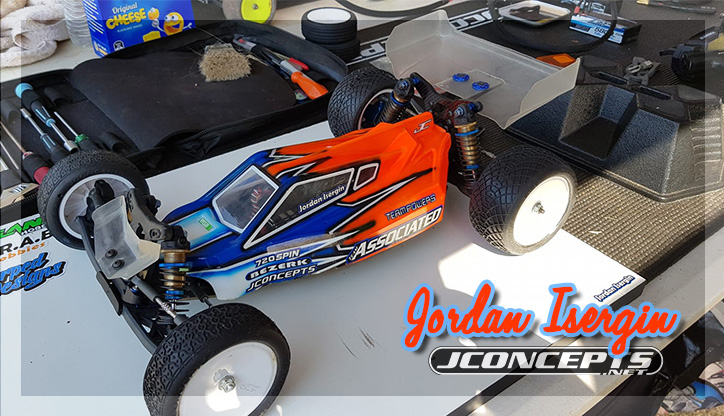 Our Australian team is perpetually growing and we just love to hear from them. Jordan Isergin clubbed raced at Keilor in Melbourne, Australia rockin the Aero lower front wing, rear wing, and P2 body along with Ellipse rears and Dirt Web fronts to set the TQ and then took the win. Awesome job Jordan and that's one dialed ride!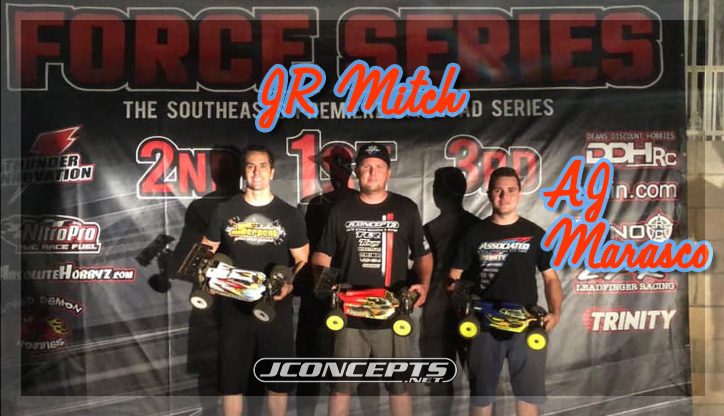 No matter what the conditions are, JR Mitch is going to be a contender and last week at the Force Series race hosted at the legendary Lake Park, JR Mitch took home the win in Ebuggy using green compound Stalkers in A1 and green Reflexes in A2 to seal the deal. JR's 8ight X is straight up flyin'!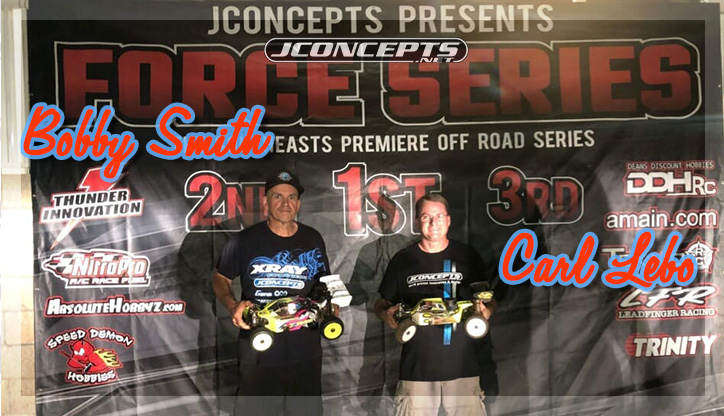 Thanks to Carl Lebo and Bobby Smith for always representing JConcepts so well at the races. Carl and Bobby both battled it out in the 40+ Ebuggy class where Carl took the win and Bobby finished 2nd! Great job reppin' the gentleman's class guys!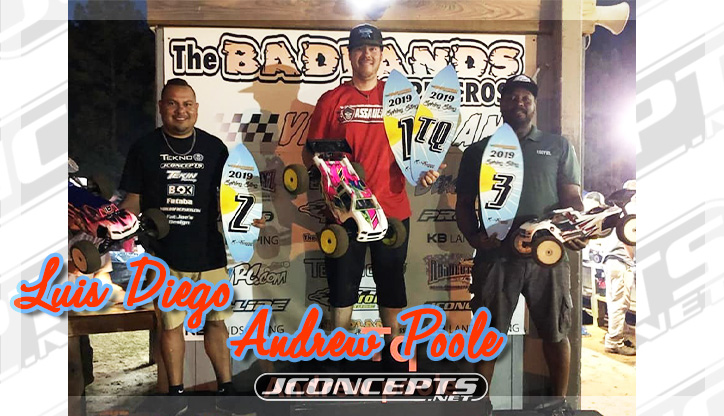 It was a great weekend for both Luis Diego and Andrew Poole as they both attended the Spring Sting hosted at Badlands RC Supercross track and took home a win. Congrats to Andrew on the 1st place finish in Etruggy and to Luis for his 2nd place podium as well!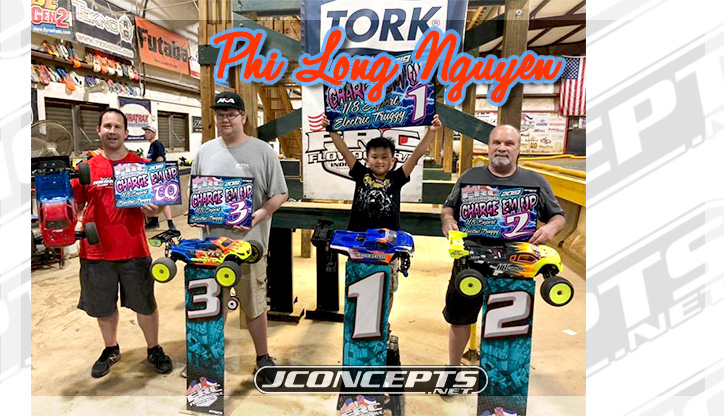 After a breakout win in Sportsman Nitro Buggy at the Dirt Nitro Challenge earlier this year, JConcepts would like to welcome Phi-Long Nguyen to the JConcepts team for 2019 and beyond! This young phenom has so much potential and we're excited to have him on the team! Phi-Long had a great weekend attending the Charge'em Up Race at Flowood R/C in Mississippi. Continuing his success from DNC, Phi-Long took the win in Expert Etruggy using blue Reflex tires, 2nd in Open Ebuggy with gold Ellipse tires (no sauce), and 2nd in 4wd with blue Reflex tires! Absolutely Amazing!!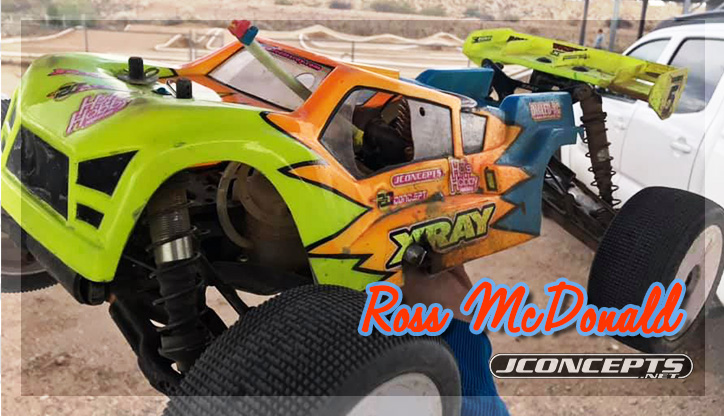 Congrats to Ross McDonald on his awesome finish in Nitro Truggy as Ross took the TQ at ARCOR Raceway Forum and finished out on top! Ross scored his success with blue Reflex tires on his Xray truggy and had him grippin' and rippin' from the very start.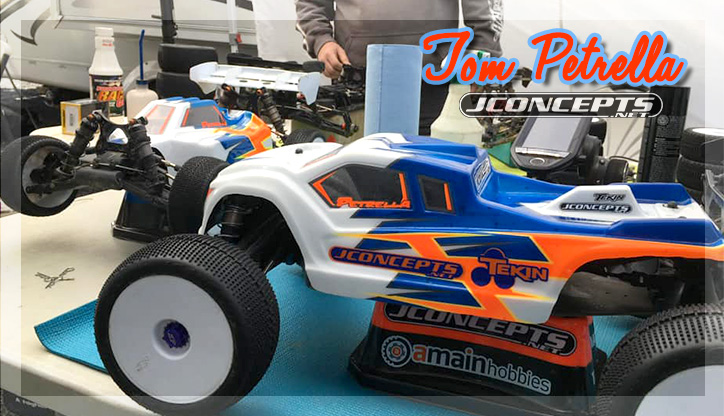 It's sometimes important to take a break now and then to refresh the batteries, literally. Tom Petrella took a little break and this is what he had to say on his comeback race, "I attended the LCRC opener this weekend racing Ebuggy and Etruggy. There were over 200 total entries for the race. Both of my cars were hooked on Reflexes. I qualified 4th overall in ebuggy (40+) and 10th in Truggy. Fortunately, I was able to improve my position in Truggy finishing 9th but I lost my wing on the first lap of Ebuggy and finished 11th. I tried keeping pace without a wing but as anyone that has tried it before knows it was a struggle. Still happy with my first time racing the big cars in some time." Not a win, but it's great to see Tom active and racing 1/8th again!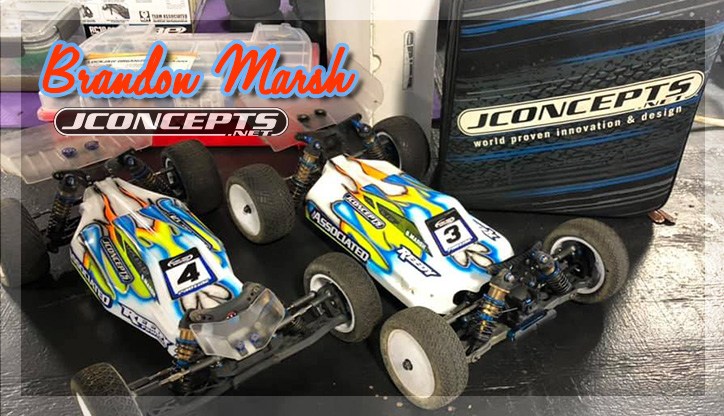 Reppin' at the Factory Tracks Proline Invitational, team driver Brandon Marsh showed great pace to finish inside the top 15 placing himself 13th overall in the tough, Reedy style format. With the race having Proline handout tires, Brandon repped JConcepts with Aero wings, Silencer bodies, and that cool JConcepts radio bag! Thanks Brandon!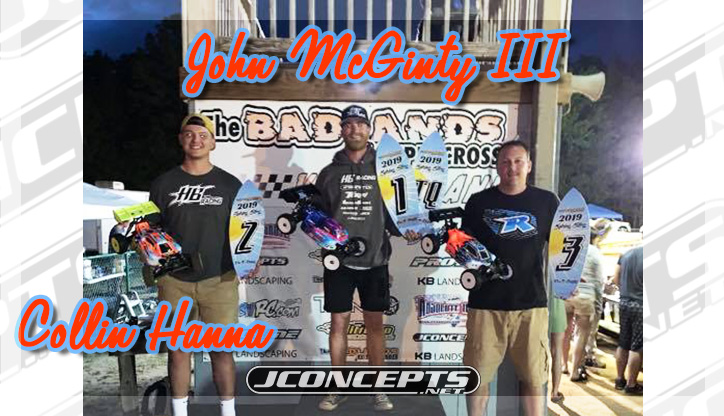 It's great to see John Michael McGinty III at the track because all of us know how much speed he really has. It was an impressive weekend for John as he took home the win in Pro Ebuggy and Pro Nitro Buggy at the 2019 Badlands Spring Sting! JConcepts' Collin Hanna and Brandon Melton went on to finish 2nd and 3rd in Pro Ebuggy making it a JConcepts sweep. #LoveThisTeam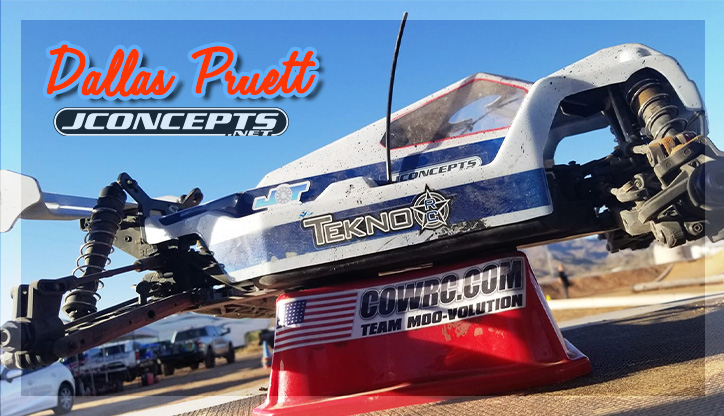 Dallas Pruett attended the Nitro Compound series race, round 2, and with great skill drove his NT48.3 to the podium in the Open Truck class finishing 3rd on blue Reflex tires and love every second at the track!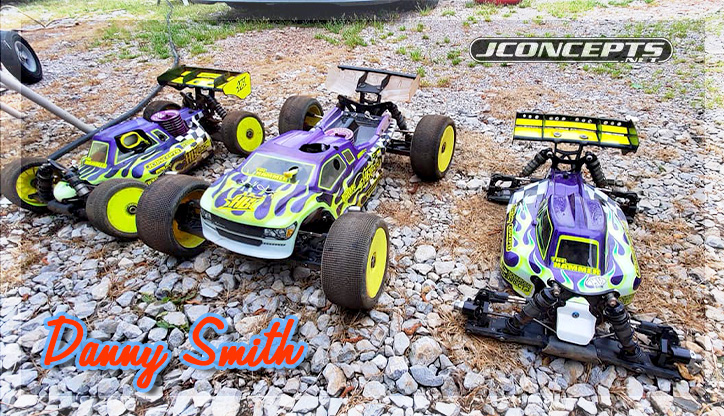 Check out that fleet!! Team driver Danny Smith took it to club racing last weekend at Warehouse Hobby and Raceway where he ran 3 cars and what a remarkable weekend he had! Danny set the TQ and won the Nitro Buggy class, then won the Nitro Truggy class and also took home the win in Ebuggy! If you thought that was cool? Danny couldn't be more stoked on his pit crew, which features his wonderful wife and daughter! Tires of choice were green Reflex for truggy, green Rehab for nitro buggy, and green Teazers on Ebuggy.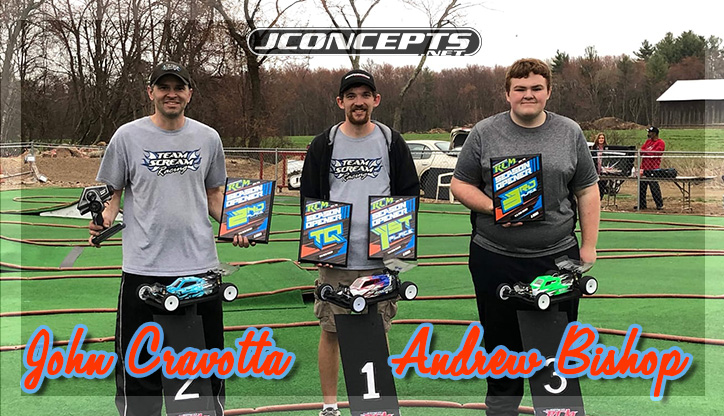 John Cravotta and Andrew Bishop raced the season opener at RC Madness and had some killer results despite the colder Connecticut weather. Here's what John had to say about his experience, "Headed down to RC Madness for the Season opener. I ran 17.5 Buggy, 13.5 4wd, Mod 2wd. Cars were really good on Nessie's and Swaggers. I had a 2nd overall spot run in 17.5 but spun an idler gear. 2nd run was in the bottom heat and I was on a Tq pace but got no love from the field and qualified 6th. 13.5 same results with issues, 6th overall. Mod was dialed but kept missing laps and I spaced out and forgot to have them fixed. Bumped out of B main and finished 11th because of missed laps again. 17.5 A Main went better, I battled to 2nd place finish. Thank you for all the support, greatly appreciated!" Sometimes rough weekends allow us to enjoy the smoother weekends even more! Thanks, John and Andrew!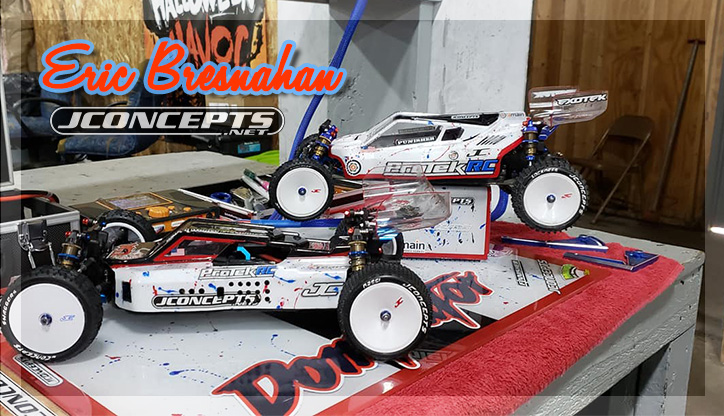 Also hitting up some green astro at RC Madness, team driver Eric Bresnahan made all 3 A-mains in Modified Stadium Truck, 17.5 2wd, and 13.5 4wd and that is a killer accomplishment all in itself! Overall, he finished 2nd in Mod Truck, 3th in 17.5 2wd and 4th in 13.5 4wd. Great job Eric and awesome details on the tires!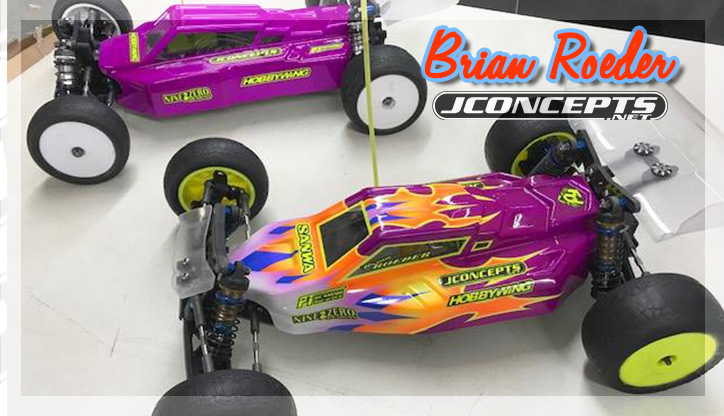 The professional, Brian Roeder, always puts up the best race reports and here's another perfect race report from Mr. Roeder himself, "This past weekend I decided to go back to Makintraxx and decided last minute to go and wasn't sure if my back would hold out but with the friendly crowd there, they helped me out with marshaling. Thanks, Brian Davin. It turned out to be a decent day. After 3 races I'm really liking the new AE rides with some minor changes to fit my driving. First round I would lead most of the heat and got TQ but lost it in traffic and a couple small bobbles. I would finish 2nd about 4 tenths behind first. 4wd I would grab TQ and the second round would be slower so I would start the mains 2nd in 2wd and TQ in 4wd. Mains didn't go the best especially 2wd as I would fall back mid pack I kept my head up knowing my b6.1 on JConcepts tires and Hobbywing esc and G3 motor was feeling really good and still putting down some of the fastest laps on the track but just made too many little bobbles on my own. In the 4wd main, Kyle and I were battling the whole race and I got into him in traffic while he was leading which left me in the lead but in the end, I gave him back that position for the win. It was a fun time again to hang with Brian Mills and Matt Morris. Thanks again to Brian Davin and the whole crew. It's so nice to have a great place like this to race it's one of the best around. I would also like to thank the amazing companies for the support and great products." You're the best Brian and good luck with the new rides!