In this week's Race Team Update the JC crew is keeping busy with new builds, hitting the trails for some outdoor adventures and still winning at races! Read on to find out more!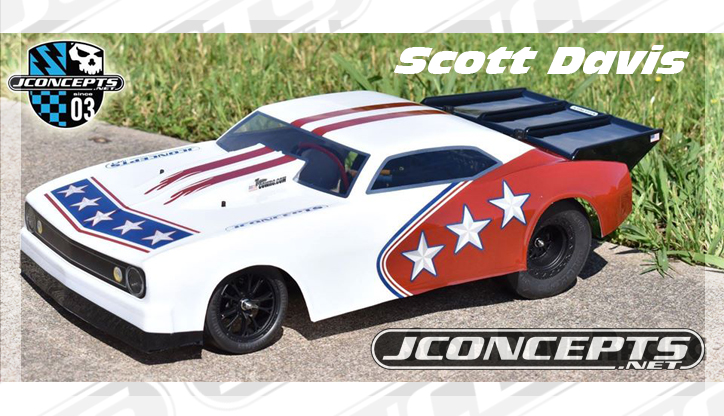 Team driver Scott Davis is putting the final touches on his Traxxas Slash based bracket car. He reports that he wanted to use a patriotic paint scheme on his new JConcepts 1967 Chevy Camaro Street Eliminator clear body and we think it looks great! He also said that he cleaned and mounted up some fresh JConcepts Hotties tires on Tactic rims.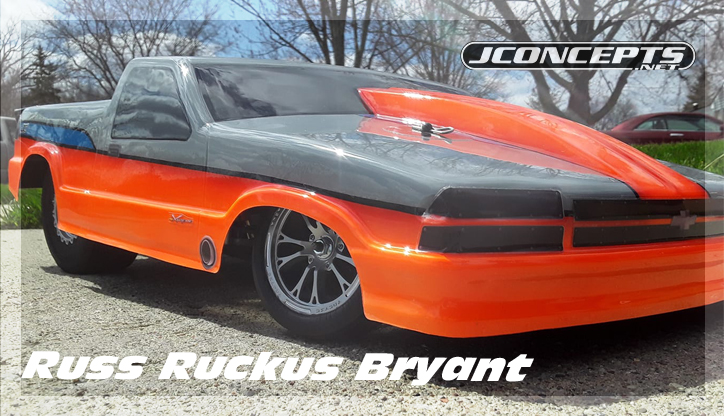 Just last week we announced the new JConcepts 2002 Chevy S-10 Drag Truck clear body for Street Eliminator fans and speed-run drivers. JConcepts driver Russ Ruckus Bryant has already got his body shell ready for the drag strip in a custom, bright orange and gray paint scheme. Looking good Russ!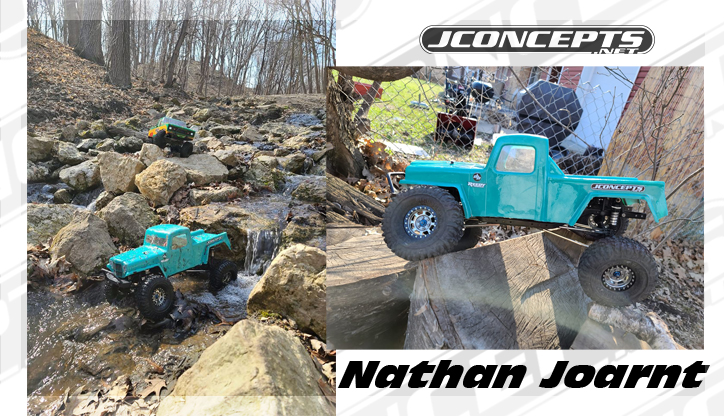 JC driver Nathan Joarnt continues to put his Element through all sorts of outside terrain obstacles. He reported that his rig is still running strong thanks to the JConcepts Landmines 1.9″ Performance Scaler tires and JCI Creep Crawler clear body.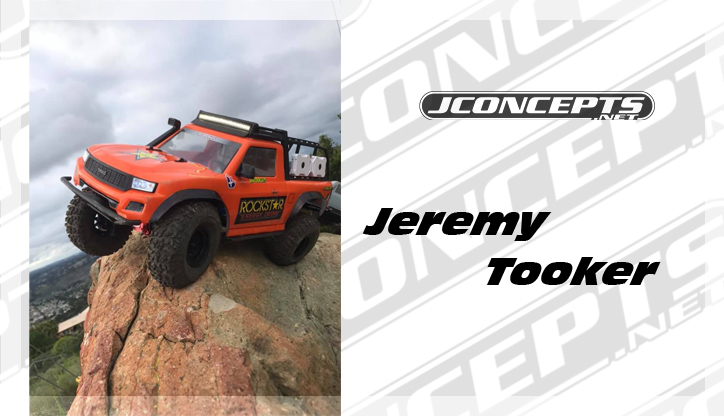 Team mate Jeremy Tooker also hit the rocks this past week with his Traxxas TRX-4 Sport. He said he was also using the JConcepts Landmines 1.9″ Performance Scaler tires along with the Colt 1.9″ Beadlock Wheels.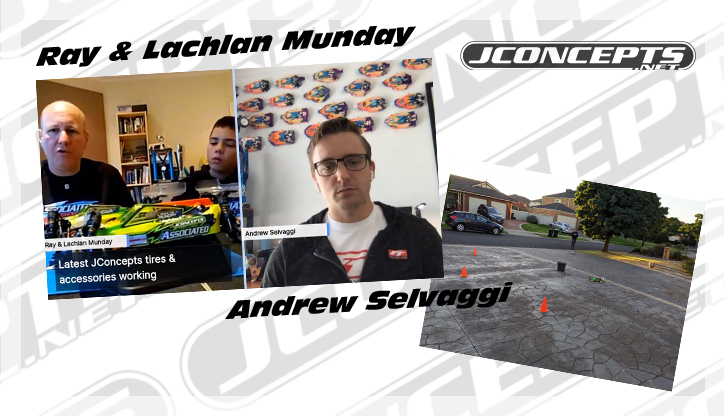 Continuing a trend as of late team driver Ray Munday reports that he and team mates Lachlan Munday and Andrew Selvaggi held a Live Chat discussing various RC topics including what JConcepts tires and accessories they like to run. And to keep his skills sharpened he has created a simple test track in the driveway too!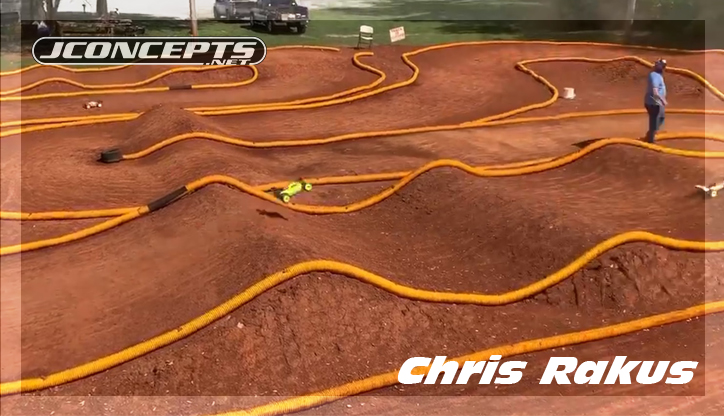 Team driver Chris Rakus is also keeping his skill sharpened by throwing down some practice laps at the Rocket City Radio Controlled Race Club (RC3) track in Huntsville, AL. He reports that his car felt great while running JConcepts Reflex tires in the Green compound.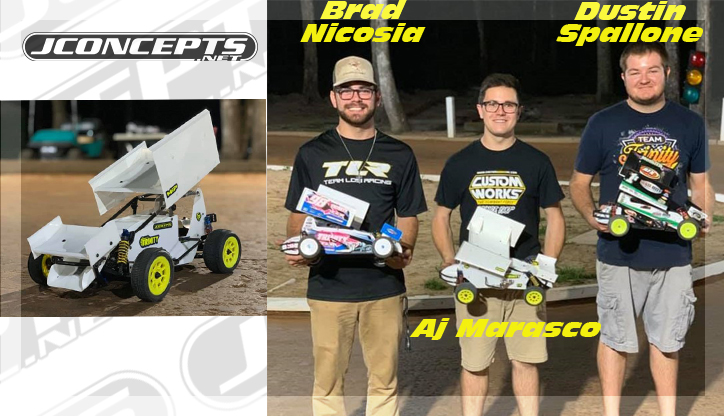 Team mates Brad Nicosia, Aj Marasco and Dustin Spallone got some left turn racing in this past weekend at Ron Jon Raceway. Aj was able to take the TQ and win using his new Custom Works R/C Outlaw 4 Sprint car. He used a winning product combination of JConcepts Green compound Sprinter tires on 9 Shot wheels in the yellow color option.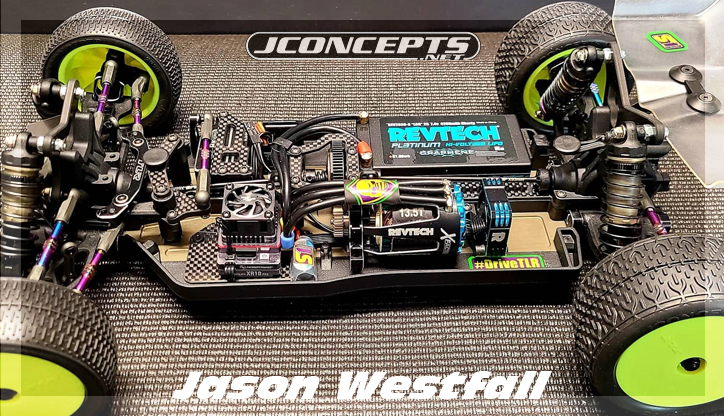 As reported earlier a lot of team drivers spent time getting their race rigs ready for competition when racing resumes. JC driver Jason Westfall finished up his new TLR 22X-4 build already and has some fresh JConcepts Green compound Bar Codes mounted and ready to roll!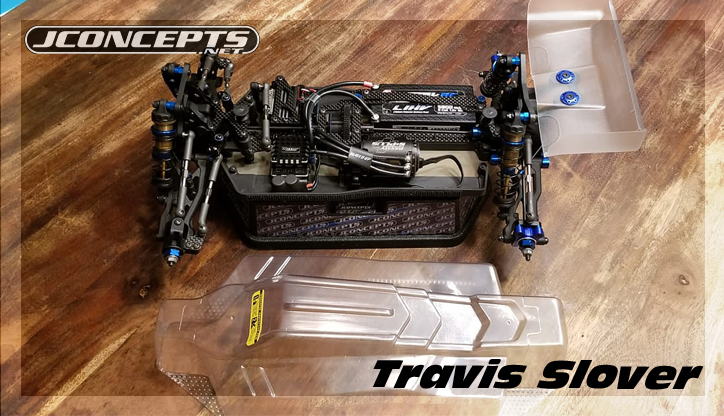 JConcepts driver Travis Slover also worked on his new wheeler too. He reports that has built a new B74 and has the electronics ready. He is already using the new JConcepts B74 Aluminum Rear Hub Carriers, Finnisher Aluminum Wing Buttons and will prep his new F2 body next!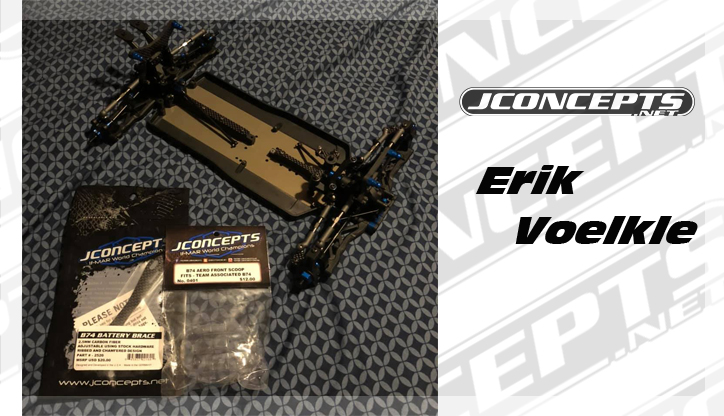 JC driver Erik Voelkle is also working on a new B74 build. He reports that this new whip will soon have the JConcepts B74 Carbon Fiber Battery Brace and B74 Aero Front Scoop installed. And right now his F2 body is getting sprayed in his favorite paint scheme and he plans on mounting up some new JConcepts Ellipse tires in the Green and Silver compounds.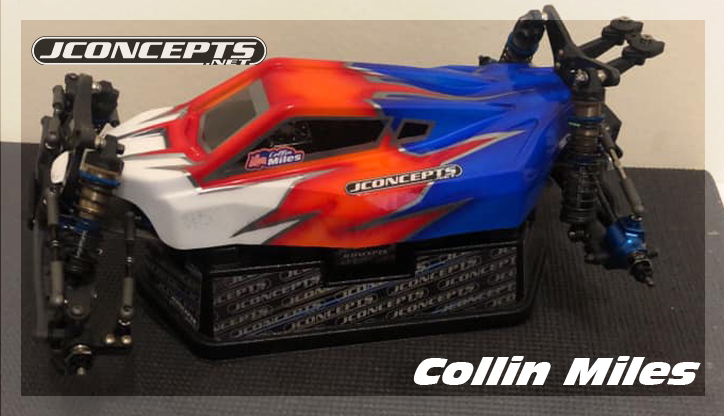 Fellow JC driver Collin Miles also has his 2wd buggy ready for action. He reports that he has it cleaned up with a JConcepts P2K body, Fin Titanium Shock Stand-offs and 7mm Light-Weight Hex Adaptors.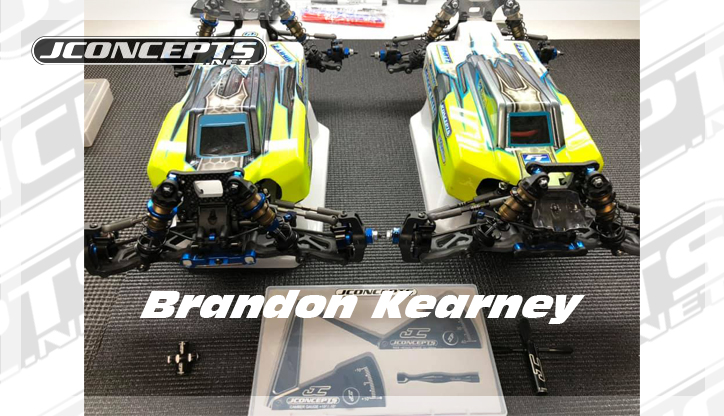 Finally, JConcepts driver Brandon Kearney checks in to report that both of his B74 rides are rebuilt for when racing resumes. He recently picked up some JConcepts tools in the black color option:
Aluminum Camber Gauge
Aluminum Ride Height Gauge
Fin Turnbuckle Wrench
Combo Thumb Wrench
7mm Fin Quick-Spin Wrench
He said by doing this he can leave his blue colored JConcepts tools in his racing bag. Currently his 4wd cars are rocking the following JC products:
F2 B74 body
Fin, 12mm Shock Collar
Fin, VCS Shock Bottom Cap
Black B74 Fin Titanium Turnbuckle Set