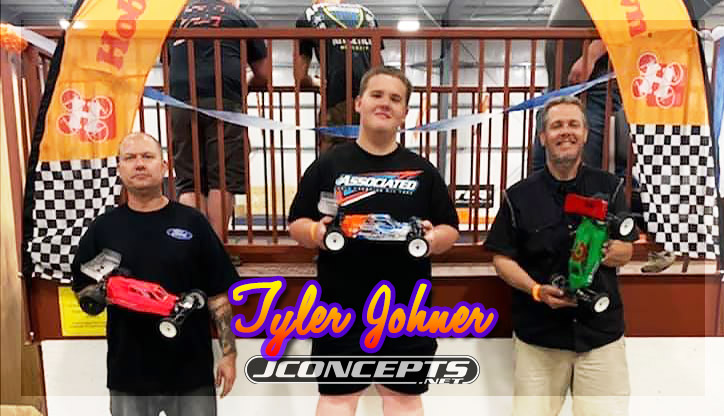 Someone that's certainly going to be fast at the JConcepts NCTS race at Thunder Road Raceway in the near future is this guy, Tyler Johner. He's been climbing the ranks and getting some serious wheel time and it's definitely paying off. Congrats to Tyler for the awesome weekend of racing where he took the double TQ and win in 17.5 2wd buggy and 13.5 4wd buggy classes using Swagger front tires and Twin Pin rear tires on both of his carpet knives to achieve his flawless victory!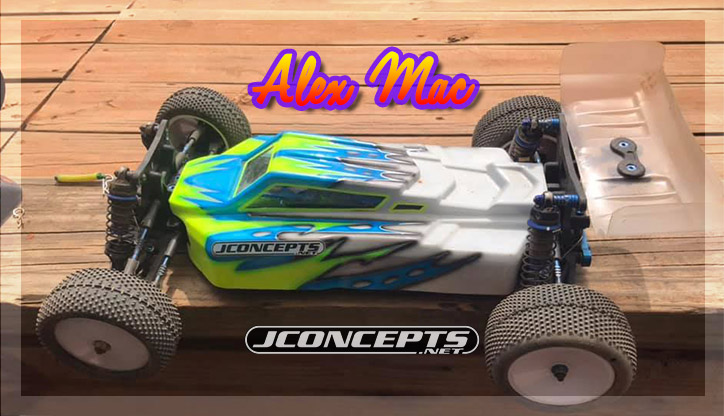 Always working hard and putting forth the effort, South Florida's Alex Mac took home the 4wd Modified win at Mills Pond RC Raceway in Mills Pond, FL. Using the F2 body for the B64, Alex also ran the Hybrid rear tires for extra grip and Double Dee 4wd front for responsive steering. Nice job Alex and way to rep!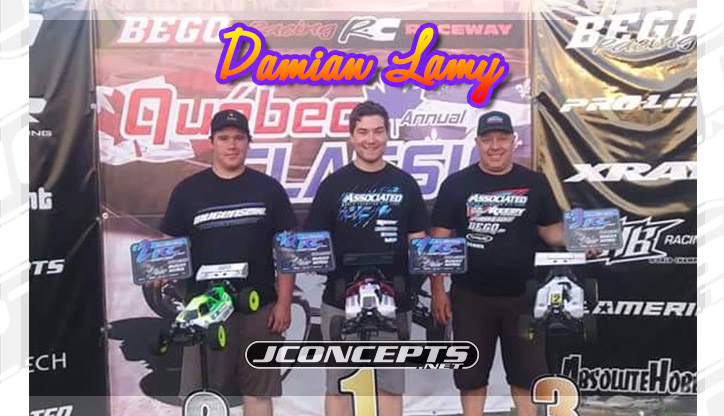 Onto the 3rd race in the series of the Bego R/C Raceway hosted series in Quebec, Canada, Damian Lamy was on fire taking all 3 rounds of qualifying and went on to win the 30 minute A-main final. Damian was extremely happy with the green compound Reflex tires, which locked him into the top spot of the podium. Thanks for sending in the report and awesome job Damian!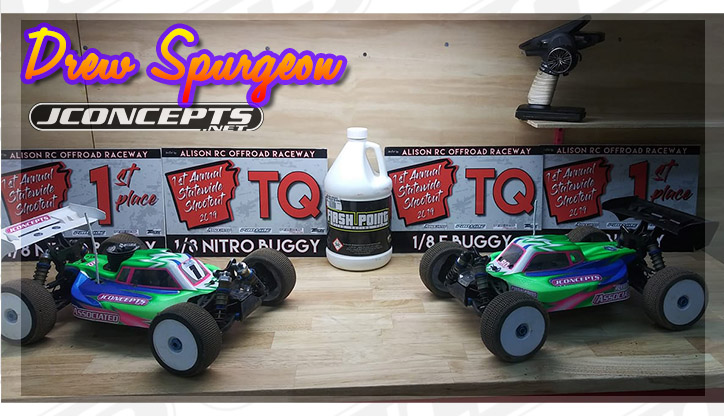 A man that doesn't need any introduction at all, Drew Spurgeon is a man of many talents. Here's what he had to say about his race report…. and we didn't make it up, "Raced the 1st annual STATEWIDE SHOOTOUT hosted by Allison's off-road. With green Reflex and Kosmos tires, my AE/JConcepts cars were dialed from the drop. Also, my JConcepts Silencer bodies kept me looking sweet for the fans." Gotta look good for those fans now!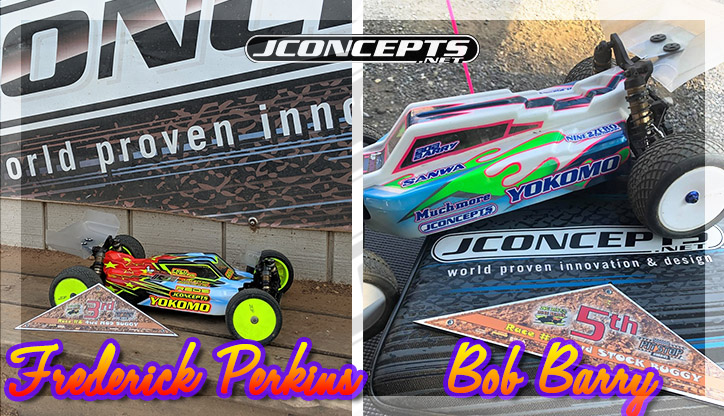 Thanks to Frederick Perkins and Bob Barry for the race update as they both attended the Dog Days Series race hosted by Pit Stop Hobbies where Fred ran both 2wd and 4wd Modified and Bob Barry ran 13.5 4wd and 17.5 2wd. Fred finished 6th in 2wd mod and 3rd in 4wd mod while Bob placed 5th in 13.5 4wd and 6th 17.5 2wd. As Fred ran modified, he chose to go with blue compound Dirt Web 4wd fronts and Ellipse rears while Bob ran green compound for extra traction. And check out those killer looking F2 bodies on their YZ4SF!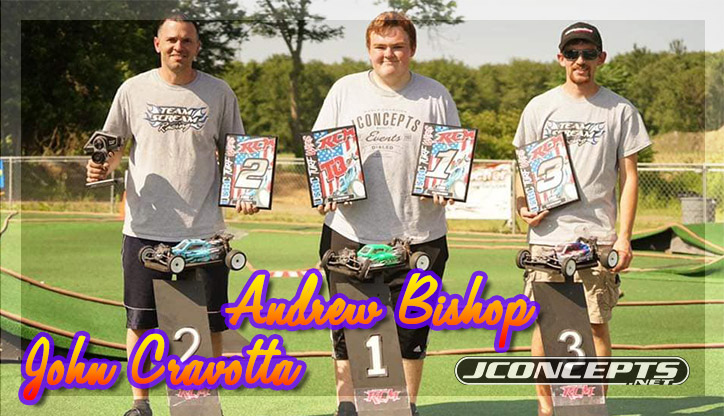 Remarkable weekend for Andrew Bishop and John Cravotta as both of these fast turf racers went head to head at the Turf Wars hosted by R/C Madness in Enfield, CT. John went on to finish 2nd in 17.5 2wd, 2nd in 2wd Modified, and 3rd in 13.5 4wd. Andrew cleaned up and had a perfect weekend and finished 1st in 17.5, 1st in 2wd Modified, and 1st in 13.5 4wd! Great job by these amazing guys for all of their hard work and effort. Well deserved!!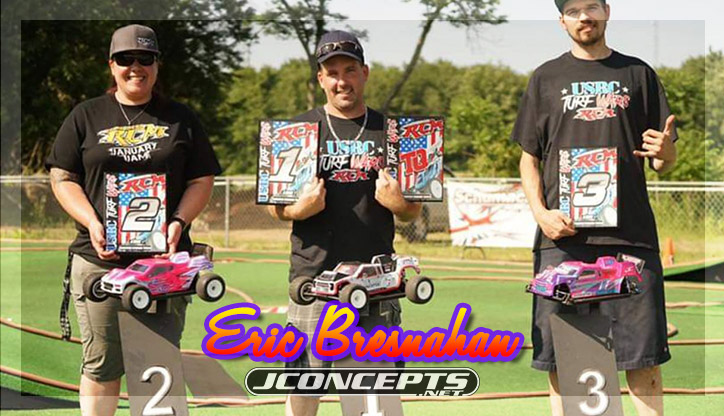 Also finding great pace at the Turf Wars was Eric Bresnahan, who was on fire in the truck classes winning both the Stadium Truck and SCT classes. It's always nice to get a win, but taking home 2 wins is just a bonus! Thanks a for the post up Eric and awesome job!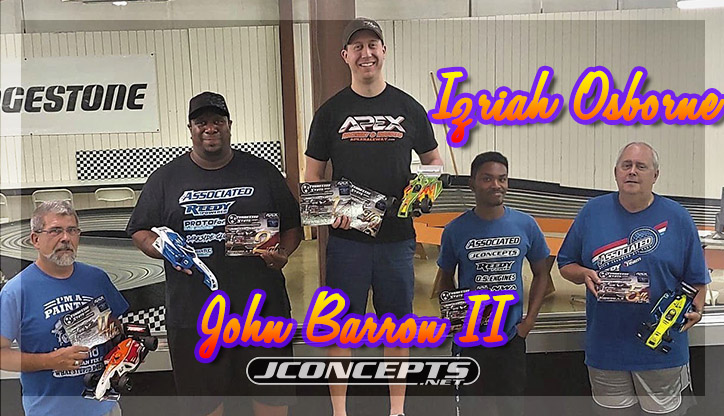 Fast in both on-road and off-road, John Barron II and Izriah Osborne both ventured into the on-road world where they competed at the Tenessee On-Road Carpet Championships at Apex Raceway and Hobbies. John has been on a killer win streak and added another one to his list making it 7 in a row! Izriah was also very competitive showing his speed to finish 3rd.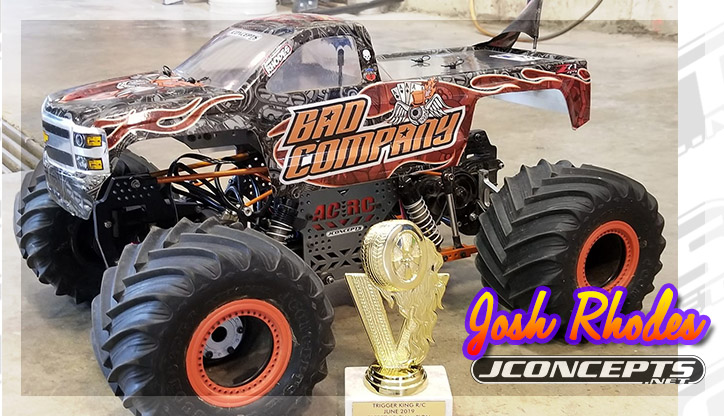 Always great to see some MT action over the weekend and now with 3 wins total this season, Josh Rhodes' Bad Company is one bad machine! Here's what Josh had to say about his weekend, "Bad Company took home a Racing bracket win to bring its win total this season to 3 and also took the Freestyle Victory at this past weekend's Trigger King RC race! It currently leads the ProMod Racing Point Standings by 6, and sits 2nd in Freestyle only 2 points behind the leader."
Products Used:
2014 Chevrolet Silverado Body
Black Tribute Wheels
Orange JC Beadlock
Gold Compound Renegade Tires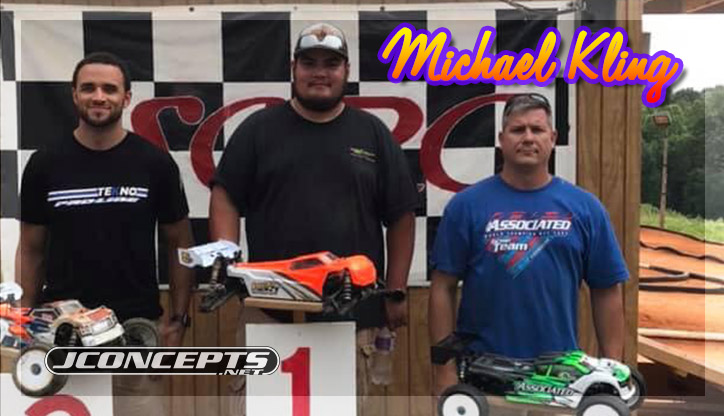 Racing a new class can be exciting, especially if it's 1/8th scale. Last week, Michael Kling had this to say about his weekend at SCRC in Danville, VA, "Great track and layout! I won 4wd SCT on green Double Dees and ended up 3rd in Truggy on blue Triple Dees. Still learning 1/8 truggy, but having a ton of fun." Now that's what it's about… keep it fun always!
Representing JConcepts at round 4 of the JBRL hosted by LRH Hobbies, Mike Sorchy had a phenomenal race using clay compound Octagons and finished on the box in 2nd! There's nothing like a podium finish to highlight your weekend. Nice job Mike!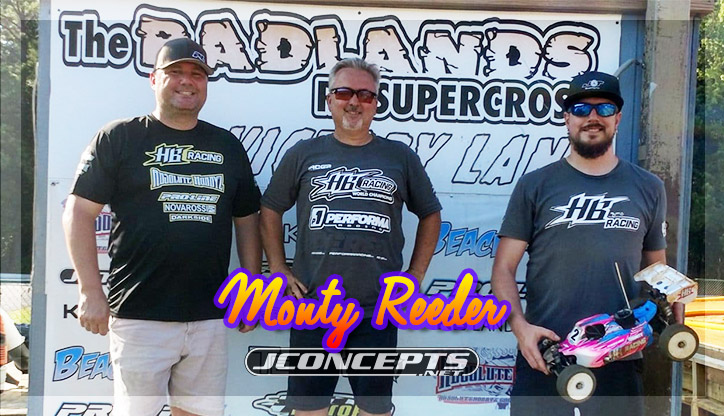 Thanks to Monty Reeder for giving us the updates from last weeks action at The Badlands Supercross track. While he was supporting the team at Nationals, Monty was inspired and went on to win the day in nitro buggy!
Another remarkable round for Reno Savoya over in France at round 3 of the French Nationals Series race. Reno used blue compound Stalkers to set the TQ and went on to win the A Final. Careful now, the Shark is in the water and hunting for titles!!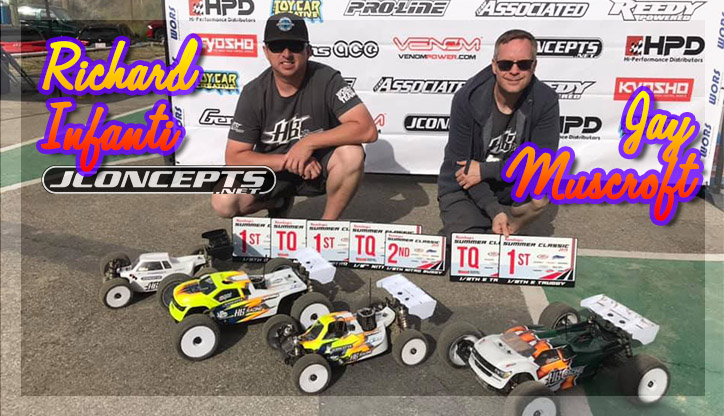 Each race, it keeps getting better for our Canadian JConcepts team drivers, Richard Infanti and Jay Muscroft. Both attended the WORS Series in Kamloops, BC, where the fastest drivers in Canada attended. This is how Richard described his weekend, "I managed to TQ both nitro buggy and nitro truggy classes and qualified 4th in Ebuggy. Unfortunately, a flameout in pitlane would cost me the win in nitro buggy. I finished 2nd with fellow JC teammate, Jay Muscroft, finishing 3rd. I won the truggy main by over a lap with Jay finishing 3rd. I was also able to win the overall in Ebuggy while my JConcepts Teazers were amazing on this surface! Ran black compound in Ebuggy and green in nitro buggy with almost zero wear after 40-60 minutes on each set! Green Triple Dees got the job done in truggy." Now that's one heck of a weekend for both Richard and Jay…. Congrats!!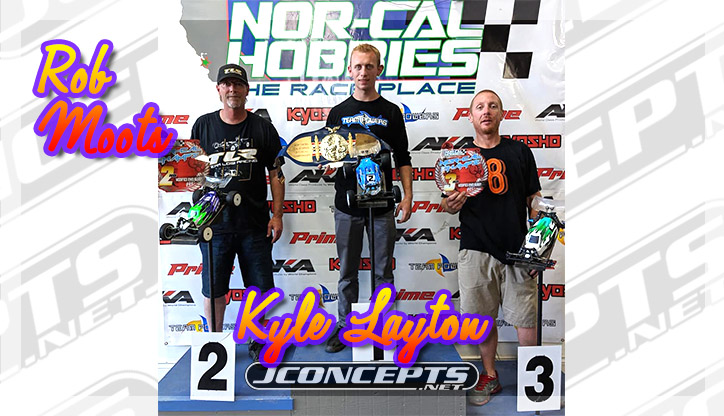 Thanks to Rob Moots and Kyle Layton for holding it down at the NorCal Belt Champs located in San Jose last weekend. Both drivers ran exceptionally well with Kyle Layton taking the 2wd Modified win and Rob Moots finishing up in 2nd! The tire of choice was gold Ellipse rears and gold Dirt Web fronts. Great job by two of NorCal heavy hitters right there.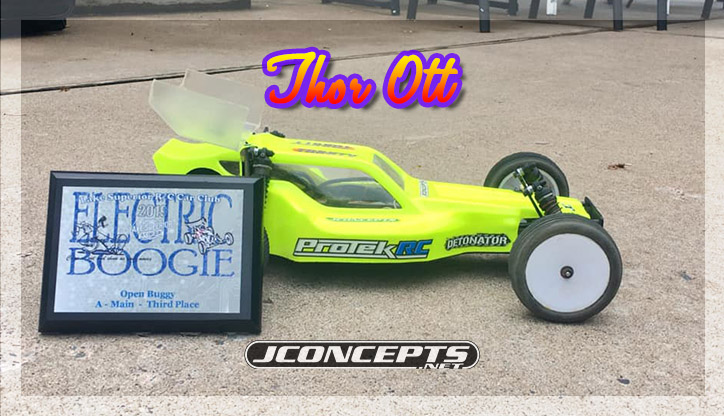 Check that beauty out! Thor Ott ran his 28-year-old RC10 against modern day competition and he placed 3rd in modified buggy! Not bad for this beautiful classic. The car looks great with the updated Detonator body, green Hybrid rears and Rips front tires to get the job done. Thor also raced on Friday at MMR's Summer Series where he ran his Yokomo YZ2 mounted with the F2 body, Swagger and Twin Pins were unstoppable and guess what?! Another win for Thor!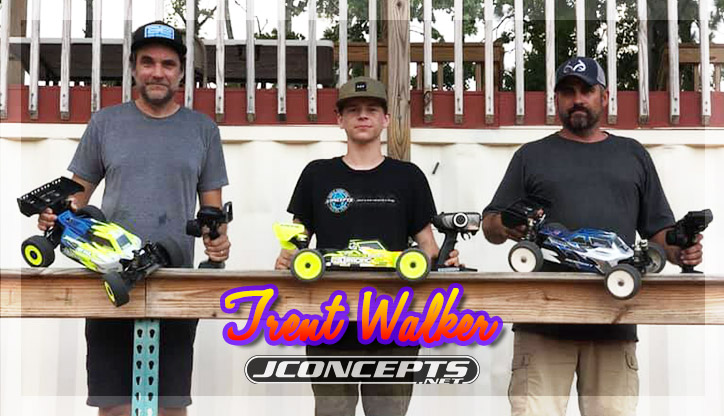 Our very own Trent Walker has been on fire lately. He's been putting in the work and now it's starting to show as he is finding the top spot on the podium these days and we couldn't be more proud. Hitting up Strickland RC Raceway last week, Trent took the TQ and won the Amain in the Ebuggy class. Trent used the JConcepts blue compound but used Lil Chasers and Rehabs tires throughout the day for maximum grip and 1st place winning results!