For Immediate release –
The JConcepts NCTS is set to kick-off March 22-24, 2019 at 702 Raceway in Las Vegas, Nevada. In preparation for the opener, the series would like to announce the control tires used at the event and provide additional information relative to the Independent 21.5 buggy class. At the series opening event at 702, the combination of JConcepts Swagger tires and Pin Downs will be used in all classes of competition and available track-side from the hobby shop.
· 2wd buggy – Swaggers | Pin Downs
· 4wd buggy – Swaggers | Pin Downs
· Stadium truck – Swaggers | Pin Downs
· SCT – Swaggers | Pin Downs
· 4wd truggy – Swaggers | Pin Downs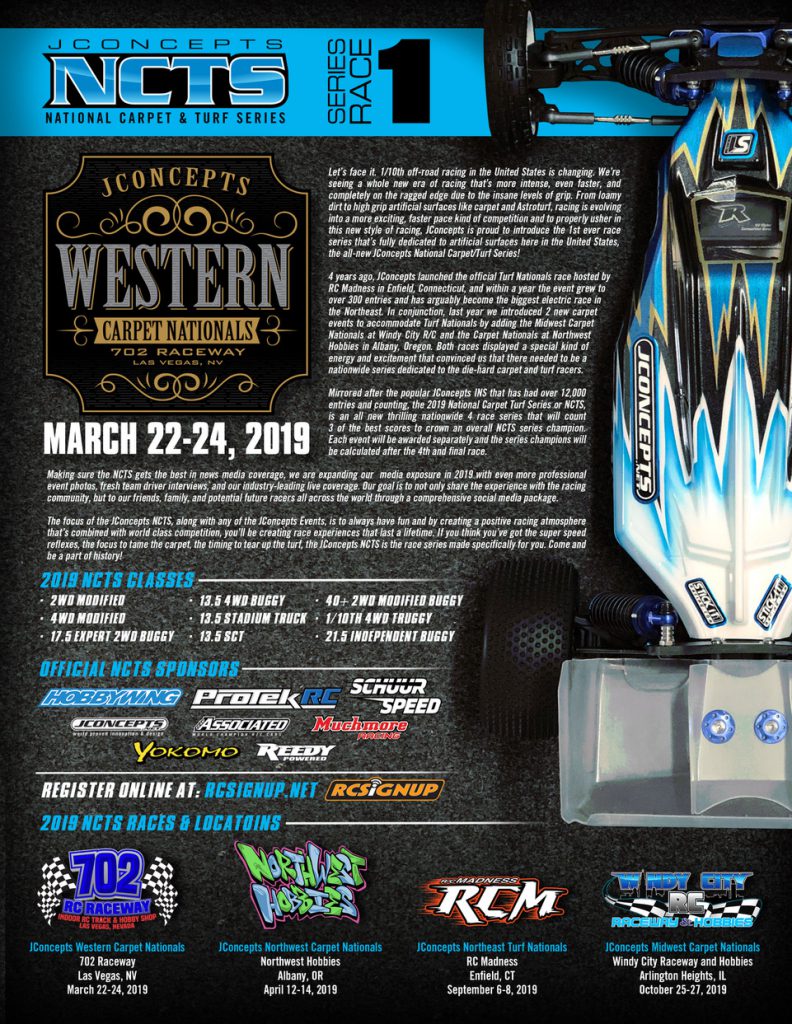 JConcepts control tire information –
Traditionally, a racer can run open practice with tires of the same brand and compound that they might already have in their possession. However, during seeding, qualifying and main events, the tires must be acquired from the track-side hobby shop and marked according to their rules for the weekend. This method allows racers to maximize their equipment during practice and then ensure they are on a level playing field once competitive action begins.
HobbyWing Independent 21.5 buggy class –
HobbyWing 21.5 motors can be picked up on loan from representative Ron Schuur on Friday morning. The timing on the motors has been fixed and inspected by Ron and cared for by him and in his possession. During practice, Ron will host a 21.5 drivers meeting to finalize a gearing selection for the racers. The motor can stay in the racers vehicles throughout the race weekend. Once the race is over, please return the motor to Ron.
NCTS available classes / format –
The NCTS follows the same rules as the popular INS series and maintains the same format for qualifying and main events. There is a 3 minute seeding round on Friday evening to set the heats for qualifying. Saturday morning opens and completes 3 rounds of qualifying with 5 minute based heats. 2wd modified and 4wd modified use a triple A-main format with each race being 5 minutes in length. All other main events will be extended length and those A-mains will be 8 minutes (time providing) in length.
· 2wd modified
· 4wd modified
· 17.5 Expert 2wd buggy
· 13.5 4wd buggy
· 13.5 Stadium truck
· 13.5 SCT
· 40+ 2wd modified buggy
· 1/10th 4wd truggy
· 21.5 Independent buggy
Thanks to the series sponsors for their support.
HobbyWing
ProTek RC
Schuur Speed
JConcepts
Team Associated
Muchmore Racing
Yokomo
Reedy