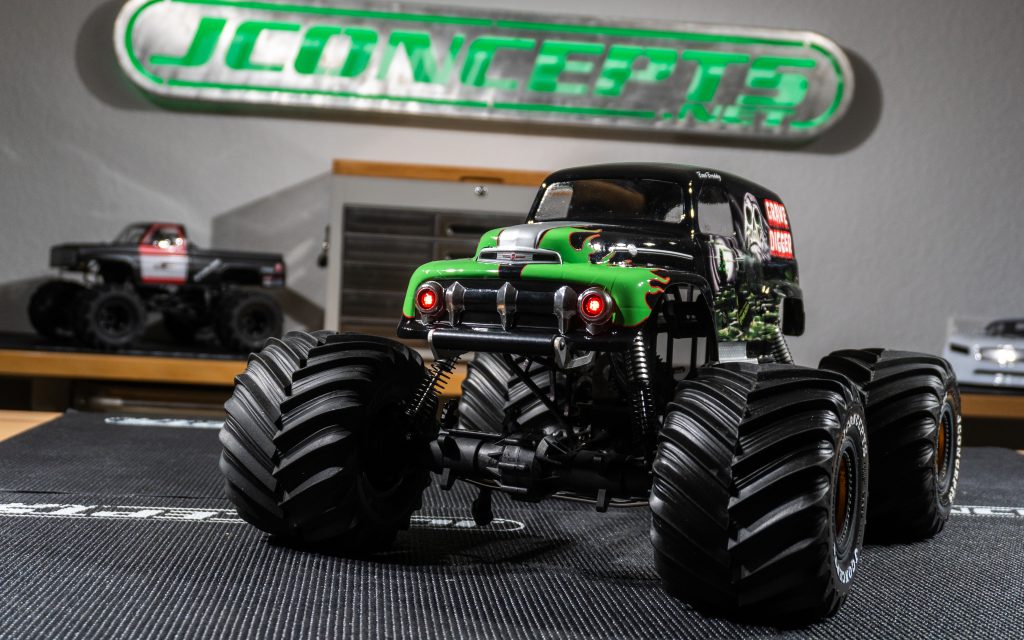 The legendary Grave Digger has legions of fans all over the world and could be argued that this is the most iconic monster truck of all time. Created back in 1982 by Dennis Anderson as an original mud bog truck, fate would have it that Dennis subbed in at a monster truck show crushing cars with his Grave Digger and suddenly, it was an instant hit.
Over the years we've seen the evolution of Grave Digger, but this classic Ford panel van shape holds true to this day even after 40 different variations of the Digger. The glowing red headlights, green paint, and iconic skull paint have become Grave Digger's signature look so we had our very own Fred Reep create an easy build that looks the part.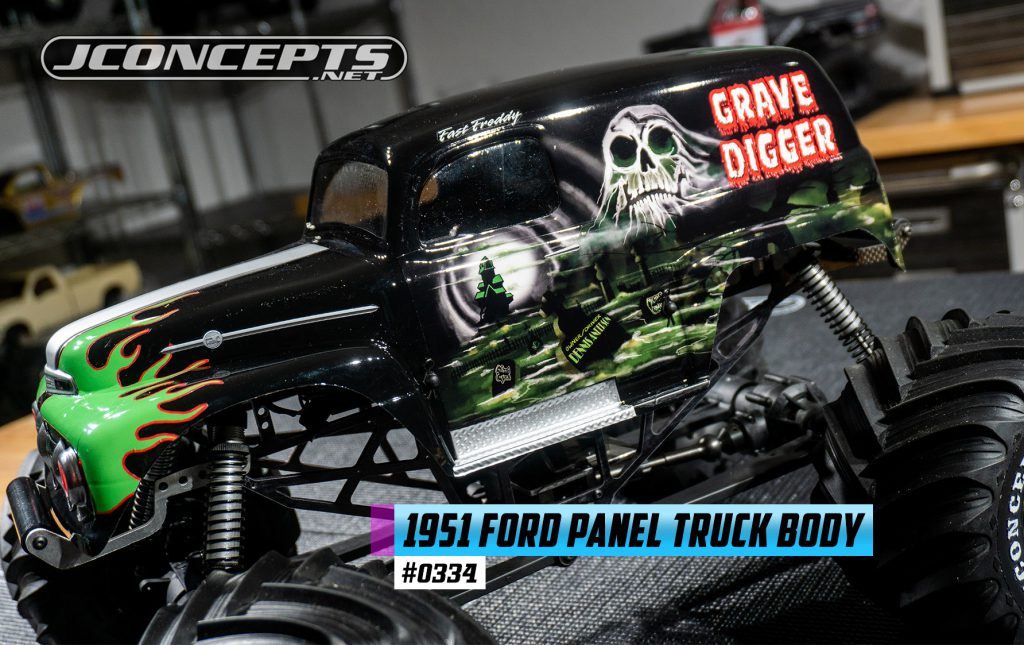 The original Grave Digger body came from a 1951 Ford Panel van and our mission at JConcepts was to create the best looking "Grandma" body that's filled with detail and life. This old school classic defined an era of ageless beauties with round, smooth lines and unique shape. Thanks to Micheal Crawford Arts and Bari Masawwir for the awesome custom wrap job making this thing looks sick!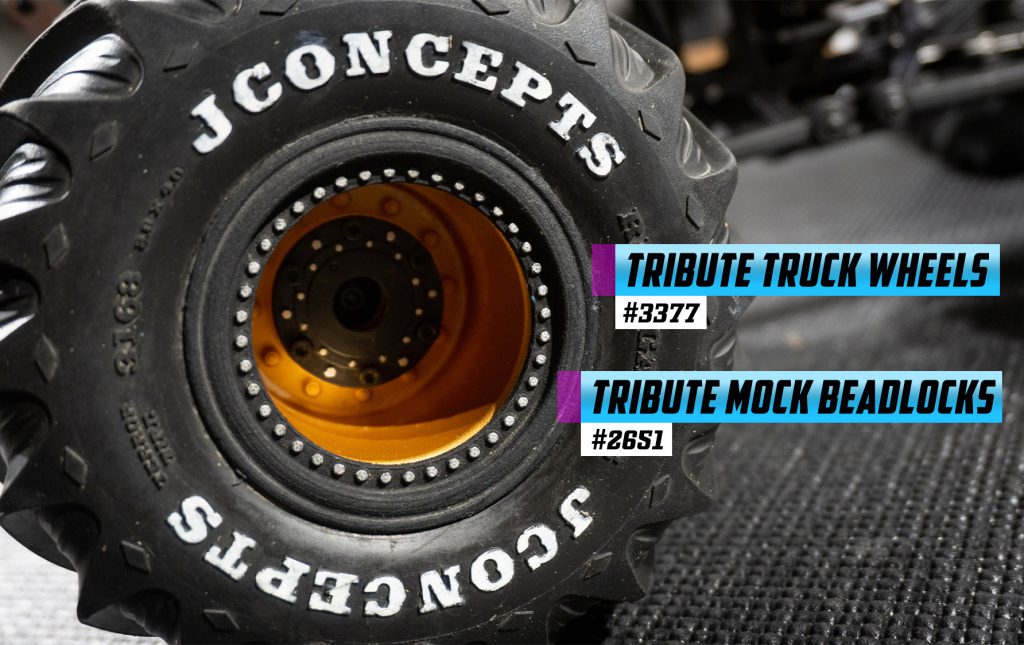 Our builder, Fred Reep is all about the fine details. Taking a set of Renegades Monster Truck tires, he hand painted the JConcepts logo to give the tires a more realistic look. This feature doesn't take a lot of time, but adds so much to the completed tire and wheel package. Speaking of which, the JConcepts Tribute Wheels are a must for any Monster Truck builder as they're a direct fit for SMT10's, Clod based builds, and our Traxxas 4×4 Slash converted with our Suspension Set. The Tribute Wheels come in various colors, includes all hardware, and different hex offsets to adjust track width.
Add on the Tribute Mock Beadlock Rings and you've got yourself a monster setup that's mean and customized by you, for you! Once again, Fred took the extra time to dot each individual beadlock dot with white paint to make them pop even more.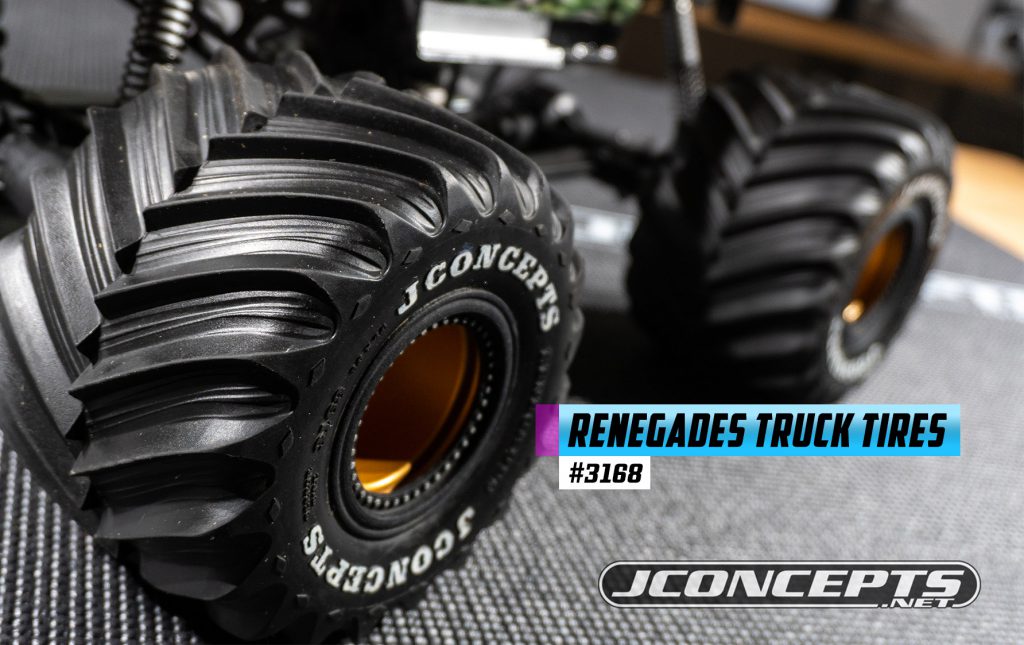 Lastly, you can't have a monster truck without monster truck tires and we paired this build with our top-tier performance tire, the Renegades. These bad boys consist of aggressive cut treads and shaved carcass to imitate the 1:1 MT tires in not just looks, but performance as well. The Renegades have a low profile with a single contour carcass to carry maximum speed in heads up racing. These tires are also available in 'Soft' blue compound and the "Clay" gold compound.
There you have it, an easy build to get you started for this Truck Tuesday!