This year's layout at the 2020 Desert Classic was fabulous. Many of the racers in the pits commented that the layout was fun, easy, but had a nice degree of difficulty that was just enough to make racing interesting. It had a tremendous amount of flow mixed with a very tricky rhythm section that cut back towards the middle of the track. The jumps weren't so straight forward either as they had a high degree of difficulty; like the set of double-doubles on the right side. You had to land your car perfectly on the downslope of the 2nd set to gain time. If you missed it, you would have to wait for the car to settle before getting on the gas losing valuable tenths.

Overall, the layout was perfect for racing and the track smoothness was the best it has ever been at Hobby Action. Another plus was the consistency of the track as the watering system was on point and made fair for all.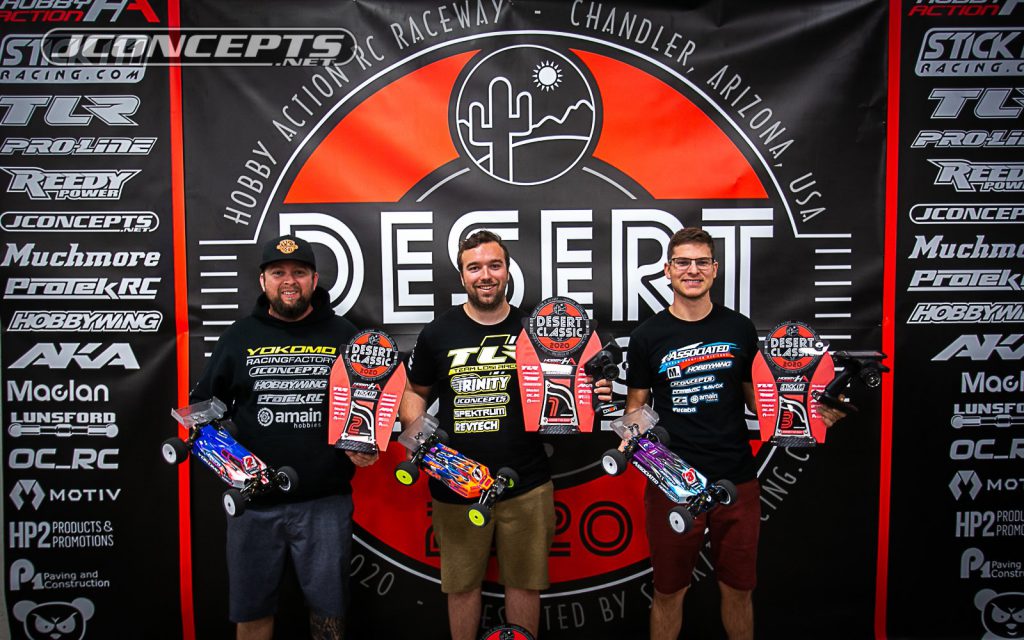 4wd Modified
It was a near-flawless weekend for TLR/JConcepts' Dakotah Phend in the 4wd Modified class as the Michigan native TQ'd 3 of 4 rounds and went on to win the overall by winning A1 and A2. Also looking deadly fast throughout the weekend, Yokomo/JConcepts' Ryan Maifield went on to have a great race with his YZ4-SF and placed himself 2nd on the box. AE/JConcepts' Spencer Rivkin carried his momentum in qualifying, through to the mains and finished 3rd overall.