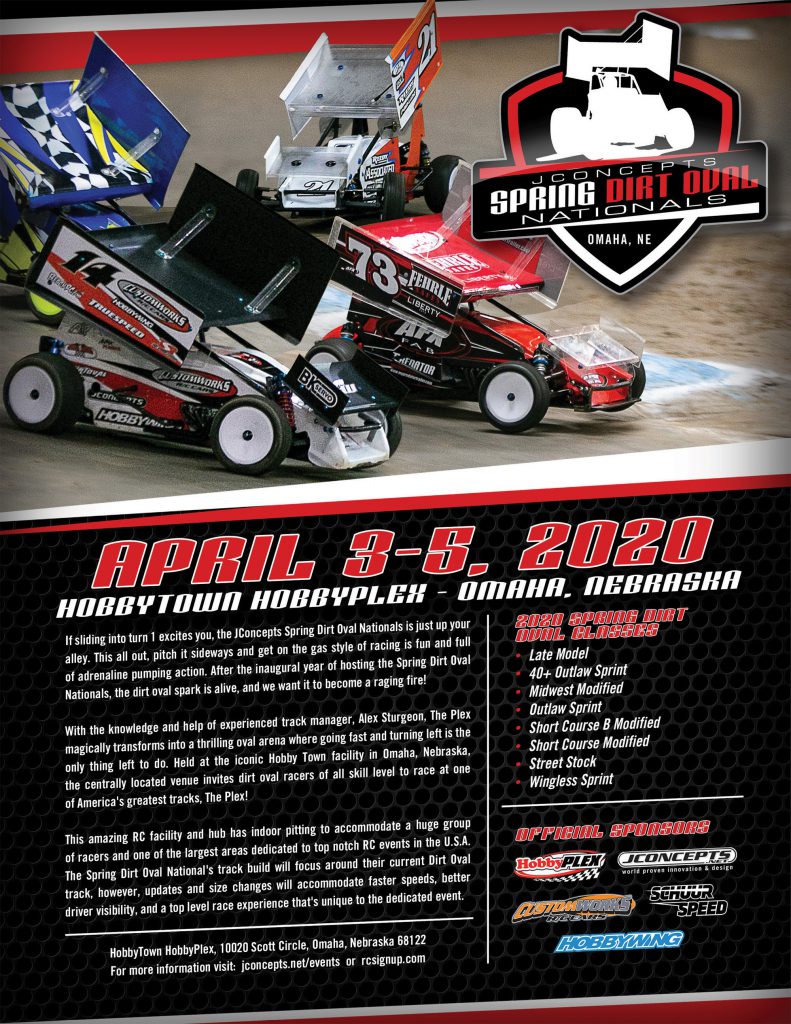 Imagine sliding into the final turn, full throttle, and barely edging out the competition to take the checkered flag. The RC dirt oval scene is fast on the rise as the action is non-stop making every lap a thriller. Improving upon the inaugural year, the word is now out and the JConcepts Spring Dirt Oval Nationals is the race to be at for competitive side-by-side racing and all-out fun. Join us at HobbyPlex and be a part one of the best dirt oval race experience in RC.
JConcepts Events is proud to present the Spring Dirt Oval Nationals. Held at the iconic HobbyTown facility in Omaha, Nebraska, the centrally located venue invites Dirt Oval racers of all skill levels to race at the Plex. The indoor facility, managed by Alex Sturgeon, has a wealth of RC knowledge to go along with passion and always provides an experience like no other.
Racers will tune to the clay-based surface and utilize a controlled tire to simplify the event experience. HobbyTown's track build will focus around their current Dirt Oval track, however, updates and size changes will accommodate faster speeds, better driver visibility, and include an overall racers feel to the dedicated event. The docket is full of excitement, prepare for a roar of thunder set to take place squarely in middle America. Now is the time!
Date:
April 3rd – 5th, 2020
Location:
HobbyTown – HobbyPlex
10020 Scott Cir, Omaha, NE 68122
Contact:
Alex Sturgeon
Hobby Town phone number – (402) 498-8888
Airports:
Airport code – OMA
Eppley Airfield
Schedule:
Friday, April 3rd – Controlled practice at 10am to 5:30pm. Seeding round at 6pm.
Saturday, April 4th – Controlled practice at 7am to 9:30am. Qualifying starts at 10am with 3 rounds of heads up qualifying, using points.
Sunday, April 5th – Doors Open at 8am. Mains start at 9am using ladder systems.
Classes
Late Model
40+ Outlaw Sprint
Midwest Modified
Outlaw Sprint
Short Course B Modified
Short Course Modified
Street Stock
Wingless Sprint
Rules and Info:
Control tires for all classes must be purchased from HobbyPlex. Only marked tires will pass through tech.
One pair of rear tires included with each entry.
Tires must have visual tread to pass tech. No full or sanded slicks.
Tech inspection will use inhouse equipment and DODC rules.
ROAR approved motor list enforced.
Modified Motors for all classes.
2020 Control Tires
Ellipse – 2wd Buggy Front – #3197-06
Ellipse – 2.2 Buggy Rear – #3196-06
Ellipse – SCT F&R Tire – #3200-06
Cost:
$40 first entry, $20 each additional entry.
Sign up:
Sign-ups are open at rcsignup.com
https://www.rcsignup.com/events/displayEvent.cfm?ID=9339
Extra info:
http://www.jconcepts.net/events/spring-dirt-oval-nationals