Team Associated RC10 B74.1 4WD 1-10 Team Off-Road Electric Buggy Kit ASC90027
Guaranteed safe & secure checkout
New Features
Center differential with 72T and 78T spur gears and 200,000 cSt silicone fluid
Includes 1.2mm and 1.3mm anti-roll bars front and rear for dirt
5.0mm rear hex adapters for wide stance with dirt tires
Includes updated kit setup with V2 spring package of Yellow front and Blue rear springs
Includes shorter 23mm front and 27.5mm V2 Big Bore threaded aluminum shocks with 12mm machined pistons and X-rings for lower CG, reduced weight, and improved performance
New 4mm graphite front shock tower lowered by 2mm with an additional row of tuning holes
New 4mm graphite rear shock tower lowered by 5.5mm for maximum stability and predictability
+3mm aluminum steering rack for optimized bump steer at low ride heights
66mm rear CVA driveshafts and axles for more on-power traction and a more predictable driving feel
New molded ESC tray for quick electronics removal for cleaning
New molded 30mm fan mount and hardware (fan not included)
Updated Features
Updated aluminum LRC C and D suspension mounts for more rear traction and better cornering balance
Increased flex with 2.0mm G10 chassis brace supports for more predictable rear traction and better bump handling
New simplified design 2.5mm graphite battery strap with indexed battery locations, easy height setup, and battery removal for both standard and low-profile shorty batteries
New low-profile molded plastic battery posts included in addition to standard posts
New 16mm differential outdrives with a more durable, lightweight design
Updated rear wing with optional low carpet racing trim line for reduced drag in high traction
Updated symmetric rear arms with new shock mounting position (farther inside) for increased rear traction on dirt
Updated plastic rear hub for more durability on the upper link mount. RC10B74.1 hubs continue with the aluminum rear hub link mount and axle height adjustment in 1mm increments for fine tuning.
Updated 2.5mm graphite steering arms for increased durability
Updated plastic steering blocks with 5x12mm outer ball bearing with steel bearing tubes for improved durability
Updated V2 2mm hard-anodized 7075-T6 aluminum chassis with spur gear clearance and updated mount holes for ESC tray
Legacy B74 Features
7075-T6 aluminum bulkheads with quick-change 0mm-3mm adjustable differential height for low ride-height on carpet while maintaining efficient driveshaft alignment
Car design allows use of center differential or slipper clutch without changing center driveshafts
Easy access to differentials for worry-free maintenance and adjustment
7075-T6 aluminum arm mounts use inserts for fine tuning a large range of anti-squat, kick-up, and toe adjustments
Front and rear anti-roll bars use a common shape for minimal spare part count
7075-T6 aluminum sliding motor mount and center bulkhead with increased rigidity for more accurate gear mesh
7075-T6 aluminum 9-degree caster blocks
Floating servo mount with 7075-T6 aluminum mount and 2.5mm graphite brace
Lightweight clear body and wing included
Overview
The off-road RC car racing scene has changed over the past few years, with turf and carpet racing becoming more popular and grip levels at an all-time high. The engineers inside Team Associated's Area 51 were quick to answer the 4WD class with the RC10B74 Team Kit, a completely new chassis configuration equipped with a long list of features designed to give you the winning edge.
The B74.1 platform introduces the use of two separate chassis configurations. The B74.1 is the buggy of choice for high-grip carpet or turf track surfaces with its next-generation Octalock 2-Pad high-load, high-capacity, center slipper clutch and optimized carpet kit setup. The B74.1D is the buggy to choose for clay and dirt track surfaces with an included center differential with 200,000 CST silicone fluid and an optimized dirt kit setup.
Both kits utilize redesigned, low-profile shock towers with shorter shock shafts and bodies to lower the center of gravity, providing more predictable handling. Also included in both kits are new low roll center (LRC) C and D arm mounts, 66mm CVA bones and axles, and 2.0mm G10 fiberglass chassis brace supports, which all add up to making the B74.1 and B74.1D easier to drive, and easier to push hard on all track surfaces.
Setups and tuning parts are interchangeable between the B74.1 and B74.1D. Both versions come with the speed, durability, and lineage expected of a true champion. Choose the configuration that suits your track and conquer the competition!
Needed to Complete
1:10 scale electric motor
Electronic speed control
3.7V-7.4V LiPo, 6.0V LiFe (standard or low-profile case height)
Battery charger
2-channel surface transmitter
2-channel receiver
Steering servo
Spray paint for polycarbonate body
1:10 scale off-road wheels and tires
What's in the Box?
(1) RC10B74.1 Team Kit
(1) Product Manual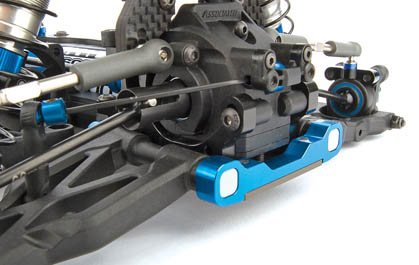 Suspension Mounts
Updated aluminum LRC C and D suspension mounts for more rear traction and better cornering balance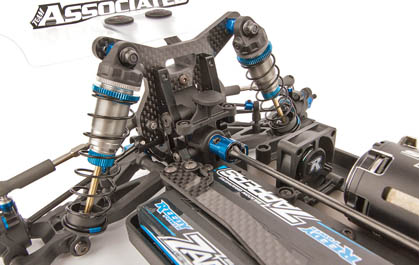 Updated Shock Tower
27.5mm V2 rear shock bodies with new 4mm carbon fiber shock tower that hs been lowered by 5.5mm for maximum stability and predictability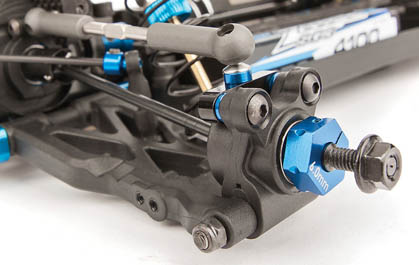 Rear Arms and Hub Carriers
New rerar arms and hum carriers with improved gometry and durability, combined with 66mm rear driveshafts and axles for more on-power traction and a predictable driving feeling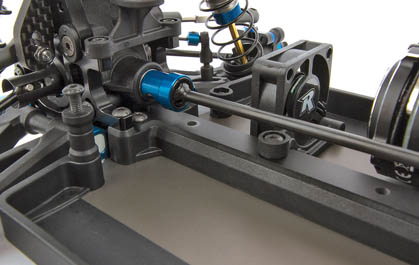 Chassis Brace
Increased flex with 2.0mm G10 chassis brace supports for more predictable rear traction and better bump handling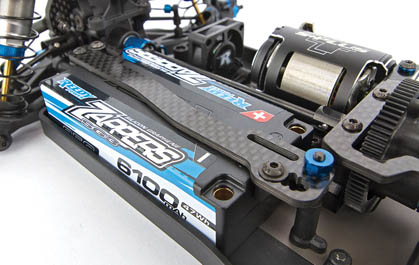 Battery Strap
New 2.5mm carbon fiber battery strap has a simplified design with indexed battery locations easier height setup, and battery removal for both standard and low-profile batteries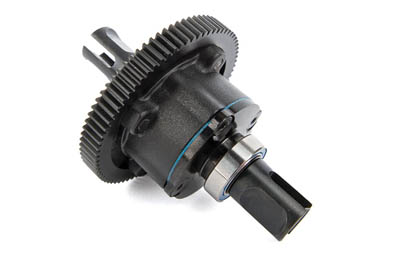 Differential
Center differential with 72T and 78T spur gears and 200,000 cSt silicone diff fluid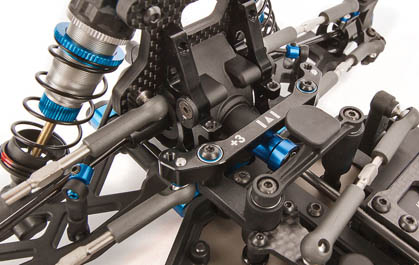 Steering Rack
+3mm aluminum steering rack for optimized bump steer at low ride heights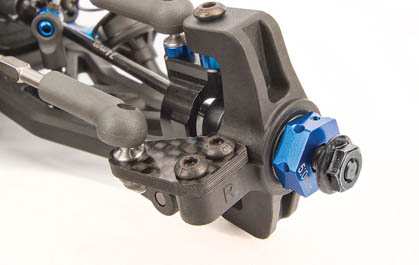 Stering arms
Updated steering arms for increased durability and 7075-T6 aluminum 9-degree caster blocks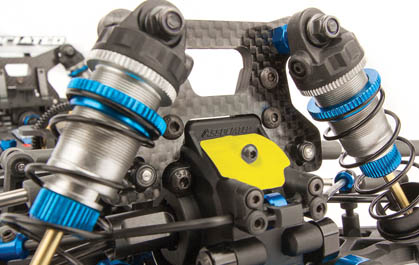 Shock Bodies
23mm shock bodies with new 4mm carbon fiber shock tower that has been lowered by 2mm and features an additional row of camber link positions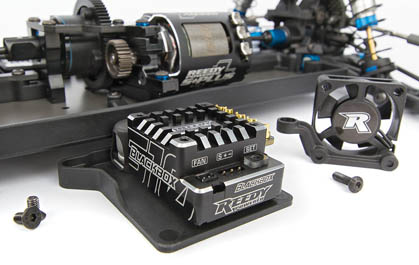 ESC Tray
New molded ESC tray for quick electronics removal for cleaning
Ball Bearings

Full set

Battery

Sold Separately

Body

Clear body and wing included

Brakes

Integral with ESC (ESC required)

Charger

Sold Separately

Chassis

0.08" (2mm) 7075-T6 aluminum

Completion Level

Kit

Differential

Three, adjustable height

Drive Type

Forward/Brake/Reverse

Drivetrain

4WD

Power Type

Electric

Product Length

15.55" (395 mm)

Product Weight

Varies

Product Width

Varies

Radio

Sold Separately

Receiver

Sold Separately

Scale

1/10

Servos

Sold Separately

Shock Type

Oil-filled

Speed Control

Sold Separately

Tire Type

Tires sold separately

Vehicle Type

Buggy

Water-Resistant

Yes

Wheel Type

Wheels sold separately

Wheelbase

11 - 11.25lbs (280.5 - 285.5mm)
Worldwide Shipping
7-Day Shipping Anywhere in the World!
Satisfaction Guaranteed
Our products covered with full manufacturer's warranty.
30-Day Returns
Most un-opened un-used products can be returned within 30 days by contacting us.
24/7 Customer Support
Got questions? We got answers! Just contact our live chat to get an answer within 24 hours!
Liquid error (snippets/product-template line 699): Could not find asset snippets/custom_fields.products.parts_list.liquid