---
Genuine Zenoah G320 32cc engine
Innovative Bind-N-Drive™
Spektrum®

 

6200A DSMR 6-Ch AVC Surface RX
Improved bar style steering rack with adjustable Ackermann
Improved center differential orientation
Improved drive line angle
Heavy-duty brakes
Innovative clutch mount with gear mesh brace
Tough throttle servo brace
Extra-large 800cc capacity fuel tank
Overview
When the original 5IVE-T was introduced the world of 1/5-scale off-road racing changed, and this iconic platform became one of the most successful and influential platforms to date. Now get ready for 2.0! The Losi 5IVE-T 2.0 BND: 1/5 4WD Gas Short Course Truck has all of the unrivaled performance of its predecessor and includes Bind-N-Drive technology, allowing you to pick the transmitter that best fits your lifestyle. The powerful Zenoah G320 32cc engine has been built specifically for the 5IVE-T 2.0. The revised chassis layout reduces the front drive shaft angle for improved durability and increased 4WD balance. Plus, the new rack style bellcrank steering assembly makes for easy Ackermann changes and overall improved steering geometry. Additional advances include an updated front hood, upgraded brakes, and hard anodized bleeder caps and shock bodies for improved shock performance. All this ensures the 5IVE-T 2.0 continues to reign supreme.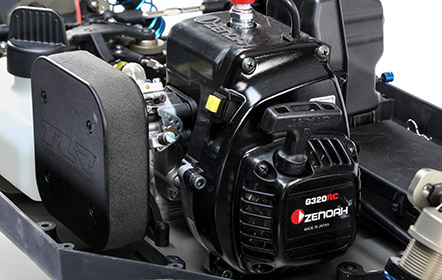 Zenoah G320 32cc Engine
The "go-to" engine for 1/5-scale vehicles, the Zenoah G320 32cc engine is crafted specifically for the 5IVE-T 2.0. With industry-leading design, the powerful pull-start, air-cooled engine features massive torque necessary in handling heavier 1/5-scale vehicles like the 5IVE-T 2.0. It allows these 4WD behemoths to handle like pure adrenaline machines with incredible feel and precision.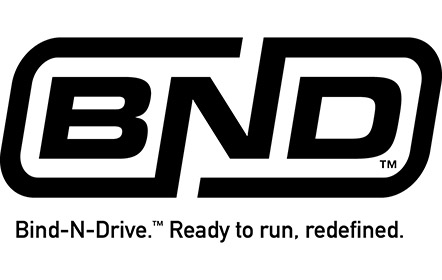 Bind-N-Drive
Bind-N-Drive (BND) is a transmitter-less option for RC enthusiasts who already own a surface transmitter featuring industry-transforming Spektrum 2.4GHz DSMR Technology. This money-saving innovation allows you to add a Bind-N-Drive vehicle to your collection without the extra cost or clutter of an extra transmitter.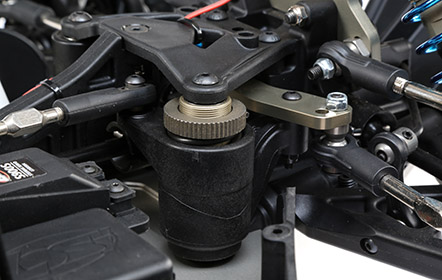 New Steering Rack and Bell Cranks
With the new steering rack and bell cranks, you can create the best feel and handling to your steering. The adjustable Ackermann allows you to refine your steering for more mid and exit corner steering. Additionally, the new servo saver has been redesigned to create less bind under load with a much smoother action, providing a more consistent steering feel.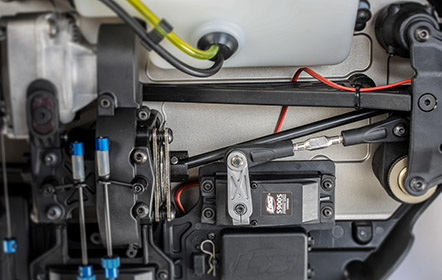 New Center Differential Location
Losi engineers worked relentlessly to get the perfect balance on the 5IVE-T 2.0 by moving the center differential location and providing the best driving feel and balance to the vehicle. Additionally, reducing the "dog bone" angles in the drive train provide better drivability with increased drive pin durability.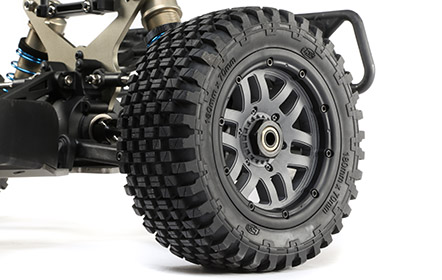 New Tire and Wheel
The tire and wheels have been redesigned in the 5IVE-T 2.0 for added strength and stiffness. These changes provide a more consistent feel over all kinds of terrain. The new tire tread design and compound have been optimized for maximum racing performance.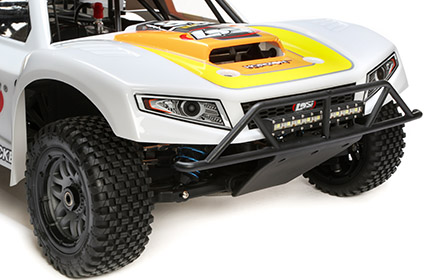 New Front Hood
Redesigned for a more aggressive look, the new front hood with hood scoop and raised fenders increases wheel clearance. Drivers don't have to worry about the tires hitting the fender on treacherous tracks.
Updated Brakes
The 5IVE-T 2.0 features heavy duty brakes originally developed for the Team Losi Racing 5IVE-B. Stamped-steel rotors, combined with the heavy duty plates and pads, provide a sense of confidence and control that let racers drive harder into the turns and come to a stop more quickly. Front-to-rear braking bias can also be fine-tuned for evolving track conditions.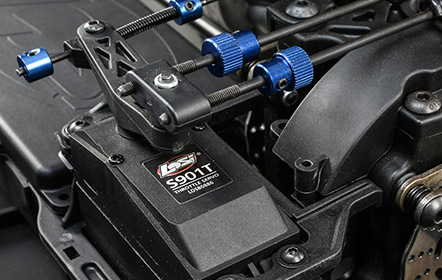 Throttle Servo Brace
With as much torque as the 5IVE-T generates, the new throttle servo brace eliminates radio tray flex while braking. This added extra rigidity to the servo creates a more precise, consistent brake feel and helps eliminate wear and tear.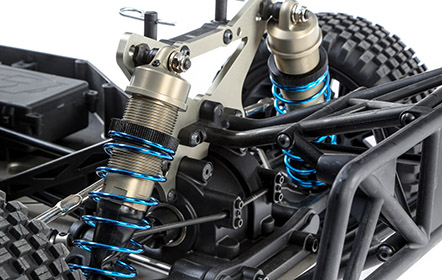 Bleeder Shock Caps
The 5IVE-T 2.0 comes standard with machined aluminum shock caps with threaded bleeder screws. Bleeder screws allow you to build and rebuild your shocks faster and easier while insuring you have the exact amount of oil in your shocks every time creating consistent rebound.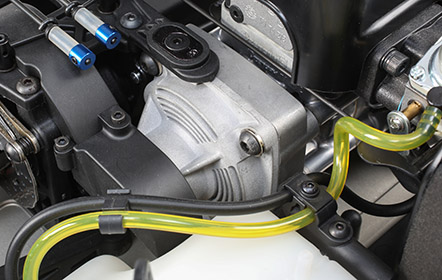 Redesigned Clutch Carrier
The redesigned clutch carrier with custom gear mesh brace eliminates unwanted chassis flex when racing in harsh conditions. This allows you to push the 5IVE-T as hard as you can, no matter the track conditions, and maintain a constant feel throughout.
Approximate Assembly Time

No assembly required

Ball Bearings

Full Rubber Seal Ball Bearings in Car, Metal Shield for Clutch housing

Body

4 piece, Polycarbonate, Short Course with Decals

Brakes

Steel disc plate

Chassis

5mm Plate, 6061-T6 Aluminum

Color Variant

Blue

Completion Level

Bind-N-Drive

Differential

Fluid Filled, Bevel Gear

Drive Type

Forward/Brake

Drivetrain

4WD

Final Drive Ratio

10.25:1

Fuel Tank Capacity

800cc (27.1 oz)

Gear Pitch

1.5 Module

Ground Clearance

2.0 in (50.8mm)

Internal Gear Ratio

3.31:1

Power Type

Gas

Product Height

7.125" (181 mm)

Product Length

38" (965 mm)

Product Weight

35.4 lbs (16.06 kg)

Product Width

12.25" (311 mm)

Radio

Sold Separately

Receiver

Included

Scale

1/5

Servos

Included

Shock Type

Oil-Filled, Coil-Over Springs

Spur Gear

62T

Suspension

4-Wheel Independent

Vehicle Type

Short Course Truck

Wheelbase

24" (610 mm)
Worldwide Shipping
7-Day Shipping Anywhere in the World!
Satisfaction Guaranteed
Our products covered with full manufacturer's warranty.
30-Day Returns
Most un-opened un-used products can be returned within 30 days by contacting us.
24/7 Customer Support
Got questions? We got answers! Just contact our live chat to get an answer within 24 hours!
Customers Sometimes Ask...
Frequently Asked Questions

I'm new here in Pensacola and I called around to a few places to find certain things for my car. And ended up here at kings. I was amazing by the amount of product they car. And the young man behind the counter was so helpful and polite. Me and my sone got what we need and found a few other great info that we really needed.

Thank y'all so much



I live in Texas and have used King's website for a few purchases now, and every time they make sure to get my order shipped as fast as possible. Every order I have received has been packed perfectly and securely. I highly recommend them!



Great experience! They had a rare item in stock. Packaged very well and shipped promptly. I will definitely order from them again.



I've ordered online and now I've been in person. Stellar service and very knowledgeable. Corey and the guys know and love what they do. I'll be back next year for sure!
Great Products - got my RC Porsche from them - through their ebay store - fast shipment - well packed - great service. Very happy with purchase from King Cobra!
When into the shop on a whim with my son because I've been wanting to get back into RC cars. We ended up walking out with an Arrma Granite Mega by recommendation of Corey. He was a great help and answered all my questions. They only thing I was dissatisfied with was I asked about the run and charge time on the battery and was told about 20-30 minutes run time depending with about an hour to recharge the battery. The recharge time for the battery is about 3.5 hours with the charger that comes with the kit. The truck is a lot of fun, great to learn on and plenty fast for my 4 year old. I would recommend immediately buying another battery or upgrading to a LiPO battery and better charger.
I purchased an Axial SCX24 online. It was a quick and easy process, quick shipping, and the only place I could find with the one I wanted in stock! I'll definitely be using them again!
I have had such a wonderful experience with these guys. Over the last few weeks I have ordered an extremely large amount of product from them and I have been taken care of on each question I've asked and each concern that I've had. The real standout of the team so far, is Amanda (Mandie). I have been on the phone with her multiple times over the last few days because of a few little questions that I've had and she has gone above and beyond to help me every single time. I feel like this is a relationship that I will have with this company for a long time and look forward to doing business with them in the future.
These days, it's hard to find customer based businesses that take things seriously and these guys have it for sure. Excellent place and very trustworthy!
Great place!! My husband and I go there almost weekly, the staff is also very helpful. If you want a family feel atmosphere where they know you by name and always very helpful swing in and say hi you won't regret it.