---
Overview
The Blade® 70 S is the perfect indoor ultra-micro heli for beginner pilots looking to hone their skills. Right out of the box, pilots are presented with a complete heli package and the ability to take their skills to the next level. Equipped with SAFE Technology, the fixed-pitch flybarless design offers unmatched stability. The direct-drive tail motor and carbon fiber tail boom keeps the heli firmly locked-in while the 1S 150mAh battery and brushed motors provide power and throttle response for an impressive control feel. The low part count makes repairs quick and simple. Plus, all the electronics are contained by an extremely durable composite plastic frame, making bumps and crashes stress-free. Bring RC heli fun indoors with the tough and easy-to-fly 70 S!
Video Overview
Tech Talk - Inside the Canopy
SAFE® Technology
The 70 S is equipped with SAFE Technology that provides renowned self-leveling and bank angle limits that make this heli extremely easy to fly. The stability SAFE technology provides is perfect for those getting a feel for flying a helicopter and learning orientation maneuvers. High and Low rate modes control speed and agility to fit your flying style and environment.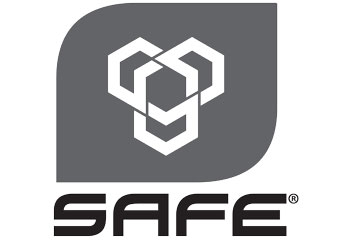 Ready-To-Fly
Everything you need to get in the air is included right in the box. This includes the 70 S, 2.4GHz transmitter, flight battery and charger.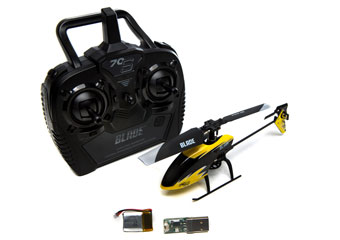 Indoor
The small size of the 70 S makes flying indoors comfortable, and a lot of fun. Stable and easily controllable, this heli is right at home even in smaller rooms.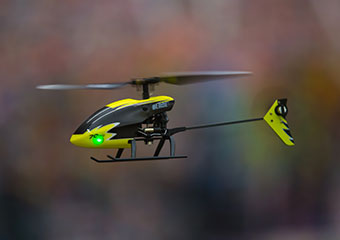 Fixed-Pitch
Fixed pitch rotor blades provide ample thrust that's not intimidating, even for first-time pilots. Flybarless head design offers a higher level of mechanical efficiency as well as a lower parts count which makes helicopter maintenance simpler.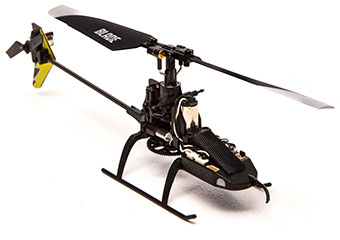 Durable
A unique form factor houses the swashplate and linear servos low and protected in the frame, shielding it from bumps and crashes. Lightweight, impact resistant frame and carbon fiber tail boom take this durability even further. Low part count makes maintenance easy.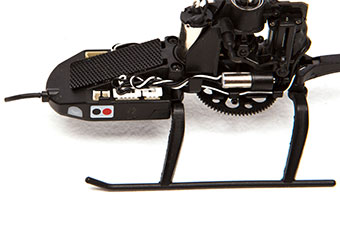 Vivid Colors
The vibrant, high contrast yellow canopy and tail fin make it easy to maintain orientation. LED indicators shine through under the canopy showing low battery and other indicators.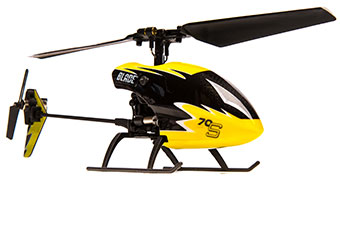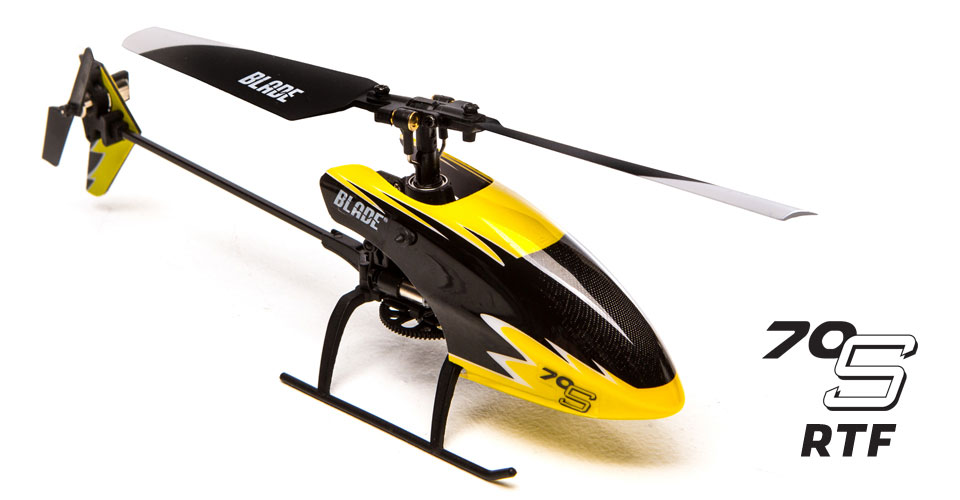 Specifications
Approximate Assembly Time

No assembly required

Approximate Flight Time

4-5 minutes

Battery

Included

Canopy/Body Material

Plastic

Channels

4

Completion Level

Ready-To-Fly

Main Blade Material

Plastic

Main Frame Material

Plastic

Main Motor Type

Brushed

Main Rotor Blade Length

87.5mm

Main Rotor Diameter

180mm

Main Rotor Head Type

Fixed Pitch Flybarless

Power Type

Electric

Product Height

62.5mm

Product Length

138.5mm

Product Width

43mm

Receiver

Included

Skill Level

Level 1

Speed Control

Included

Tail Blade Material

Plastic

Tail Drive

Direct Drive

Tail Motor Type

Brushed

Tail Rotor Blade Length

38.1mm

Tail Rotor Diameter

40mm

Technology

SAFE
Worldwide Shipping
7-Day Shipping Anywhere in the World!
Satisfaction Guaranteed
Our products covered with full manufacturer's warranty.
30-Day Returns
Most un-opened un-used products can be returned within 30 days by contacting us.
24/7 Customer Support
Got questions? We got answers! Just contact our live chat to get an answer within 24 hours!
Customers Sometimes Ask...
Frequently Asked Questions

I'm new here in Pensacola and I called around to a few places to find certain things for my car. And ended up here at kings. I was amazing by the amount of product they car. And the young man behind the counter was so helpful and polite. Me and my sone got what we need and found a few other great info that we really needed.

Thank y'all so much



I live in Texas and have used King's website for a few purchases now, and every time they make sure to get my order shipped as fast as possible. Every order I have received has been packed perfectly and securely. I highly recommend them!



Great experience! They had a rare item in stock. Packaged very well and shipped promptly. I will definitely order from them again.



I've ordered online and now I've been in person. Stellar service and very knowledgeable. Corey and the guys know and love what they do. I'll be back next year for sure!
Great Products - got my RC Porsche from them - through their ebay store - fast shipment - well packed - great service. Very happy with purchase from King Cobra!
When into the shop on a whim with my son because I've been wanting to get back into RC cars. We ended up walking out with an Arrma Granite Mega by recommendation of Corey. He was a great help and answered all my questions. They only thing I was dissatisfied with was I asked about the run and charge time on the battery and was told about 20-30 minutes run time depending with about an hour to recharge the battery. The recharge time for the battery is about 3.5 hours with the charger that comes with the kit. The truck is a lot of fun, great to learn on and plenty fast for my 4 year old. I would recommend immediately buying another battery or upgrading to a LiPO battery and better charger.
I purchased an Axial SCX24 online. It was a quick and easy process, quick shipping, and the only place I could find with the one I wanted in stock! I'll definitely be using them again!
I have had such a wonderful experience with these guys. Over the last few weeks I have ordered an extremely large amount of product from them and I have been taken care of on each question I've asked and each concern that I've had. The real standout of the team so far, is Amanda (Mandie). I have been on the phone with her multiple times over the last few days because of a few little questions that I've had and she has gone above and beyond to help me every single time. I feel like this is a relationship that I will have with this company for a long time and look forward to doing business with them in the future.
These days, it's hard to find customer based businesses that take things seriously and these guys have it for sure. Excellent place and very trustworthy!
Great place!! My husband and I go there almost weekly, the staff is also very helpful. If you want a family feel atmosphere where they know you by name and always very helpful swing in and say hi you won't regret it.