---
Features
Includes radio transmitter and receiver and battery.
Comes with ESC, motor, and servo already installed.
Features a realistic new body design.
Licensed wheels are modeled after 1:1 KMC Machete Wheels.
Licensed tires are modeled after 1:1 Nitto Trail Grappler M/T tires.
3-Link front and 4-link rear suspension provides optimal handling.
Two LED lights are included in the front bumper for night driving.
Worm drive gear on front and rear axles creates additional ground clearance, improving on high-pinion axles.
Realistic steel frame rails add strength.
True, full-time 4-wheel-drive.
Removing one clip allows the body to be tilted for battery access.
Overview
No matter where you are, the 1/24 scale Axial® SCX24™ Jeep® Wrangler JLU CRC 4WD makes it the scene for RC adventures. If you're stuck at work, go crawling on your desk. A messy room becomes an ideal obstacle course. Take your vehicle outside — where its water-resistant electronics are safe from the elements — and set up an exciting trail with a few holes, twigs, and rocks. Full-time 4WD and a 3-link front/4-link rear suspension let you muscle over big challenges. Worm gears on the axles increase ground clearance, while realistic steel frame rails stand up to hard knocks. The Axial® SCX24™ Jeep® Wrangler JLU CRC performs like a winner and looks like one, too. The realistic body rides on licensed KMC Machete wheels and Nitto Trail Grappler tires. For quick battery access, just remove one clip to tilt back the body. Two LEDs in the front bumper light up the trail for night-time crawling. The SCX24™ Jeep® Wrangler JLU CRC comes ready-to-run with radio and electronics included and installed.
Video Overview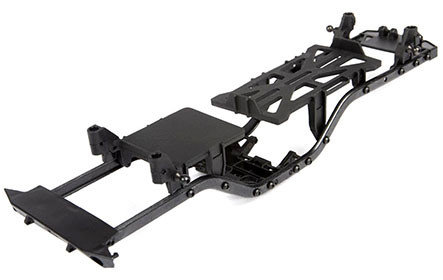 STEEL C-CHANNEL CHASSIS FRAME RAILS
Just like the 1/10th scale SCX10™ platform, the SCX24™ chassis features rugged and sturdy steel c-channel frame rails with bracing to keep everything intact and aligned.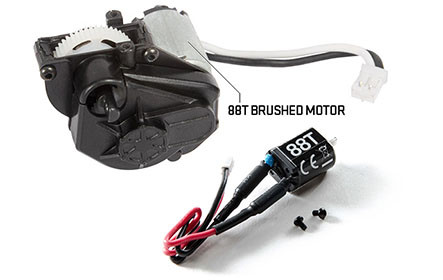 DYNAMITE® 88T BRUSHED MOTOR
The Dynamite 88T brushed electric motor provides the right amount of torque to help ascend steep climbs. It's mated to a steel motor mount to keep flex to a minimum, which helps protect the gears.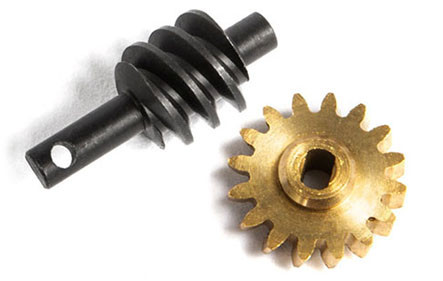 WORM GEARS
The front and rear differentials each house a worm screw and worm gear setup to get the power to the axles and create higher ground clearance.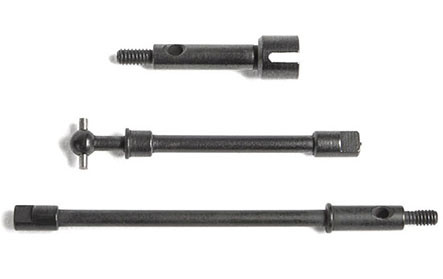 DURABLE STEEL AXLES
Steel front and rear axles, front stub axles along with steel dogbones provide strength and durability to keep things running during tough climbs and rough trails.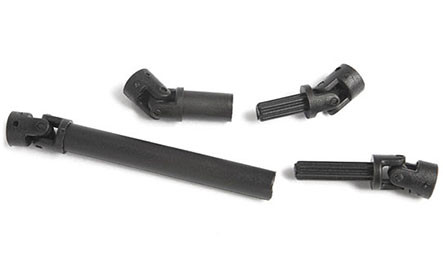 SPLINED DRIVE SHAFTS
The front and rear drive shafts are splined and sleeved to allow for maximum suspension travel while keeping the power to the wheels.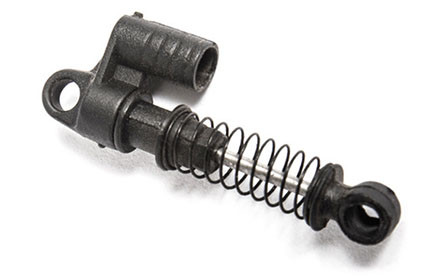 COILOVER SHOCK ABSORBERS
Even at this small scale, the combination of coilover shocks with simulated reservoirs and durable plastic suspension links delivers the crawling performance you've known and expect from Axial.

FRONT AND REAR SOLID AXLES
The front and rear axles consist of a two piece, molded plastic solid axle design. For optimal handling, the SCX24™ suspension features a three-link front and four-link rear setup.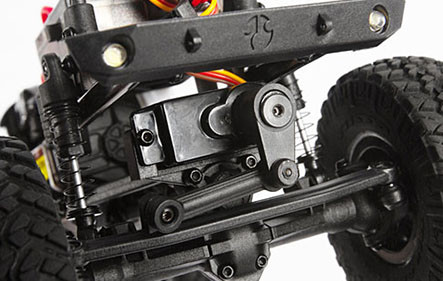 LED LIGHTS INCLUDED
Two bright LED lights are included and are mounted in the front bumper. An extra LED light port on the ESC allows you to add optional LED lights.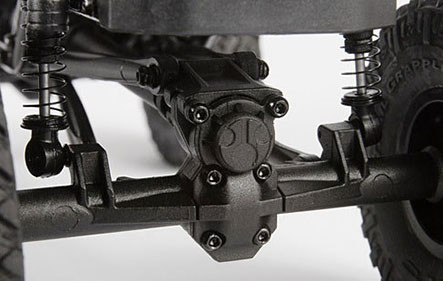 4-LINK REAR SUSPENSION
The suspension geometry utilizes a 4-Link design for the rear which is optimized to reduce axle steer and torque twist. We've also included extra suspension links for adjusting your wheelbase length.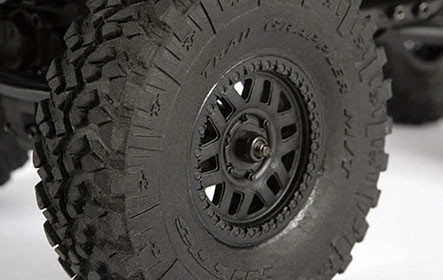 KMC XD229 MACHETE CRAWL WHEELS & NITTO TRAIL GRAPPLER M/T TIRES
Officially licensed KMC XD Machete wheels are legendary in the off-road world. They are molded in black and feature stunning scale details, despite the small scale.
The officially licensed Nitto Trail Grappler M/T Tires offer a fantastic blend of off-road performance while still retaining excellent composure for on-road use.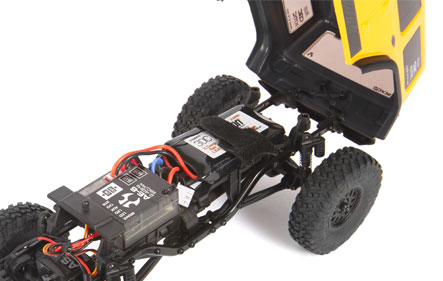 HINGED BODY SYSTEM
The hinged body system offers easy access to on-board components. You can quickly reach the battery and chassis by removing just one body clip and swinging the body up.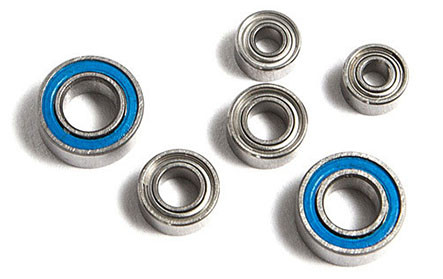 FULL BALL BEARINGS
Just because the SCX24™ is smaller in size doesn't mean the features need to follow suit. No bushings found here, instead the drivetrain is freely spinning on sealed cartridge bearings throughout the entire vehicle.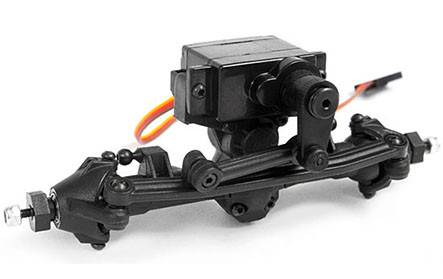 AXIAL AS-1 SERVO
Mounted just above the front axle is the Axial AS-1 servo, with a servo saver that allows for steering accuracy, while also providing protection for the servo gears in the event of a bind or impact.

Approximate Assembly Time

No assembly required

Ball Bearings

Full set

Battery

Included

Body

Axial Jeep JL Hardtop

Brakes

Integral with ESC

Charger

Included

Chassis

Stamped Steel Chassis Rails

Color Variant

Yellow

Completion Level

Ready-To-Run

Differential

Worm gear 16T/4T

Drive Type

Forward/Brake/Reverse

Drivetrain

4WD

Front Track

3.9 in (99.5mm)

Ground Clearance

1.06" (27mm)

Motor Size

180

Motor Type

Brushed

Outer Diameter

2" (51 mm)

Pinion

10T

Power Type

Electric

Product Height

4.2" (107 mm)

Product Length

7.8" (198 mm)

Product Width

3.9" (99 mm)

Radio

Included

Rear Track

3.9 in (99.5mm)

Receiver

Included

Scale

1/24

Servos

Included

Shock Type

Coil-Over, Plastic Body, .9 - 1.3" (24 - 33.4mm)

Speed Control

Included

Spur Gear

55T

Suspension

3 Link Front and 4 Link Rear

Tire Tread

Trail Grappler

Vehicle Type

Rock Crawler

Water-Resistant

Yes

Wheel Type

Plastic KMC Machete, black in color

Wheel Width

.48" (12.4mm)

Wheelbase

5.2" (132 mm)
Worldwide Shipping
7-Day Shipping Anywhere in the World!
Satisfaction Guaranteed
Our products covered with full manufacturer's warranty.
30-Day Returns
Most un-opened un-used products can be returned within 30 days by contacting us.
24/7 Customer Support
Got questions? We got answers! Just contact our live chat to get an answer within 24 hours!
Customers Sometimes Ask...
Frequently Asked Questions

I'm new here in Pensacola and I called around to a few places to find certain things for my car. And ended up here at kings. I was amazing by the amount of product they car. And the young man behind the counter was so helpful and polite. Me and my sone got what we need and found a few other great info that we really needed.

Thank y'all so much



I live in Texas and have used King's website for a few purchases now, and every time they make sure to get my order shipped as fast as possible. Every order I have received has been packed perfectly and securely. I highly recommend them!



Great experience! They had a rare item in stock. Packaged very well and shipped promptly. I will definitely order from them again.



I've ordered online and now I've been in person. Stellar service and very knowledgeable. Corey and the guys know and love what they do. I'll be back next year for sure!
Great Products - got my RC Porsche from them - through their ebay store - fast shipment - well packed - great service. Very happy with purchase from King Cobra!
When into the shop on a whim with my son because I've been wanting to get back into RC cars. We ended up walking out with an Arrma Granite Mega by recommendation of Corey. He was a great help and answered all my questions. They only thing I was dissatisfied with was I asked about the run and charge time on the battery and was told about 20-30 minutes run time depending with about an hour to recharge the battery. The recharge time for the battery is about 3.5 hours with the charger that comes with the kit. The truck is a lot of fun, great to learn on and plenty fast for my 4 year old. I would recommend immediately buying another battery or upgrading to a LiPO battery and better charger.
I purchased an Axial SCX24 online. It was a quick and easy process, quick shipping, and the only place I could find with the one I wanted in stock! I'll definitely be using them again!
I have had such a wonderful experience with these guys. Over the last few weeks I have ordered an extremely large amount of product from them and I have been taken care of on each question I've asked and each concern that I've had. The real standout of the team so far, is Amanda (Mandie). I have been on the phone with her multiple times over the last few days because of a few little questions that I've had and she has gone above and beyond to help me every single time. I feel like this is a relationship that I will have with this company for a long time and look forward to doing business with them in the future.
These days, it's hard to find customer based businesses that take things seriously and these guys have it for sure. Excellent place and very trustworthy!
Great place!! My husband and I go there almost weekly, the staff is also very helpful. If you want a family feel atmosphere where they know you by name and always very helpful swing in and say hi you won't regret it.